Coordinator
John Kim, kpc@veteransforpeace.org
Mission
Korea Peace Campaign (KPC) is a national project of VFP whose mission is to achieve a peaceful end to the lingering, costly Korean War; heal the wounds of the War; and promote reconciliation and friendship between American and Korean people.
KPC's Work
Launched in 2002, when the Bush administration discarded the US-DPRK Agreement of 1994, the Campaign aims to accomplish its mission by a) educating the American public about the real history of the U.S. role in Korea; b) exchanging peace delegations between U.S. and Korea; c) helping the victims of the Korean War; and d) advocating for an official end to the Korean War by replacing the Armistice Agreement with a peace treaty.
In 2005, KPC organized a National Conference for Ending the Korean War at Georgetown University Law Center with the National Lawyers Guild-Korea Peace Program, and adopted the American Declaration of Peace with the Korean People.
In 2006, KPC sent a VFP peace delegation of five veterans, including three veterans of the Korean War, to South Korea to show our solidarity with the Korean villagers at Pyongtaek who were struggling against the expansion of the U.S. military base there.
In 2009, KPC assisted a coalition of U.S. peace groups in organizing the National Campaign to End the Korean War as a founding member.
From 2010 to 2015, VFP members, including Col. Ann Wright, Larry Kerschner and Tarak Kauff, visited Jeju Island to join the South Korean villagers who were protesting against the construction of a big naval base at Gangjeong Village.
In 2015, KPC helped to launch the Korea Peace Network, a coalition of U.S. peace groups and humanitarian organizations working on Korea issues, as a founding group.
KPC encourages veterans of the Korean War, in particular, to participate in this campaign.
Background
The U.S. is waging the longest war in its history in Korea.
After dividing Korea into two arbitrarily at the end of the WW II, the U.S. military has been more or less occupying South Korea since 1945. Uncle Sam established a U.S. military government in South Korea for three years, set up a separate regime in the South (ROK) in 1948, and intervened in the Korean civil war, 1948-53, destroying the entire country with heavy, indiscriminate bombing raids. The terrible War was stopped with a cease-fire only in 1953. Thereafter, the U.S. brought in its nuclear weapons into South Korea in 1958 in violation of the Armistice Agreement--igniting an intense arms race with North Korea. The U.S. military troops in South Korea number about 30,000, which cost us billions of dollars each year that are solely needed at home. From 1950, the U.S. also imposed and maintains heavy economic sanctions on DPRK. The tragic Korean War is still continuing today without a peace treaty.
Writings by Veterans of the Korean War
Events
Korea Peace Advocacy Days in D.C 2019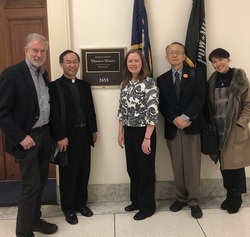 About 70 participants from nationwide participated in the Korea Peace Advocacy Days in D.C., 3/13-14, 2019. They made more than 60 Congressional visits—both House and Senate—starting in the afternoon of March 13. Four members of VFP (Ellen Barfield, John Kim, Robert Prokop, and Ann Wright) joined in the advocacy teams.
Noteworthy meetings in the Capitol were with assistants of Senator Sanders, Warrant, Gillibrand, and Booker. In addition, Ann Wright had a personal meeting with Rep. Tulsi Gabbard, and other participants also had some personal meetings with Rep. Meeks (D-NY), Rep. Massie (R-KY), etc. Many participants urged further dialogue with North Korea and Congressional support to an official ending to the costly Korean War.
---
VFP-KPC urges local VFP chapters and other concerned groups to organize a local Korea Peace Forum (film showing, speakers, etc.), to increase the public's understanding of the need to end the lingering Korean War officially with a peace treaty.
Please contact Korea Peace Campaign: kpc@veteransforpeace.org if you are organizing a forum or need further info or help.
Korea Peace Advocacy Days 2018

In observance of the 65th anniversary of the temporary Armistice Agreement of the Korean War in 1953, as well as to raise our voices for an official end to the lingering Korean War with a peace treaty, there was a special Memorial Day ceremony at the Korean War Veterans Memorial site in D.C. in 2018.
Cuck Overby's 2 daughters participated in the ceremony and they read Chuck's 2 poems--"Night Visions" and "Unfetteredness."
In addition, Veterans For Peace read former Rep. Paul ("Pete") McCloskey's message and Jack Doxey's letter to his Korean War buddy's family in 2008, informing them how his buddy, Leroy G. Hauger, was killed about one month before signing the ceasefire agreement that halted the KW.
The group also read VFP president's message, the Panmunjom Declaration for Peace (signed by both leaders of Korea on 4/27), and the Peoples Peace Treaty with N. Korea, which is now signed by some 30,000 people online.
---