Veterans For Peace is asking artists to write songs and create music videos around the theme of "Climate Crisis and The War Machine." 
The "Climate Crisis and The War Machine Music Video Contest" is about making the links that break the chains of big oil.  We live in a visual world.  We are asking you to create visuals that speak truth to power. We, the people opposed to patriarchal hegemony and colonizer ideology, are the stewards of this planet, and we must act to protect it.  The US military is the largest consumer of fossil fuels and the largest producer of greenhouse gas emissions. It's time to challenge the status quo and free people from the illusion that war keeps us safe.
These videos will be featured not only as a part of the Veterans For Peace National Convention, but on our social media, website, and our Gamers For Peace Twitch Channel.  We will choose a first prize and runner up in each of the following five categories: Hip-hop, Pop, Country/R&B, Folk/Spoken Word, and Rock.  The music video can take many forms, anywhere from a live performance recorded on your phone, to a fully produced, multi-camera music video.  All levels of experience are welcome!  First prizes get $1000 each and runners up get $500 each.  In addition, each of the 10 winners chosen will perform at a concert for The Veterans For Peace National Convention on Aug 14, 2021.
Read more and find out how to submit an entry!
---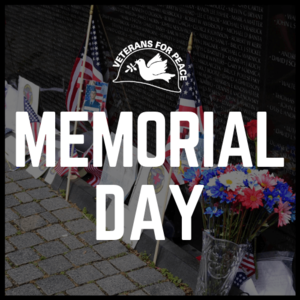 Veterans For Peace has commemorated Memorial Day every year to remember the true costs of war. We know that this year physical gatherings may not be possible even as the current virus has revealed the massive need to put people over the pentagon and the need to fund healthcare and human needs over the massive expenses of the military. 
Our message for Memorial Day is to remember all who have died in war and to understand that no one wins.  We understand that those who fight the wars gain the least from them and those who send us to war gain the most from war. There are many people who either profit from war or are misled by war mongers and profiteers. These are the people who seek to block our message to question war and to work for peace.
Not all members of Veterans For Peace seek to be present in public events honoring veterans, because the events tend to be a platform to venerate war and spread militarism. However a significant number of members choose to participate by providing an alternative message of peace and nonviolence. We seek to honor the dead by telling the horrible truth about war in an effort to protect the living. VFP will not be intimidated by efforts to block member participation and we will take all steps necessary to participate in any public event members consider appropriate.
---