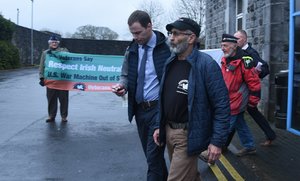 Veterans For Peace members were in Ireland working with VFP Ireland on their ongoing campaign to stop allowing the U.S. to fly weapons and soldiers through Shannon on their way to illegal wars in the Middle East.
On March 17th, Ken Mayers and Tarak Kauff, members of VFP entered the Shannon Airport on March 17th carrying a large banner that said:
U.S. Veterans say
Respect Irish Neutrality
U.S. War Machine out of Shannon Airport
Veterans For Peace
They were both arrested and are currently being denied bail in Ireland, with their next hearing scheduled for March 28th.
Updates and ways you can take action
---
Veterans For Peace stands strongly in solidarity with Chelsea Manning. Chelsea has been a remarkable example of principled dissent. She showed great courage in releasing documents and now again standing firm against the questionable practices of a grand jury. Veterans For Peace calls on Chelsea to be released immediately.
Veterans For Peace members were arrested outside the Marine Base at Quantico, Virginia, where Chelsea was being held in torturous solitary confinement. Members rallied outside her court martial at Fort Meade, Maryland, and sat in the courtroom every day. Veterans For Peace helped raise hundreds of thousands of dollars for Chelsea's defense, in conjunction with Courage To Resist and the Chelsea Manning Support Network.
Once again, Chelsea Manning is demonstrating remarkable, principled courage. And once again, the powers-that-be are persecuting her. Chelsea has refused to participate in a grand jury fishing expedition against Julian Assange and Wikileaks.
We are proud to stand with Chelsea Manning once again. We will add our voice and our energies to supporting her in her courageous stance.
---
Members In Action
Report on the Korea Peace Advocacy Days
Members of Veterans For Peace recently traveled to Washington D.C. to talk to representatives about the desire for peace in Korea
Check out other highlights about VFP Members!