Yemen is facing a massive humanitarian catastrophe and we need your help to stop it. American aid is crucial to the Saudi war effort, and removing our assistance would limit Saudi attacks and maybe even push them to the negotiating table.
Email your lawmakers now and tell them to support the War Powers Resolution to end US support for the Saudi-led war in Yemen.
Check out this great Fact Sheet from Indivisible
P.S. From About Face: Veterans Against the War: Veterans are sharing videos statements telling congress #YemenCantWait"- please share and use to the hashtag to raise awareness and build public pressure.
---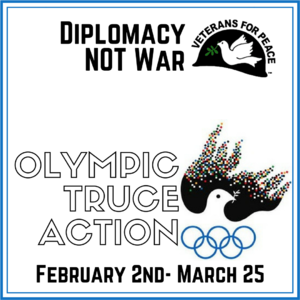 The Winter Olympics and Paralympics, to be held in Pyeongchang, South Korea, offer a unique moment to promote peace on the Korean Peninsula. On a very encouraging note, in November 2017, the United Nations General Assembly adopted a resolution calling for an Olympic Truce, or a cessation of hostilities during the Winter Games, which gained the support of 157 Member States including both Koreas and future hosts of the Olympic Games: Japan, China, France and the United States.
The Olympic Truce represents an important opportunity to defuse tensions and begin the work of reconciliation on the Korean peninsula. The United States should fully support both Korean governments' current efforts to restore a peace process. Veterans For Peace has issued a statement of support for these unity efforts.
Let's build on this momentum! We in the United States have a special responsibility to demand diplomacy, not war, with North Korea. An ad hoc network, the Korea Collaboration, calls for weeks of action during the Winter Olympics (February 9 - 25) and Paralympics (March 9 - 18), as well as the broader period of the Olympic Truce (February 2 to March 25). We call on groups and individuals to organize actions or other events in your communities.
Get ideas on ways to take action!
p.s. Check out the Korea Peace Campaign for more ways to get involved in Veterans For Peace efforts and resources to learn more about Korea.
---