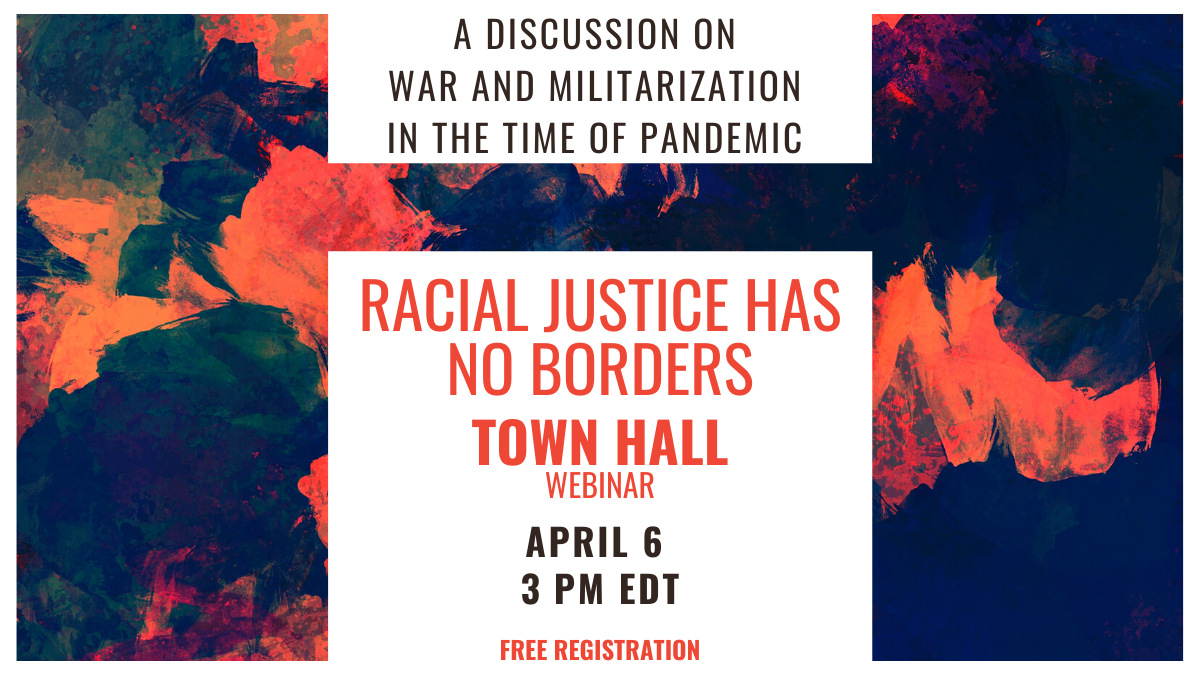 Please join us for a virtual town hall on war and militarization in this time of global health crisis hosted by Marc Lamont Hill.
Monday, April 6
3 pm EDT | 2 pm CDT | 1 pm MDT | 12 pm PDT
We are proud to support this event organized by Racial Justice Has No Borders, a new, broad anti-war coalition that seeks to re-center the conversation about U.S. wars and militarization on the needs and leadership of those most impacted. This coalition puts a focus on diaspora, refugee, veteran, Black, Brown, and Indigenous communities who bear the brunt of this country's militarism to challenge the myth that more police, wars, and weapons have made any of us more safe or secure.

On April 6th, on the eve of the Wisconsin Democratic Primary, the coalition will host a virtual town hall on U.S. military policy, defense spending, the ongoing 'War on Terror,' and militarization at home. The town hall is part of a shared campaign demanding the immediate end to the 2001 Authorization for the Use of Military Force (AUMF) that has been the pillar of escalated U.S. military intervention under the banner of the War on Terror.
During this moment of uncertainty and deep need, we thank you for standing with us in recognizing and responding to urgent issues that have emerged from decades of investment in warfare instead of healthcare. In the midst of the COVID-19 pandemic, it is imperative that we forge new avenues for global solidarity that can lead to real and lasting peace and security. We understand that we must get ahead of cynical attempts to exploit this crisis and finally reclaim our resources to meet the life-affirming needs in our communities. In order to prioritize public health responses to this pandemic, rather than militarized ones, we must reinvigorate an anti-war movement that will center and be guided by those most directly impacted by war — communities in the nexus of both international conflict and domestic policing, surveillance, and detention policies.
Please join us on April 6th to learn more. You can register here.
A Message From VFP
The events of the last few weeks have revealed what you have always known, the world is interconnected in a deep way and what affects one of us can affect all of us. We know that you have known this because you joined Veterans For Peace to speak out against militarism and the disastrous effects that our country has on many countries around the world.
At this moment, many of you may be having a variety of emotions while also figuring out the real challenges of staying at home, taking care of your families and of yourselves. We have also heard from many of you as you work out how to continue organizing and connect and "virtually" meet with your chapters.
The National office and the Board have had many conversations to figure out how to move in this new time. We know that Veterans For Peace is a beautiful community of veterans and allies who have built connections and have a history of creative problem solving within a system that doesn't work for many of us. We don't have all the answers but we are confident that we can figure this out together. We'd love to hear from you about what you need at this time and what you'd like to see us provide for you all!
Can you take a minute to take this survey to give us some feedback?
Read entire message!
---