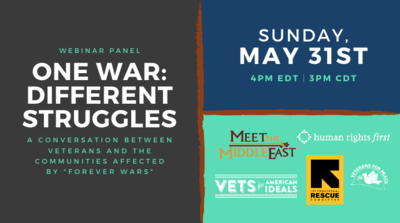 Join us Sunday, May 31st at 4:00 EST.
One War: Different Struggles is a dialogue between members of the refugee community, who lived under American invasion, and US war veterans who deployed there. It is an opportunity to share and connect by exposing difficult questions that break down stereotypes and allow a level of vulnerability to build better relationships between the veteran and diaspora communities. Hopefully we can achieve addressing misconceptions and begin to understand how different experiences of war, from vastly different perspectives and positions of power, have impacted our lives and futures.
Every year, Veterans For Peace commemorates Memorial Day to remember the true costs of war. This year, even though physical gatherings were not possible, many VFP Chapters and Members found ways to connect online and continue spreading the message that every death from war is an unnecessary death.
At the bottom of the page you will also find images of VFP members honoring victims of war by taking action at home. You can also view our full Memorial Day 2020 photo album here
Members In Action
VFP Wisconsin Salutes VA Workers

Milwaukee Veterans For Peace members joined union workers, community health care advocates and others in a VA Appreciation Parade Thursday to thank Veterans Administration hospital workers and demand that federal government do more to protect their safety.  Read more
Check out other highlights about VFP Members!