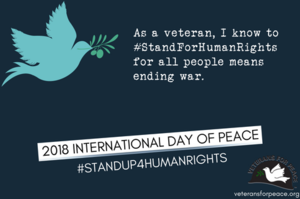 Veterans For Peace national is asking Veterans For Peace chapters to celebrate International Day of Peace by putting on an event or supporting, joining with and promoting current Peace Day efforts underway in your city or town. We want to help popularize International Day of Peace  to the point that, in years to come, it becomes part of mainstream culture.
The theme of this year's commemoration is "The Right to Peace- The Universal Declaration of Human Rights at 70." which aims to highlight the importance of all segments of society to work together to strive for peace.  The theme celebrates the 70th anniversary of the Universal Declaration of Human Rights.  The Universal Declaration of Human Rights is a milestone document in the history of human rights. Drafted by representatives with different legal and cultural backgrounds from all regions of the world, the Declaration was adopted by the United Nations General Assembly in Paris on 10 December 1948.  Yet, the Universal Declaration does not include a separate article on "Right to Peace". This is why the UN is asking this year:  What does "The Right to Peace" mean to you?
Find Tools for Social Media and Read our Statement
---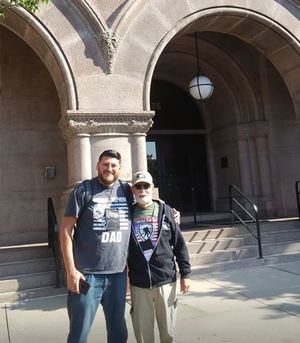 Veterans For Peace member Alfredo Figueroa is heading up a project titled "Leave No Man Behind: Keeping our Promise to Deported Veterans".  Alfredo is a OIF and OEF combat veteran that recently graduated from the Haas School of Business at UC Berkeley. He recently was granted the Judith Lee Stronach price, which allows him to work with veterans that have been deported.  He is also on the board of Veterans For Peace's Deported Veteran Advocacy Project.
He is currently doing workshops around the Bay area but is available to come to local communities to talk about his project.
Alfredo is based in California and can be contacted via email to set up a potential workshop.  His email is: alfredo.figueroa01@berkeley.edu
Click her for more info, a bio on Alfredo and how you can help!
---
Members In Action
VFP Chicago Member Releases New Book
Drawing on Anger: Portraits of U.S. Hypocrisy is a collection of Eric J. García's most unabashed political cartoons about U.S. history and politics from 2004 to the present. They offer a scathing indictment of Republicans, Democrats, and the self-proclaimed greatest country on earth.  Check them out!
Check out other highlights about VFP Members!