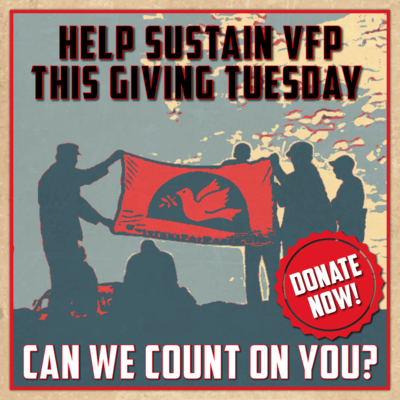 We are so grateful for all the ways in which you have supported and shared Veterans For Peace's message of peace. We are hoping you will join us once again by helping us kick off the giving season. Will you help us sustain our work by contributing with a Giving Tuesday gift of $10 a month so we can continue our work in 2020?
With the shadows of war growing, the efforts of veterans working for peace are needed more than ever. Your support is important. Your donations have helped make sure the voice of veterans is heard and we need your support to help us push the nation towards a peace agenda.
Can you help us sustain Veterans For Peace by becoming a monthly donor? For just $10 a month you can help us make sure Veterans For Peace continues fighting for justice.
---
VFP Executive Director Garett Reppenhagen will be in D.C. this week participating in Fire Drill Friday: Water Can't Wait! This week This week, Fire Drill Friday is all about WATER. :
There will be many impacts of climate change, but among the most important are impacts on water resources. A colloquial way to say this is: If climate change is a shark, water resources are the teeth that will bite us. The key impacts will be changes in rain and snow, rising temperatures and hence rising demand for water, especially to grow food, worsening water quality, and worse extreme events including floods and droughts that overload systems built for more stable weather patterns--all of which could contribute to increased militarization as the climate becomes more unstable and access to resources are limited.  On Friday, Garett will speak briefly at the rally.
Members In Action
Honolulu Supports Nuclear Weapons Ban Treaty
On November 6, 2019, the City and County of Honolulu joined hundreds of other cities to ratify the United Nations Treaty on the Prohibition of Nuclear Weapons and take other measures to stop the possibility of nuclear war! Read more
Check out other highlights about VFP Members!