The Freedom Flotilla Coalition demands the immediate release of the 116 boxes of medical supplies for the health services of Gaza that were carried on the Al Awda and Freedom boats of the 2018 Freedom Flotilla to Gaza, recently seized by Israeli forces.  International law also requires the delivery of medical supplies. Article 23 of the Geneva Convention Relative to the Protection of Civilian Persons in Time of War (Geneva Convention IV, 1949) says that "Each High Contracting Party shall allow the free passage of all consignments of medical and hospital stores ... intended only for civilians of another High Contracting Party, even if the latter is its adversary."
Please Tweet and Facebook
the Israeli Coordination of Government Activities in the Territories (COGAT) and ask where the 116 boxes of medical supplies for Gaza that were on Al Awda and Freedom are and demand to know when they will be brought to the Gaza border crossing. Twitter and Facebook are on this website.
Call the US Department of State 202-647-4000, ask for the Israel desk and demand that the US put pressure on Israel for the immediate delivery of the 116 boxes of medical supplies.
Call the US Embassy in Israel and demand pressure on Israel for the delivery of these medical supplies +972-2-622-7230 (ask for the Ambassador's office)
---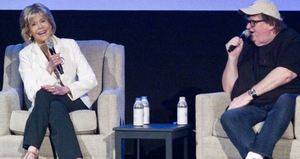 Tim Keenan of Veterans For Peace Chapter in Traverse City, Michigan, recently attended a talk given by Jane Fonda and Michael Moore.
Tim had the chance to address Jane, saying "If I could, what I would do right now is I would come up to you and I would drape the Congressional Medal of Honor around you," said Tim Keenan, a Vietnam War veteran. "I'm so proud of you for all the work you've done and all that you have endured, the adversity and your courage."
Jane Fonda has spent a lifetime as an activist, working on social justice issues that range from anti-war, feminism, Palestine, and environmental concerns.  She has even been named a Goodwill Ambassador by the United Nations.  (And fun fact spoke out against the war at a rally organized by Vietnam Veterans Against the War (VVAW) in Valley Forge, Pennsylvania. She offered to help raise funds for VVAW and, for her efforts, was rewarded with the title of Honorary National Coordinator.)
Tim's comments made national news, with the below article picked up by hundreds of publications, (and sparking some nasty letters to the editor in Tim's hometown paper).
Watch the video and read more!
---
Members In Action
Tennessee, Kentucky and Indiana Chapters says No to Oliver North and NRA
Veterans For Peace Chapter 089 of Middle Tennessee joined a coalition of student activists from Marshall County High School, Murray High School, and Calloway County High School in saying NO to Oliver North and NO to NRA influence in our political process. Read More!
Check out other highlights about VFP Members!