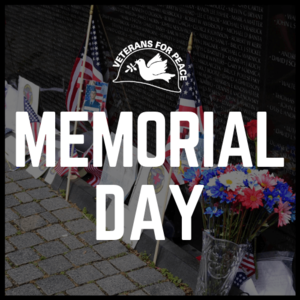 As we do every year, this Memorial Day we remember all who have died in war and understand that no one wins in war. Many of us have been personally touched by war. But we must also extend that mourning. We remember the civilian victims, and their families. Honoring and remembering some deaths while ignoring others not only perpetuates war, but also ignores the moral injuries of war, a significant cause of veteran suicide...
We do not seek to glorify either warriors or war. Rather, Veterans For Peace seeks to educate the public about the folly of war and the costs of war - human, economic, political, environmental/climate. On Memorial Day, VFP members march in parades, lay wreaths, give talks and speeches, recite poetry, and vigil to honor U.S. service members who died in and as a result of war, as well as all the civilian victims of war....
Our message for Memorial Day is to remember all who have died in war and to understand that no one wins.  We understand that those who fight the wars gain the least from them and those who send us to war gain the most from war. There are many people who either profit from war or are misled by war mongers and profiteers. These are the people who seek to block our message to question war and to work for peace. 
Read our full Memorial Day statement and check out some new resources on the VFP Memorial Day webpage.
---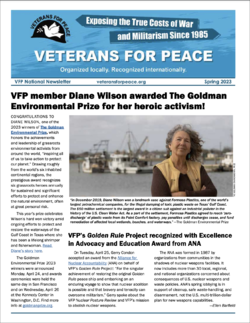 There are some upsides to publishing an all-virtual issue (our first): It saves paper (and thus trees); it saves the time of printing and mailing; it allows us to publish a longer newsletter; and the hyperlinks are live!
The main downside is the chance of electronic transmissions getting lost in cyberspace... a great reason to share this newsletter with your VFP sisters and brothers as well as your wider community!
A whopping 40 pages (including an 8-page literary supplement), the news, reviews, and project and chapter reports contained in this issue reflect a vibrant Veterans For Peace with chapters and members activating for peace in so many different ways....
If you prefer to have a print newsletter and would like to order a bundle or an individual copy, please fill out this form!