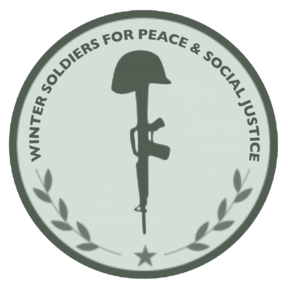 Friday Mar 12, 2021, 4:00pm (e), 3:00pm (c), 2:00pm (m), 1:00pm (e)
Amid concern about the role of military veterans in the January 6 siege of the Capitol and the recruitment of service members by white supremacist groups, this program will feature soldiers who have followed a different path in speaking out against racism and unjust wars from the Vietnam era to the present. The event will commemorate the Winter Soldier Investigation organized by Vietnam Veterans Against the War (VVAW) 50 years ago in February 1971, and similar hearings by Iraq Veterans Against the War (IVAW) 37 years later in March 2008.
Echoing Thomas Paine's famous Revolutionary War passage honoring soldiers who stand with their country in time of crisis in contrast to the "summer soldier" who shrinks from duty, these winter soldiers of the past and present will address the atrocities of war and the prevalence of racism within the military and in U.S. foreign policy. The event will emphasize the relevance of these issues to the continuing struggles for racial justice and ending the endless wars of today.
The program will feature military veterans of the Vietnam War and post-9/11 eras and clips from documentary films documenting Vietnam and post-9/11 winter soldier hearings.
---
Global Rally and Petition to Suspend the Annual US-South Korea War Drills
WHEN: Feb 24 through March 10
Step 1: Take an Action Shot

Print your choice of protest sign here.
Grab a friend, go to a landmark near you, socially-distance, and take a selfie holding the sign. (You can also do it in your backyard or kitchen.)
Step 2: Post on Twitter, Facebook or any social media platform of your choice

Post your best photo with the following caption:

The annual US-ROK combined military exercises are costly, provocative, and a major obstacle to achieving peace on the Korean Peninsula.  Sign the petition to urge the Biden administration to suspend these war drills: http://tiny.cc/koreapeace  #NoWarDrill #KoreaPeaceNow
Step 3: Sign the petition