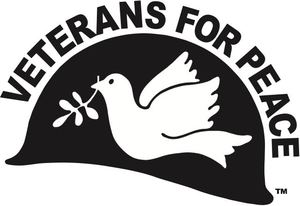 Veterans For Peace strongly condemns the recent announcement that up to 15,000 active duty military personnel may be sent to the U.S. southern border. These troops will join the additional National Guard units that were sent last year, increasing the militarization of our borders at an alarming rate. Our immigration laws and enforcement tactics have long been at a crisis point and we are now witnessing an even more draconian surge in the use of force to prop up failed policies.
Veterans For Peace calls on all our members and all veterans who see the inhumanity and injustice of the current policies to call their Congressional Representative and Senators to demand the military be pulled back from the border and that the members of the approaching caravan be treated with dignity and processed according to international humanitarian standards as refugees. We call on all service members participating in the border deployment to follow the long American tradition of listening to their conscience and remember that they have no obligation to follow illegal orders. (For questions on military rights, contact the GI Rights Hotline or Courage to Resist)
The U.S. government, instead of welcoming the approaching refugees, the majority of whom will seek asylum under completely legal processes, is treating individuals and families fleeing to the U.S. as if they are "terrorists" (even when "counterterrorism" officials within the administration are stating that no such people exist within the caravan). The majority of these refugees are fleeing from violence in Honduras and a political situation United States' actions have made worse.
It is more important than ever that veterans stand up, speak out and organize to disrupt the dangerous escalation of racist and unjust policies, both at home and abroad. We, as veterans, know that peace is possible, but only if resources are directed towards caring for one another, not perpetuating militarization across the globe.
---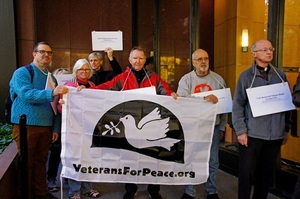 Veterans For Peace members joined Voices for Creative Nonviolence in a series of vigils and protests over a three day period to bring awareness of the horrific war in Yemen. The United States has been sending weapons and funds to Saudi Arabia, including the Lockheed Martin bombs that killed 34 school children. On Thursday, November 9th, Voices for Creative Nonviolence, joined by VFP members blocked the Saudi Consulate.
VFP Advisory Board Member, Kathy Kelly writes, "Members of our group swiftly set up a presence in front of three entrances to the building, urging people not to enter because it is too dangerous. Criminal activities have been going on and all who have cause to be in the building should be aware of the crucial importance of ending the murderous, tortuous activities carried out by the Saudi government."
---