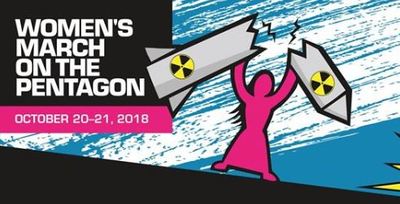 October 20 & 21, 2018, Washington D.C.
In response to the continuing march of military aggression by the USA and to put an antiwar agenda back on the table of activists, the Women's March on the Pentagon are calling for a Women's (and allies) March on the Pentagon on the 51st anniversary of the 1967 big antiwar event in DC and subsequent march on the Pentagon that had 50,000 people!
"Our demands are simple: The complete end to the wars abroad; closure of foreign bases; dramatically slash the Pentagon budget to fund healthy social programs here at home: the only good empire is a gone empire.
The "nuclear clock" is at two minutes to midnight, and with the threat of nuclear annihilation becoming an incomprehensible reality, WE MUST MARCH FOR PEACE AND AGAINST THE WAR MACHINE."
---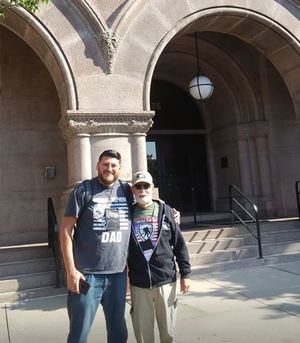 Veterans For Peace member Alfredo Figueroa is heading up a project titled "Leave No Man Behind: Keeping our Promise to Deported Veterans".  Alfredo is a OIF and OEF combat veteran that recently graduated from the Haas School of Business at UC Berkeley. He recently was granted the Judith Lee Stronach price, which allows him to work with veterans that have been deported.  He is also on the board of Veterans For Peace's Deported Veteran Advocacy Project.
He is currently doing workshops around the Bay area but is available to come to local communities to talk about his project.
Alfredo is based in California and can be contacted via email to set up a potential workshop.  His email is: alfredo.figueroa01@berkeley.edu
Click her for more info, a bio on Alfredo and how you can help!
---
Members In Action
VFP Chicago Member Releases New Book
Drawing on Anger: Portraits of U.S. Hypocrisy is a collection of Eric J. García's most unabashed political cartoons about U.S. history and politics from 2004 to the present. They offer a scathing indictment of Republicans, Democrats, and the self-proclaimed greatest country on earth.  Check them out!
Check out other highlights about VFP Members!