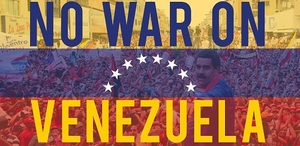 The U.S.-orchestrated coup in Venezuela presents a great threat to the people of Venezuela and to all of Latin America, which apparently is still considered to be "our backyard" by the dinosaurs of U.S. imperialism. The possibility of direct military intervention leading to a long and bloody war is "on the table."
Veterans For Peace endorsed several upcoming mobilizations against the unfolding coup in Venezuela. Most important, because they are coming up soon, are internationally coordinated local actions on February 23.
Check out the website for the No War on Venezuela actions. Veterans For Peace is already an endorser, but VFP Chapters may also sign on, as can individuals.
You can find helpful resources on the website, including a ready made half-page flyer, where you can add your local information. Of course, feel free to produce your own flyer with your own message. The voice of veterans must be heard.
The U.S. regime change operation in Venezuela also presents an opportunity for the U.S. peace movement to step up our game. This includes Veterans For Peace, of course.
Read VFP President, Gerry Condon's Entire Letter
---
The 2019 State of the Union address given by President Trump left many progressives stomachs churning, hearing the abundance of lies being told yet again by the mouth of the highest office in our country. It would seem the lift we needed, the voice of hope in the darkness came from Stacey Abrams. She spoke passionately about her family, working class and poor folk. She spoke about values and sacrifice, her accomplishments in politics and activism. Ms. Abrams spoke much more truth than President Trump, truth about struggles that many Americans face-especially those of marginalized persons. She railed against the current administrations reckless lack of care for its own citizens and for those who seek to gain asylum.
While I'm grateful for Ms. Abrams more realistic take on America, it must not go unnoticed that there's a degree of nationalism to her speech that deserves critique. She had plenty of criticisms for the Republican party and called for bipartisanship, but what is left out is the truth that Republicans and Democrats are one in the same when it comes to foreign policy, interventionism, sanctions and war. 
---