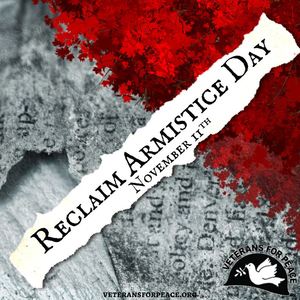 Armistice Day 2021 is fast approaching! 
As we do every year on November 11th, Veterans For Peace has taken the lead in lifting up the original intention of November 11th – as a day for peace. As veterans we know that a day that celebrates peace, not war, is the best way to honor the sacrifices of veterans. We want generations after us to never know the destruction war has wrought on people and the earth.
Join us in taking action to Reclaim Armistice Day! Visit our Armistice Day webpage for action ideas, resources, a list of planned chapter actions, and more.
Already planning on taking action? 
---
Veterans For Peace is going to COP26 and will co-host with The Global Network Against Weapons and Nuclear Power in Space (GN) the workshop, "U.S. Militarism, Space Tech, and the Climate Crisis – The Role of Demilitarization in Climate Justice" at the  People's Summit for Climate Justice.  Panelists are: Adrienne Kinne, VFP Board President; David Collins, VFP UK; Lisa Savage and Koohan Paik-Mander from GN; and Ashik Siddique of the National Priorities Project.  

Please register to attend online here.
---
Members In Action
Robert Vivar, co-director of the Unified U.S. Deported Veterans Resource Center and member of the Steering Committee of Veterans For Peace Deported Veterans Advocacy Project, recounts the the honor of walking Mrs. Rocio Rebollar, Deported Mother of U.S. Army Intel Officer 1st Lieutenant Gibram Cruz to the U.S. border crossing for her re-admission to the U.S.  Read more
Check out other highlights about VFP Members!
Source: National Priorities Project