Apr 23, 2021 - 3:00pm (e), 2:00pm (c), 1:00pm (m), 12:00pm (p)
Register here!
Many veterans came home from Vietnam with a mission: to tell the truth about the wartime atrocities being committed and demand an immediate end to the killing. In April 1971, a group of more than 1,000 veterans launched the Dewey Canyon III operation, a "limited incursion into the land of Congress." They camped on the Washington Mall, won a legal battle to stay without a permit, and brought their antiwar message forcefully to the national government and the media. The week of action culminated in a dramatic scene, as veterans threw their military medals over a fence at the Capitol.

April 23 marks the 50th anniversary of that ceremony, described by observers at the time and historians since as one of the most influential anti-war actions of the era. It was the occasion when a young Lieutenant John Kerry gave historic testimony before the Senate Foreign Relations Committee. A moment of turning, as Kerry said and historian Andrew Hunt wrote, when public opinion turned more decisively against the war.

Now, 50 years later, what lessons can we learn from this historic protest? How can the issues that motivated an earlier generation speak to veterans and soldiers today? Join us for a panel discussion highlighting the voices of veterans past and present. Featuring key archival footage and scholarly analysis, this conversation will show how issues of peace and justice raised a half-century ago remain timely and relevant today.
This discussion is presented by the Keough School of Global Affairs and its Kroc Institute for International Peace Studies, and is co-sponsored by Veterans For Peace and the Vietnam Peace Commemoration Committee.
---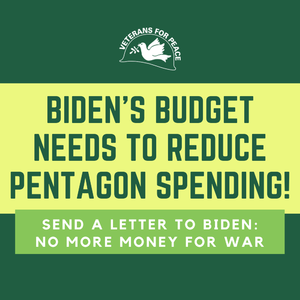 President Biden released his "skinny budget" which serves as a preview for the bigger budget that will be released next month.  The skinny budget includes the rough estimate of all of the topline items.
Veterans For Peace is outraged that President Biden's budget released this week INCREASES Pentagon spending. This is unacceptable. It is far past time for the U.S. budget to reduce a over-inflated Pentagon spending . This budget does not reflect the overwhelming majority of public opinion that supports re-prioritizing military spending towards programs that benefit regular people and their families.
In the post-9/11 years alone, the United States has spent $6.4 trillion dollars on warfighting and the maintenance of a needless and ill-advised overseas presence.  Considering that the Pentagon has returned $80 billion that it could not spend in recent years and could not pass its first two financial audits, a reduction seems like a reasonable proposition, to say the least.
As military veterans from WWII to the current era of conflicts, who have trained for, and in many cases, fought in U.S. wars, we know that endless wars, failed weapons and the Pentagon's corporate handouts do nothing to make us safe.
Can you take action today and let President Biden know that veterans want a budget that reflects HUMAN NEEDS and not more overinflated military spending?
Members In Action
"In 1962 a group of San Francisco veterans of World War II and Korea - knowing the Viet Nam war was looming - marched unofficially at the end of the annual Veterans Day Parade under the banner of "Veterans For Peace." The principal organizer was world-renowned poet Lawrence Ferlinghetti who died on February 22nd at 101 years old in his home in North Beach, the literary heart of San Francisco."
Check out other highlights about VFP Members!
Source: National Priorities Project