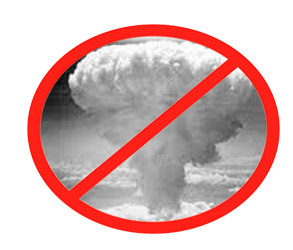 To mark the International Day for the Total Elimination of Nuclear Weapons, September 26, Veterans For Peace is publishing an Open Letter to President Biden: Just Say NO to Nuclear War!  The letter calls on President Biden to step back from the brink of nuclear war by declaring and implementing a policy of No First Use and by taking nuclear weapons off hair-trigger alert.  
VFP also urges President Biden to sign the Treaty on the Prohibition of Nuclear Weapons and to provide global leadership for the total elimination of nuclear weapons. 
The full letter will be published on the VFP website and offered to mainstream newspapers and alternative news sites.  A shorter version is being shared with VFP chapters and members who may wish to publish it in local newspapers, possibly as a letter-to-the-editor. 
The Open Letter was prepared by members of the VFP Nuclear Abolition Working Group, which meets on the 2nd and 4th Thursdays of every month at 6 pm Eastern, 5 pm Central, 3 pm Pacific.  For more information, contact vfp.nonukes@gmail.com.  
---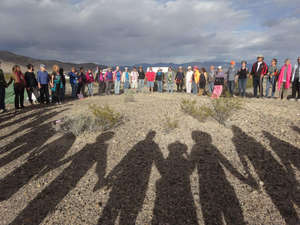 SHUT DOWN CREECH IS THIS MONTH!
During the week of Sept 26-Oct 2, members of Veterans For Peace, Code Pink, Ban Killer Drones, and ally organizations are taking action outside of Creech Drone Air Force Base, north of Las Vegas, in opposition to militarized drones. Want to come? REGISTER HERE
We call for an immediate halt to U.S. drone attacks and a ban on the use of all armed drones. For 20 years, the U.S. has carried out drone attacks with no accountability to the public for how many civilians were killed. We stand with the innocent civilians who are living under the covert U.S. drone program, in a state of constant fear. We stand with the thousands of innocent victims who have lost their lives to drone strikes. Will you stand with us?
Members In Action
Robert Vivar, co-director of the Unified U.S. Deported Veterans Resource Center and member of the Steering Committee of Veterans For Peace Deported Veterans Advocacy Project, recounts the the honor of walking Mrs. Rocio Rebollar, Deported Mother of U.S. Army Intel Officer 1st Lieutenant Gibram Cruz to the U.S. border crossing for her re-admission to the U.S.  Read more
Check out other highlights about VFP Members!
Source: National Priorities Project