San Diego, CA Ceasefire Rally
December 4, 2023
4 members of San Diego Veterans For Peace (Chapter 91) attended the Jewish Voice for Peace rally at Rep. Mike Levin's town hall in Oceanside. At least 80 people. The crowd was charged up demanding a ceasefire and that the government stop using our tax dollars to support killing of children in #Gaza. unfortunately Mr. Levin did not come out and address the crowd. #ceasefire #ceasefireInGazaNOW
---
Scranton, PA weapons plant shut down for one day!
December 3, 2023
The largest of six successive, weekly protests at the main gate of the Scranton Army Ammunition plant, run by General Dynamics Corp. About 150 people participated. 
This was the first in the series to announce in advance that some activists would risk arrest to block traffic into and out of the plant. Organizers confidently surmised the planned civil resistance was what convinced plant officials to cancel that day's production, preventing arrests and the publicity that would go with them and subsequent court hearings. 
Click here to see the news release for the groups that organized the protest, details of the protest, background on the weapons factory and a description of a new legal strategy via the "Leahy Law," that organizers hope others will consider for protests at weapons plants in the U.S.   
The Scranton area Muslim community, students and peace activists from several organizations met and planned together for months to hold the series of protests, including the one on December 3. 
---
Local press coverage of the 12-3-23 Scranton protest at General Dynamics Corp. munitions plant.
https://www.pahomepage.com/news/nepa-for-palestine-rally-outside-scranton-ammo-plant/
https://www.thetimes-tribune.com/news/protesters-call-for-scranton-army-ammunition-plant-closure-over-mideast-violence/article_1403db14-1201-5c5b-8061-543847b590e3.html 
https://www.wvia.org/news/local/2023-12-03/protesters-stop-the-fighting-stop-making-ammunitions
---
DC Demonstrations for Gaza Ceasefire
November 4, 2023
---
Ceasefire Rally in Binghampton, NY
Oct 22, 2023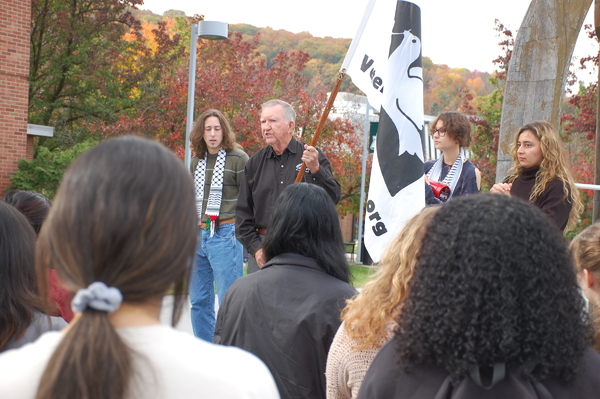 On October 22, 2023 Binghampton, NY Chapter 90 Jack Gilroy speaks.  Click here for video 
---
Gabrielle Murphy, Iraq vet, holding the VFP flag at the Binghamton, NY rally. 
Senate Hearing
Oct 31, 2023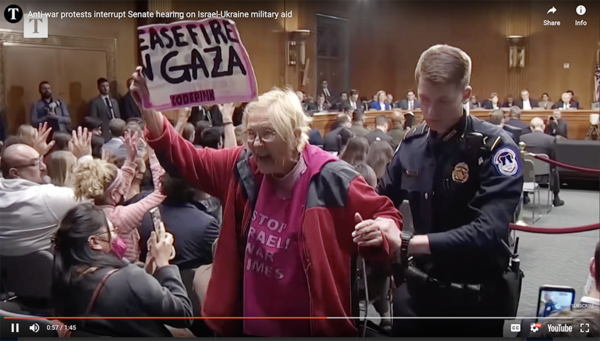 VFP's Ann Wright among CodePink activists who interrupted Senate hearing where two of President Joe Biden's top advisers asked U.S. lawmakers to provide billions more dollars to Israel. 
---