Welcome to Veterans For Peace
Veterans For Peace is a global organization of Military Veterans and allies whose collective efforts are to build a culture of peace by using our experiences and lifting our voices. We inform the public of the true causes of war and the enormous costs of wars, with an obligation to heal the wounds of wars. Our network is comprised of over 140 chapters worldwide whose work includes: educating the public, advocating for a dismantling of the war economy, providing services that assist veterans and victims of war, and most significantly, working to end all wars.
Statement of Purpose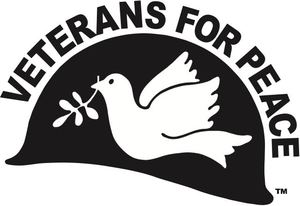 We, as military veterans, do hereby affirm our greater responsibility to serve the cause of world peace. To this end we will work, with others both nationally and internationally
To increase public awareness of the causes and costs of war
To restrain our governments from intervening, overtly and covertly, in the internal affairs of other nations
To resist racism and repression in our home communities
To oppose the militarization of law enforcement
To end the arms race and to reduce and eventually eliminate nuclear weapons
To seek justice for veterans and victims of war
To abolish war as an instrument of national policy
To achieve these goals, members of Veterans For Peace pledge to use non-violent means and to maintain an organization that is both democratic and open with the understanding that all members are trusted to act in the best interests of the group for the larger purpose of world peace.
---
History
Veterans For Peace was founded in 1985 by 10 U.S. veterans in response to the global nuclear arms race and U.S. military interventions in Central America. The organization rapidly grew to more than 8,000 members in the buildup to the U.S. invasion of Iraq in 2003.
VFP now has veteran and associate members in every U.S. state and several countries. VFP has over 120 chapters, including international chapters in Vietnam, the United Kingdom, Japan, and Ireland. The organization holds a permanent Non-Governmental Organization seat at the United Nations. VFP is also the first military veterans' organization invited to be a member of the International Peace Bureau based in Geneva, Switzerland.
Our veteran membership includes 70 years of service spanning WWII to the current era. Our members actively work to prevent the spread of militarism in our society, change U.S. foreign policy from endless war to diplomacy and to help our national leaders have a long term vision of peace and justice. Our members believe one of the most important components to ending war is to work for peace.
In the last 30 years, VFP has led or participated in over 60 peace delegations to Latin America, Vietnam, Europe, the Middle East, Asia, and Africa. We have collaborated with dozens of organizations and sponsored thousands of activities promoting peace in this country.
Veterans For Peace has three integrated program areas that work together to forward our grand mission to abolish war. It is the intent of Veterans For Peace to:
educate the public about the full cost of war
be a leading example of resisting militarism through efforts to end current wars and work to change U.S. foreign policy from war to diplomacy
heal the wounds of war and build a just and peaceful society.
These three program areas with our legislative work are a foundation to forward the mission of Veterans For Peace.
Today, members remain actively engaged in campaigns to help bring a clearer understanding of the cost of war. Much of our current work is focused on the endless global war on terror, with projects to support returning veterans, close the School of the Americas, close Guantanamo Bay, oppose drone warfare, and counter military recruitment efforts in schools.
"Veterans For Peace Comes of Age-A Highlighted History" Compiled and Edited by Woody Powell