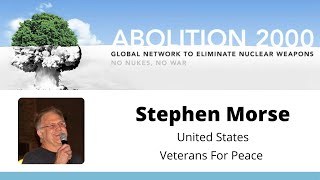 Mission
To educate and mobilize about the cost of war and militarism as it relates to the Climate Crisis and the increase of greenhouse gases.     
Our areas of focus are:
The unequal burden of both climate change and militarism on people of color and the poor.
The carbon footprint of the US military, which is larger than that of many countries.
How the wars for oil and other resources support the fossil fuel-based status quo.
The enormous financial costs of the US military and its wars, which could be used instead to address the climate emergency.  
Steering Committee
Barry Riesch: Promotional Merchandise
Cindy Piester: Outreach, Presentations (40-60 min)
Gary Butterfield: Presentations
Janet Weil: Website
Jim Rine: Federal Legislation
Louis Raprager: Social Media
Vince Dijanich: Education/Public Speaking

Contact
climate@veteransforpeace.org
---