Did You Know?
The U.S. accounted for41% of total global military expenditurein 2011, followed by China (8.2%), Russia (4.1%), UK and France (both 3.6%)
U.S. taxpayers spend about7 times as muchon the Pentagon and related military accounts as China spends on its military.
Iraq and Afghanistando not even make the listfor the top 30 big spenders; Iran is 26th.
Did You Know?
The war economy has hindered U.S. job creation. This is because war spending reduces funds available for alternative job sectors and domestic programs. For example, $1 million in military spending creates approximately 8.3 jobs, while $1 million in alternative spending would create 15.5 jobs in public education, 14.3 jobs in healthcare, 12 in renewable technology, and 11.1 in construction.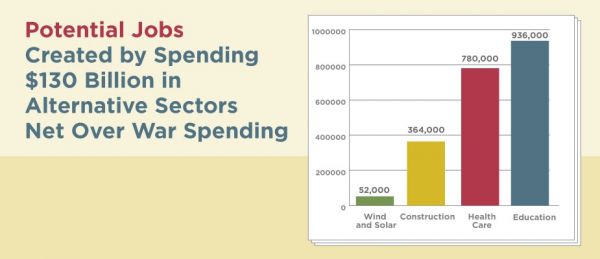 *Source: www.costsofwar.org