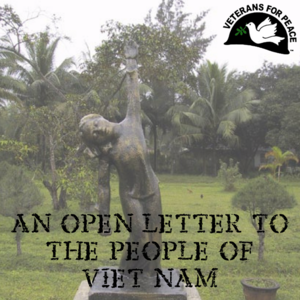 The letter below has been written by members of Veterans For Peace's Vietnam: Full Disclosure Committee. It will be delivered to the people of Viet Nam by members of Veterans For Peace on March 16, 2018. If you want your signature on the letter, please fill out the form. Thank you. For questions or concerns, please contact Doug Rawlings (rawlings@maine.edu)
Many Americans, especially those of us who came of age during the American War in Viet Nam, understand that our war in Vietnam was a crime of untold proportion and a massive violation of international law. As citizens under this government, we have to accept responsibility for its actions. It is with that realization in mind that we engage with you as the 50th Anniversary of the My Lai massacre nears.

We acknowledge that this terrible massacre was a clear atrocity, but also we recognize that it was not an anomaly — that it is one of many such abominations that many of our soldiers inflicted on the people of Viet Nam during the American War.

We acknowledge the deep and tragic suffering we have caused you — death, destruction, the ruin of your land, and the torturous rending of your social fabric.

We acknowledge the great sacrifices you have made to resist our government's global, imperial designs, including battling the civil strife our military forces brought to your society as they pitted governments they manipulated against your resistance forces. Many of our soldiers deepened and exploited the divisions in your society.
Read the Full Letter and Sign On!
---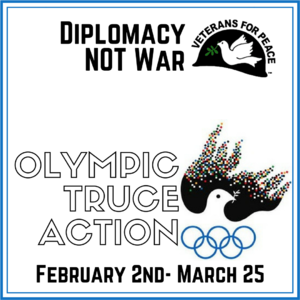 The Winter Olympics and Paralympics, to be held in Pyeongchang, South Korea, offer a unique moment to promote peace on the Korean Peninsula. On a very encouraging note, in November 2017, the United Nations General Assembly adopted a resolution calling for an Olympic Truce, or a cessation of hostilities during the Winter Games, which gained the support of 157 Member States including both Koreas and future hosts of the Olympic Games: Japan, China, France and the United States.
The Olympic Truce represents an important opportunity to defuse tensions and begin the work of reconciliation on the Korean peninsula. The United States should fully support both Korean governments' current efforts to restore a peace process. Veterans For Peace has issued a statement of support for these unity efforts.
Let's build on this momentum! We in the United States have a special responsibility to demand diplomacy, not war, with North Korea. An ad hoc network, the Korea Collaboration, calls for weeks of action during the Winter Olympics (February 9 - 25) and Paralympics (March 9 - 18), as well as the broader period of the Olympic Truce (February 2 to March 25). We call on groups and individuals to organize actions or other events in your communities.
Get ideas on ways to take action!
p.s. Check out the Korea Peace Campaign for more ways to get involved in Veterans For Peace efforts and resources to learn more about Korea.
---