Help Us Celebrate Armistice Day 2021!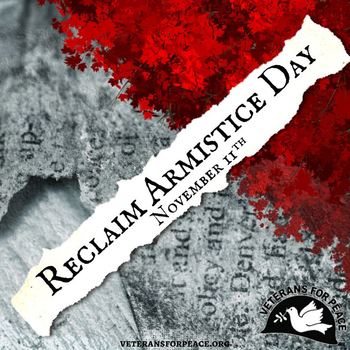 Over one hundred years ago the world celebrated peace as a universal principle. The first World War had just ended and nations mourning their dead collectively called for an end to all wars.  Armistice Day was born and was designated as "a day to be dedicated to the cause of world peace and to be thereafter celebrated."
After World War II, the U.S. Congress decided to rebrand November 11 as Veterans Day. Honoring the warrior quickly morphed into honoring the military and glorifying war. Armistice Day was flipped from a day for peace into a day for displays of militarism.
Veterans For Peace has taken the lead in lifting up the original intention of November 11th – as a day for peace. As veterans we know that a day that celebrates peace, not war, is the best way to honor the sacrifices of veterans. We want generations after us to never know the destruction war has wrought on people and the earth.
Veterans For Peace has been celebrating Armistice Day almost since the organization's inception, with a few chapters doing yearly events. Since 2008, with the passing of an official Veterans For Peace resolution, it became a VFP national effort. Each year, chapters across the country "Reclaim Armistice Day" by pushing the celebration of peace into the national conversation on Veterans Day.
Veterans For Peace is calling on everyone to stand up for peace this Armistice Day. More than ever, the world faces a critical moment. Tensions are heightened around the world and the U.S. is engaged militarily in multiple countries, without an end in sight.  Here at home we have seen the increasing militarization of our police forces and brutal crackdowns on dissent and people's uprisings against state power. We must press our government to end reckless military interventions that endanger the entire world. We must build a culture of peace.
---

---

Fly the VFP flag from your yard: The VFP flag comes in two sizes and has grommets, which can be easily attached to any standard pole. Order your VFP flag from the VFP store by October 25th to ensure delivery in time for November 11th.
Download & hang the Armistice Day Sign from your window (see image below): Hang the sign from your front window, or anywhere else you feel it would be most visible to others. Click the image below this list to download and print!
Host a virtual peace vigil with your local peace groups: Call together your members and supporters by hosting a virtual action on Zoom. If you choose to meet in person this year, please wear masks and practice social distancing at your action. You can read the proclamation at your vigil and ring 11 bells for peace, as we do most years. Be sure to send us any photos of your action!
Ring 11 bells for peace: Make it a community effort! Reach out to local churches, community centers, and schools to ring their bells at 11am. Here is a sample outreach letter from Chapter 27.
Host a car caravan for peace: Pick a route and drive by your capital building or mayor's office: Call your members and supporters out together, decorate your cars and bring your VFP flags to organize a drive-by action celebrating Armistice Day as a day of peace.
Take action to end forever wars. Urge your senator to repeal the AUMF (Authorization for the Use of Military Force), and demand Congress address Pentagon waste and excess.
Send letters to the editor: Write from the heart and tell them why you're a veteran for peace and why you celebrate Armistice Day. If your OpEd or LTE is featured, please send us the link so we can share it!
Add your name to move from Armistice to Peace in Korea! Sign the worldwide Korea Peace Appeal launched by more than 300 South Korean groups. VFP-Korea Peace Campaign is helping this new initiative as one of its international partners.
Tune in to Armistice Day TV! More information coming soon.
Submit a proclamation to your city council: Reach out to your mayor, city council member, or county supervisor to create city and county proclamations in support of Armistice Day.
Share the Liturgy of the Bells!: The Liturgy of the Bells is a great opportunity to reach out to local houses of worship to commemorate Armistice Day. 
---
Use these sample tweets for Twitter:
@VFPNational will ring 11 bells this year to remember #ArmisticeDay, a day of #Peace
#VeteransDay, originally #ArmisticeDay
Remember #ArmisticeDay as a day of #Peace. #VeteransDay #VeteransForPeace
#ArmisticeDay: A reminder of the day leaders came together to end WWI - "war to end all wars" #VeteransForPeace
#ArmisticeDay began in 1918 to celebrate the end of World War I & the idea of ending all war. #VeteransForPeace
---