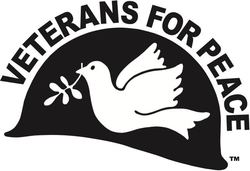 Join us as we continue our educational series on direct action to stop the war!
Over the next six weeks we're offering a series of three workshops on specific actions that you can organize in your community. In this series of trainings we're going to focus on tactics that you can plan and carry out with just a small handful of people in just about any community in the country.
We asked you what you wanted to focus on... and based on the survey results the workshops are:
Feb 1 - 8pm ET/5pm PT: Guerrilla Art! Wheat Pasting, Stickers, Banner Hangs and Projections!
Feb 15 - 8pm ET/5pm PT: Mechanics of Planning a Rally.... that ISN'T boring!
March 1 - 8pm ET/5pm PT:  Action planning clinic. Prepping for YOUR chapter's actions in spring of 2023!
---
 Congratulations to the members who will be joining the VFP Board of Directors in January 2023:
Louis Raprager (Returning)
Stephanie (Steph) R. Atkinson
Michael L. Wong
Brian Trautman
Thank you to everyone who put themselves forward for consideration. And thank you to our outgoing board members for their service to the organization: Adrienne Kinne, Joshua Shurley, and Ben Schrader!
All proposed Resolutions & Bylaws were approved. You can find the vote counts on our 2022 Ballot Results page.
---
Members In Action
In spite of threatening weather, representatives from seven different local groups marched with SDVFP in the San Diego Martin Luther King, Jr. Parade. The crowd, though thinned by the inclement weather, was enthusiastic in their response to messages of non-violent opposition to militarization and the military and war's connections to the climate crisis.
Check out other highlights about VFP Members!
Source: National Priorities Project