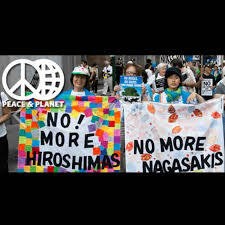 2015 marks the 70th anniversary of the United States atomic bombings of Hiroshima and Nagasaki. The lasting destruction and death caused by those bombs will forever remind us the need for nuclear proliferation. Over 280 organizations have endorsed the International Peace & Planet Conference, Rally, and March, happening from April 24th-26th. (View complete program)
On Thursday, April 23rd,  join us for the Kickoff for Peace & Planet Mobilization Building a Peaceful World: Ending U.S Militarism with featured speakers Nick Turse and Rory Fanning
On Sunday, April 26th, New York City VFP members and allies will attend the rally and march to the United Nations.  This is the day before the 2015 NPT Review Conference begins. Please join us for this historic event.
Activists from around the world - including over a thousand from Japan, as well as Hibakusha (survivors of the atomic bombings of Hiroshima and Nagasaki) will come together to demand a just and sustainable world, free of nuclear weapons.
Schedule for April 26 Mobilization in NY City
11am-12:30pm: Interfaith Workship Convocation for Nuclear Weapons Abolition (Tillman Chapel of the Church Center at the United Nations, 777 First Avenue)
1pm: ** Look For VFP Flags and Banners **  (VFP members meet at East 17th St, between Park Avenue South and Broadway New York, NY 10003).  The Global Wave action will begin in NYC and move westward to cities and capitals around the world.
2pm: March (Beginning at Union Square North)
3pm-6pm: Peace Music Festival (Dag Hammarskjold Plaza East 47th Street, 2nd Ave New York, NY 10017).  At 4pm, millions of petition signatures calling for the total ban and elimination of nuclear weapons will be presented to Ambassador Taous Feroukhi and United Nations High Representative for Disarmament Affairs Angela Kane.