VFP members, including Executive Director Garett Reppenhagen and staff members Chris Velazquez, Jules Vaquera and Casey Stinemetz, just got back from a week of actions in Nevada. Read the article in the Las Vegas Sun.
Together with other members of VFP, CODEPINK, and Ban Killer Drones, they led demonstrations daily last week outside Creech Air Force Base to call for an immediate halt to U.S. drone attacks and a ban on the use of all armed drones. Many remote drone strikes are executed from Creech, a base about 45 miles outside of Las Vegas.
After dawn and dusk vigils on Monday, activists came together Tuesday morning to attempt to shut down the front gate. The unexpected arrest of a member of the group derailed plans for a Tuesday evening vigil, but Wednesday morning saw the protesters back at the gate with renewed determination.  
Prior to their arrival, VFP crafted a letter to the servicemembers at Creech AFB. The letter began with: 
"We are reaching out to you because we understand the position you are in.  We were once in that position ourselves, some of us quite recently, and we'd like to share some of our hard won truths, and to offer you our support."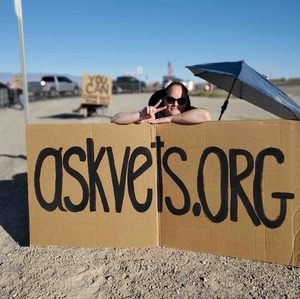 The letter aimed to connect with drone operators on base on a personal level, and signs directed folks to the website www.askvets.org, that featured a shortened version of the letter and links to resources for leaving the military. Echoing the sentiment of the letter, members of the group held other signs saying things like, "Is this what you signed up for?" and "Are your sacrifices worth it?"   
On Thursday morning the group successfully shut down the front gate of the base twice, backing traffic up for over a mile. Thursday evening, attendees wanted to try something that had never been done before at the bi-annual Creech actions, but after applying for and being denied a performance space,  VFP staff had to get creative. They organized a mobile, guerrilla style flash mob on Fremont Street in Las Vegas, freezing, shifting and freezing again 10 times to honor the 10 members of the Ahmadi family killed in a drone attack on Aug 29th. After drawing attention with the flash mob, activists handed out informational flyers with facts about drone warfare. 
On their last morning on the ground, the VFP contingent set up a table of donuts (with Covid protocols in place), handing them out with napkins featuring a QR code that led to the newly created www.askvets.org website. 
It was a successful week, filled with direct action, coalition-building, encouraging service members to reject immoral and illegal orders, and creative new ways to stand against drones. 
Read the article from the Las Vegas Sun: Another week of anti-war protests at Creech completed; activists vow they won't let up
---
More info about Shut Down Creech:
Looking for ways to stand against drones? Check out the VFP Drones Working Group webpage.