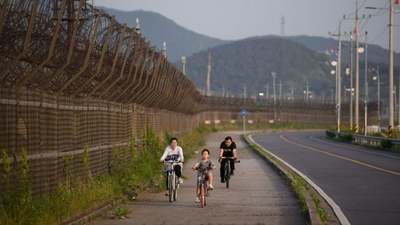 This July 27 marks the 66th anniversary of the military ceasefire agreement that halted the three-years of horrendous fighting in Korea--involving U.S.-led multinational forces, North Korean forces ("Korean People's Army"), and the Chinese forces ("Chinese People's Volunteer Army").
 About 50,000 U.S. soldiers lost their lives and another 100,000 soldiers were wounded; the casualty for North Korean, South Korean, and Chinese troops are estimated to be about one million; and about two million Korean civilians may have lost their lives during the Korean War, 1950-1953.
 This armistice agreement signed in 1953 was originally intended to be replaced soon with a peace agreement to end the war officially. Unfortunately, the U.S. has refused to sign a peace treaty to end the Korean War so far, and thus the Korean Peninsula still remains in a state of war with constant arms race and periodic military tensions.
 However, people's hope for permanent peace in Korea is rising today, in view of the three inter-Korean summits as well as three U.S.-DPRK (North Korea) summits held in the last two years. Nevertheless, there is still uncertainty how the U.S.-DPRK talks will progress in the future since the U.S. still maintains its economic warfare and "maximum pressure" campaign against North Korea. Can you trust someone who talks to you nice, while urging others to boycott your store?
 Thus, to make real progress in the U.S.-DPRK talks for permanent peace and mutual disarmament in Korea, it is critical for the American and other concerned people to raise their voice at this time, urging the U.S. government to sign a peace agreement now to end the forgotten, endless, costly Korean War.
 In observance of the 66th anniversary, VFP-Korea Peace Campaign is calling upon our VFP chapters, members, and other peace groups in the U.S. or abroad to organize special events in your local area on or about July 27. Some of the suggested events are a peace forum, film showing, peace vigil, peace march, meeting with members of Congress, writing letters to local media, running an advertisement in local newspapers, making a donation to VFP-KPC project, etc.
 *End the Korean War now!
*Sign a Peace Treaty to end the Korean War!
*Dissolve the Fake "United Nations Command" in Korea!
*Bring our Troops Home now!
VFP-Korea Peace Campaign
 (If you will organize an event for the Armistice Day or need any help, please let us know by contacting us at kpc@veteransforpeace.org)