In the face of the attempted whitewashing of that war by the Pentagon, the Full Disclosure Campaign of Veterans For Peace is attempting to dissuade Hollywood from awarding the Burns/Novick an Emmy.  Veterans For Peace were not silent about speaking out about the Koch Brothers and Bank of America-funded The Vietnam War documentary series by Ken Burns and Lynn Novick.  Now with Burns and Novick's misleading and less-than-honest documentary coming up for an Emmy, once more we are compelled to speak out.
A message from the Full Disclosure team: 
We will run this full-page ad in Variety magazine. Variety has a paid circulation of 54,000, with an estimated readership of 162,000.  For 113 years, influential producers, executives, talent and fans of the entertainment industry have turned to Variety for expert film, TV, digital, music, theater business analysis and insights.  An ad would have wide impact, especially when accompanied with news releases explaining VFP's concerns with the documentary.  Plans are also in formation for a symposium, picketing and leafleting in conjunction with the Emmy award ceremony.
As the ad says, "The Emmy Award is a powerful recognition of truth in art. Crowned with an Emmy, this defective history of the Vietnam era will become required viewing for generations of young Americans—a seductive, but false, interpretation of events."
Our ad is now up and running in Variety!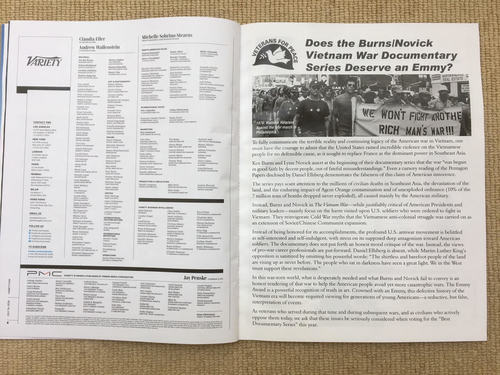 Press Coverage:
Combat vet asks: Does the Burns/Novick Vietnam Documentary Deserve an Emmy?
Ken Burns' "The Vietnam War" was Nominated for an Emmy, Does It Deserve It?