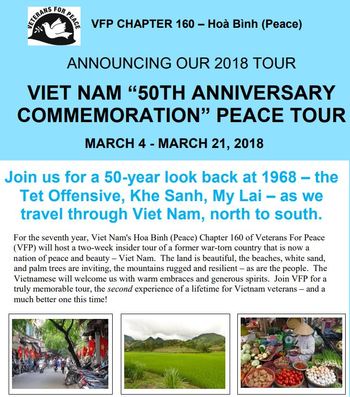 For the seventh year, Viet Nam's Hoa Binh (Peace) Chapter 160 of Veterans For Peace (VFP) will host a two-week insider tour of a former war-torn country that is now a nation of peace and beauty – Viet Nam. The land is beautiful, the beaches, white sand, and palm trees are inviting, the mountains rugged and resilient – as are the people.   Veterans For Peace will go on a 50-year look back at 1968 – the Tet Offensive, Khe Sanh, My Lai – as we travel through Viet Nam, north to south.
VFP Chapter 160 is the only American veterans organization with members living and working in Viet Nam, and vets and associate members in the U.S. Our mission is to address the legacies of America's war. We contribute to the recovery still underway from the war's consequences: veterans and their families struggling to be safe from unexploded ordnance (UXO), the tragedy of Agent Orange/Dioxin, poverty that is still a burden.
Each tour participant has donated at least $1,000 which will be pooled at the end of the trip. Participants will vote on how the money is to be disbursed – for bomb clearance and risk education, to help victims of chemical warfare, to support hospitals, orphanages, schools, or other family and community needs.   Over the past five years, more than $200,000 has been donated by tour participats and distributed to projects supported by VFP 160 throughout Viet Nam.
TOUR COORDINATORS ORGANIZERS IN THE USA:
Paul Cox – Cofounder of VFP Ch. 69; VFP 160 member. Board Member of Vietnam Agent Orange Relief and Responsibility Campaign. U.S. Marine Corps, Viet Nam '69-'70. Has returned to Viet Nam three times working on Agent Orange issues.
Denny Riley – Treasurer of VFP San Francisco Chapter 69; USAF veteran in Viet Nam 1966-67. Contact point for stateside bookings, payments, donations related to 2018 Viet Nam tour.
HOSTS IN VIET NAM:
Chuck Searcy – U.S. Army vet enlisted, military intelligence analyst in Viet Nam 1967-68; has lived in Ha Noi since 1995; International Advisor for Project RENEW, which clears UXO – cluster bombs, landmines, other munitions along the DMZ in Quang Tri, and assists families suffering from Agent Orange. Vice President of VFP 160.
David E. Clark – U.S. Marine veteran, served in Viet Nam 1969- 70; retired and now living fulltime in Da Nang, happily married to Huong (famously known as Ushi), Vietnamese wife and head of a household of five children and several grandchildren. Member of Board of Directors of VFP 160.
DATES AND COSTS TOUR DATES:
2018 tour dates in Viet Nam: Sunday, March 4th, arrive in Ha Noi; Wednesday, March 21st depart from Ho Chi Minh City.
See the Full Itinerary