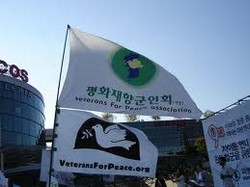 While on 4/26, the White House provided a special, secret briefing to the 100 senators on the new administration's policy toward North Korea. Senior officials also briefed members of the House in Congress at the same day. It goes without saying that the American people are also entitled to know what the new policy is.
It is reported by media that the Trump administration adopted a new policy called "Maximum Pressure and Engagement." The main idea is to put more economic sanctions and military pressure on DPRK (N. Korea) to force it to give up its nuclear/missile program. At the same time, the top officials (State, Defense & Director of National Intelligence) issued a joint statement  on 4/26, stating that "we remain open to negotiations towards that goal."
Although the top officials declared that the old policy of "strategic patience" is over, it seems the Trump administration will continue more or less the failed policy of the previous administration's North Korea policy, but with a new sense of urgency and greater focus. However, in view of the unpredictable temper of Trump, the new policy is very risky because greater military and economic pressure may increase the likelihood of re-igniting the terrible Korean War. At this time, US is building up its military power in Korea and Japan. USS Carl Vinson, the aircraft carrier with 90 warplanes, is conducting joint naval drill with Japanese Navy near Okinawa, and a US nuclear submarine, which can fire Tomahawk missiles, also arrived at Busan, S. Korea.
We have advocated that the real solution to the continuing military tension in Korea is to end the Korean War officially with a peace treaty, not just focusing on denuclearization in N. Korea. But it is unclear at this time when Trump will pivot from military pressure to direct talks with North Korea. Thus, it is critical for our VFP members and supporters to engage in sustained public advocacy for permanent peace in Korea.
Take Action Today:
Write an Op-Ed or a letter to your Local Paper. (See Ann Wright's excellent Op-Ed "A Path Forward on N. Korea" for an example)

Hold a peace vigil for Korea

Promote the Korea Peace Campaign Video on the Korean War

Urge the White House and Congress to end the Korean War now with a peace treaty.

White House 202-456-1111

Congress  202-224-3121 (Find your representative)
Stop threatening N. Korea, Start talking! Wage Peace, not War in Korea!
Thank you!
VFP-Korea Peace Campaign committee