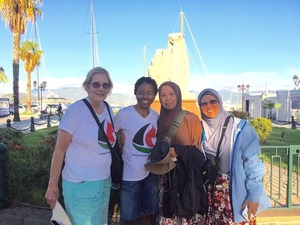 Advisory Board member, Ann Wright, is getting ready to embark on the Women's Boat to Gaza.  Make sure to follow her journey!
She sent an update to Veterans For Peace:
"We will be in Messina with our new delegates that are arriving from all over the world!  We have had wonderful delegates on the first two legs--such worldwide solidarity for Palestinians.
Do check out the great photos and stories--and our Al Jezeera team that was on board from Ajaccio to Messina are posting great videos as well as our Israeli journalist!!!
Wish us smooth seas for the 1,000 mile journey! Break the Israeli Blockade of Gaza!!!"
Below is an update from the Boat:
Messina, Italy – This morning the community of Messina, Italy welcomed the participants on board Zaytouna-Oliva as they arrived following their voyage from Ajaccio, France. The sailing boat will leave Messina for its final destination, the shores of Gaza.
Lucio Intruglio, the local organizer in Messina noted "we have been waiting eagerly for our sisters to arrive and have a variety of activities to celebrate their mission." During their stay at Messina, the women will participate in a nonviolence training and have a chance to meet with citizens, student groups and the mayor of Messina. Intruglio adds "but we will also be sure they get plenty of rest. We know that it is a long difficult journey and we want them to leave Messina refreshed for this important next leg."

The Women's Boat to Gaza is an initiative of the Freedom Flotilla Coalition composed of civil society organizations and campaigns from more than a dozen countries. For more information, visit www.womensboattogaza.org.