There are over 400 buses going to the People's Climate March.  More than 60% of the tickets have been sold.

Don't wind up missing out on the largest climate march in history because you forgot to get a ticket  - click here to find a bus near you.

Housing is available for people who need it.
VFP/IVAW/VVAW members will muster at 77th St. and Central Park West (CPW) behind (south of) the speakers and stage. The C train stops at Central Park West and 80/81st and the 1 train stops at 79th and Broadway. If you get off at 79th St. go to 77th St. turn left (east) and walk a few blocks to CPW.
Time to assemble: Some of us will be there by 9 AM and will be helping inflate the big inflatable. We could use help then. Others should try to get there by 10:30 if possible. The march is supposed to start at 11:30 AM. If it does start then, we will probably not move until noon. Please try to be there by 11:30 AM the latest. If you can't make it by then to 77th St. then familiarize yourself with the route and fall in along the way.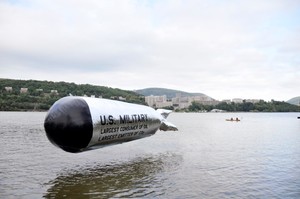 Veterans have been designated to lead the "We Know Who Is Responsible/Peace and Justice" contingent with the 30ft inflatable "bomb. "  Directly behind the bomb, veterans will carry the 15/3 banner followed by more veterans and supporters carrying VFP flags.  The hope is to organize into ranks, probably of 5 across, maybe 4 depending on how many show up.

Wear a black VFP/IVAW/VVAW or VFP Agent Orange t-shirt.  The weather will be sunny with a possible high of 81° and a low of 61°.  Susan Schnall will have a few black VFP Agent Orange t-shirts for sale. Email her your size.  If you can,  wear dark or black pants as well. 
Bring water and a snack. 

VFP Contact:  Tarak Kauff 
takauff@gmail.com 
845-679-3299
VFP Contact:  Ben Chitty
unclebenusn@yahoo.com
VFP Contact:  Bill Gilson
bmoheganlake@aol.com
VFP Contact:  Susan Schnall
susanschnall@gmail.com
IVAW Contact:  Matt Howard
mattwhoward@ivaw.org 
646-723-0989
VFP/IVAW/VVAW members will be wearing orange ribbons.

Look for VFP flags and banners.