In photo, members from VFP Chapter 101 in San Jose CA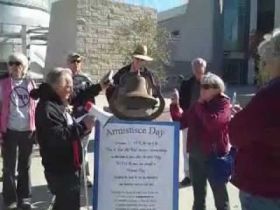 Veterans For Peace calls for the observance of Veterans Day to be in keeping with the holiday's original intent. Congressional Act (52 Stat.351: 5U.S. Code, Sec.87a) approved May 13, 1938, made November 11th of each year a legal Federal Holiday,"A day to be dedicated to the cause of world peace and to be thereafter celebrated and known as 'Armistice Day'."
The ceasefire on the, "eleventh hour of the eleventh day of the eleventh month" of 1918 along the European Western Front was such a relief to all those involved as the world had never seen such horror and carnage as World War I. The horrible conflict that had come to be known as the "War to End War" brought the bulk of humanity to contemplate abolishing war.
Veterans For Peace calls on its members and allies to observe Veterans Day by rejecting militarism and the glorification of war. We call on the nation to honor veterans and all those who have died in war by working for peace and the prevention of war. There is no better way to honor the dead than to protect the living from the fear, terror and moral deprivation of war.
VFP Resolution Submitted by Bob Heberle, VFP Chapter 27, (Endorsed by VFP Chapter 27)
Whereas bells worldwide were rung on November 11, 1918 to celebrate and recognize the ending of WWI, "The war to end all wars" and
Whereas to commemorate that peaceful pledge, bells were rung November 11 for over 35 years, and
Whereas, legislation making November 11 a holiday passed in 1938, " Shall be a day to be dedicated to the cause of world peace and to be hereafter celebrated and known as "Armistice Day." and
Whereas the 83rd Congress, at the urging of the veterans service organizations, amended the Act of 1938 by striking out the word "Armistice" and inserting in its place the word "Veterans." With the approval of this legislation (Public Law 380) on June 1, 1954, November 11th became a day to honor American veterans of all wars, and
Whereas the substitution of the word "Armistice" to "Veterans" changes the focus from peace to war by celebrating and honoring warriors and war, and
Whereas that November date symbolized the nation's desire to hold to a peaceful future and away from war, and
Whereas, too often rhetoric and patriotic symbols are used instead of genuine compensation for the extraordinary sacrifices and services of military personnel, and
Whereas 90% of victims of wars are now civilians and by honoring only veterans, the public is distracted from the awful price paid by those other than military members, and
Whereas Chapter #27 has for over 17 years promoted the ringing of a bell eleven times at its ceremonies on November 11 and at other solemn occasions such as funerals to remind the public of that Armistice Day peace pledge, and
Whereas the ringing of bells is so much more fitting and peaceful than the often practiced gun salutes and fighter plane flyovers.
Therefore Be It Resolved that Veterans For Peace, Inc. urges its membership to adopt the procedure of honoring peace by focusing on bell ringing on Armistice Day, November 11 and other solemn occasions.
Approved at the 2008 VFP national convention