Consider the story of Leah Bolger, the latest American hero up on trial: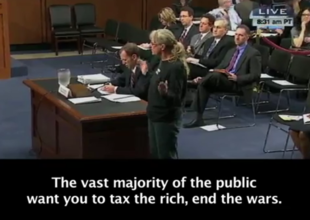 She is a young female artist in the Midwest. She joins the Navy at 22, is made commander and serves two decades as an anti-submarine warfare specialist. After retiring she joins Veterans for Peace and becomes the organization's first female president. Then, in October of 2011, she commits the crime of interrupting a public congressional hearing of the Super Committee to deliver a message from the 99 percent: End the wars and tax the rich to fix the deficit.
Because of her 45-second transgression, Commander Bolger now faces a court trial this Thursday morning, April 12, where she could receive a maximum jail sentence of six months. Bolger, 54, intends to plead guilty and use her court appearance to draw the connection between America's deficit debacle and the three-quarters-of-a-trillion-dollar defense budget we, as voting taxpayers, spend as a base-mark for failed and unending military ventures overseas.
Bolger has no illusions about what Americans are up against: a corporate-run military machine that she says "is so big and complicated and intertwined with the government and Congress and the media that I don't know where you can start unraveling the knot." But one place to begin is with the Occupy movement, which she says has placed too little emphasis on ending America's wars in Afghanistan, Iraq and elsewhere.
She feels, so far, that Occupy is "all about corporate rule and the 99 percent, with the 1 percent controlling everything. But I don't see very many people talking about the war and the killing machine and the military industrial complex being a major contributor to this disparity between the rich and the poor."
A "moment of epiphany"
Bolger grew up in the Kansas City area and majored in fine arts at Central Missouri State University. When she failed to get into grad school, she joined the Navy for the simple reason that she needed a job. Bolger knew she wasn't a typical naval officer and that, in a sense, she "never really fit in." While studying at the U.S. Naval War College in Newport, RI, where she eventually became the deputy dean of students, she wrote papers on conflict termination and the importance of the United Nations, putting her "on the other side of what most people were talking about."
"I had no intention of sticking around for 20 years," Bolger recalls. In the 1980s, women still weren't even allowed to work on Navy combat ships or aircraft. Yet as a commander — equivalent to the rank of lieutenant colonel in the Army — and a specialist in anti-submarine warfare, Bolger's skills led her on what she considered "exciting" missions around the world, from Iceland and Bermuda to Japan and Tunisia.
Despite all the experience, though, Bolger says she remained "naïve and ignorant about foreign policy and about what the military does. It was easy to be in for 20 years and not have to make any moral decision. I never had to shoot at anybody or launch any weapons. I never had to see the damage caused by what I was doing. And I did not have to confront the politics or the morality of what the American military machine is."
Until later, when she did just that.
After retiring from the Navy, Bolger married and lived a traveling life on a sailboat, then in an RV, before she and her husband settled in Oregon in 2004. She began working in the peace movement soon after and, in March of 2005, attended an exhibit of the American Friends Service Committee called "Eyes Wide Open," where she had a "moment of epiphany."
"There was a pair of army boots for every soldier that's been killed [since the wars began in 2001] with tags on the boots showing their names and where they're from, boots lined up in even straight rows," she recalls. "It wasn't just looking at American deaths, but Iraqis too, on large posters. I just remember it affecting me viscerally, the feeling in my stomach — it was a kick in the gut when I saw that. It really, really hit me."