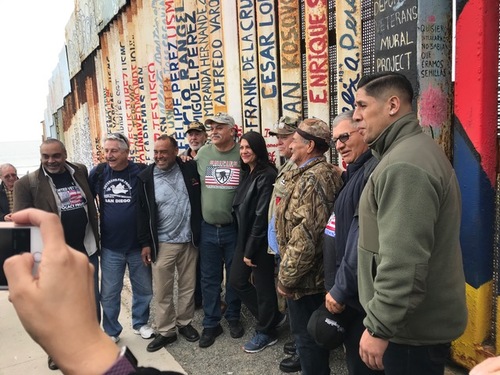 Last month, Representative Tlaib visited with members of Chapter 182 in Tijuana and the San Diego chapter.  Below is a report written by VFP Board member Gary Butterfield.
On December 21st, Betty and I attended a talk sponsored by CAIR with Congresswoman Tlaib from Michigan.  The middle school auditorium in 4S Ranch was packed and she gave an inspiring talk over a wide range of topics, including her background, deported vets, immigration and finished with a plea for all of us to become more active by helping get all of our friends and acquaintances to VOTE this year.
Then on Sunday morning (December 22nd) an impressive number of San Diego Veterans For Peace had breakfast with the Congresswoman's key Veterans Affairs person, Oscar Arbulu.  Attending were Ed Fox, Jan Ruhman, Jim Brown, Stephanie Siegel, Paul Ross, Jack Doxey, Maurice Martin, George Johnson, Anne Barron, Wil Van Atta and Betty and me. Oscar and Ethan Azad represented the Congresswoman.  We had in-depth discussions about Deported Vets, Saving the VA system, climate change and overall militarism and how to improve the country for our citizens. 
Then a group of us continued into Mexico and joined with members of Chapter 182, Unified US Deported Veterans, and met the Congresswoman and her aides, along with members from San Diego CAIR, at Border Friendship Park at the US/Mexico border.  "Border Church" was conducted there with prayers from the Muslim community and a service by a Methodist Minister. Following that there was an extended conversation at the Deported Vets office with Congresswoman Tlaib and members of Chapter 182.  
A special thanks to Robert Vivar and Hector Lopez and all the other members from Chapter 182 who graciously hosted all of us while in Mexico.  There were many significant interactions and emotional moments during the afternoon, especially when drawing comparisons between the immigration situation on the US/Mexico border and the Palestinian situation.  Congresswoman Tlaib was visibly moved by the plight and stories of the Deported Vets.