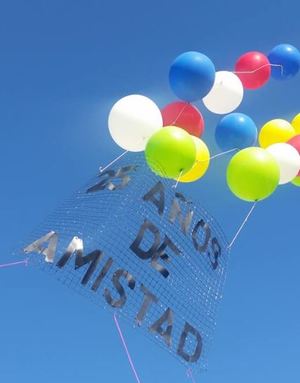 "The traditional Posada Without Borders was celebrated simultaneously in Tijuana (Mexico) and San Diego (California) on Saturday for the 25th year, even as the participants from the United States were prevented from coming close to the border fence.
This posada, a Mexican tradition which commemorates the pilgrimage to Bethlehem by Mary and Joseph in search of a room, brings together hundreds of people from both sides of the border who are separated by a fence, located at the Friendship Park on the US side.
But this year those attending the event on the US side of the border had to maintain a distance of about 60 meters on order of the US Border Patrol."
(Read Traditional posada celebrated with restrictions at US-Mexico border)
Members of Veterans For Peace attended the Posada Without Borders on the Tijuana side of Friendship Park.
Robert Vivar, a member of Veterans For Peace and deported Gold Star Father, said of the event "For 25 years our communities Tijuana/San Diego, have come together on this sacred ground to celebrate the love our communities share. No Border Hate Wall, can divide our friendship....Loved sharing the Posada with good friends and my Daughter and Grandson"