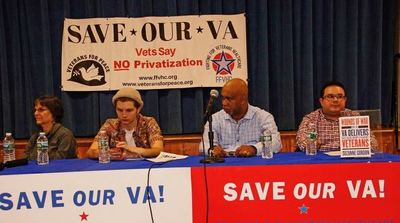 After several months of organizing including distributing almost 7,000 flyers about VA healthcare, the threat of privatization and advertising our Save Our VA Town Hall program on November 29 to veterans and staff at the Manhattan and Bronx VAs, we had our meeting last Thursday and it was a great success. Between 80-100 people attended the event from 7:30-9:30 PM. It began with presentations by our four panelists:

Author Suzanne Gordon, Journalist Jasper Craven, NNU leader James Young & AFGE leader Gabriel Pedrera.
Then the evening was turned over to 20 veterans speaking about their experience with VA healthcare which offered a variety of views about how it helped them in their lives and their opposition to privatization of VA healthcare. Their remarks consumed the remainder of the evening. It was a great event and points the way forward to sponsoring more such "town halls" in the future, perhaps next in the Bronx, Queens, and Brooklyn.
The Town Hall was videoed by two people -- Ed Briody and Ilan Lieman. Ed has posted his edited version of the Town Hall on You Tube in two sections and Johnny Williams, a Bronx vet who attended the event and took photos, created a You Tube video.  Check out the videos below!
We plan to continue our campaign of reaching out to veterans and staff at our local VAs and will likely sponsor more "town halls" in the Bronx, Brooklyn and Queens.
We would very much like to hear from you about your local Save Our VA Action Team activities. We need to build our campaign to Save Our VA and Stop Privatization but talking to each other and learning from each other. Be sure to check out the Save Our VA section that can help your local campaigns!