On the 102nd Anniversary of Armistice Day, VFP Chapters and Members across the U.S. and abroad once again took the lead to Reclaim Armistice Day as a "day dedicated to the cause of world peace," as it was celebrated at the end of World War I when the world came together to recognize the need for lasting peace. Even though celebrations looked a little different than in past years, many of our chapters hosted virtual actions and adapted in-person events for safe gathering. 
Below you will find recordings of virtual events, reports from local chapter actions, and links to articles, podcasts, radio shows, videos and more from Veterans For Peace members and chapters reclaiming Armistice Day!
You can view the full Armistice Day 2020 photo album here!
If you do not see your action/photo below, or would like to make a change, please send an email with the information to samantha@veteransforpeace.org.
---
Did you miss our special 2-hour Armistice Edition of the weekly VFP panel discussion? Click the video above to watch the recording, or watch it on the VFP Facebook page!
---

National News, Letters to the Editor, OpEds, etc.
Local News Stories
 Poetry

For the past 7 years during Memorial Day weekend, VFP has done Letters to the Wall. Anyone affected by the American War in Vietnam can write a letter telling how and why, and have it placed at The Wall by Veterans For Peace members. This year due to the pandemic the event was cancelled, but on November 2nd Mike Marceau and Leah Brown of the DC VFP chapter delivered 30 letters.
Click on the videos below to watch the recordings!
Reclaim Armistice Day: A VFP Event to Return to the Original Vision of Ending War
From Bob Keilbach: We had over 150 participants from all over the US, as well as Ireland, UK and Central America, at our Armistice Day event. The Commemoration was sponsored by: NYC Veterans For Peace, Vietnam Full Disclosure, Boston Veterans For Peace/Smedley Butler Brigade, San Francisco Veterans For Peace, Maine Veterans For Peace, Veterans For Peace/Chapter 021 (Northern New Jersey).
The event went very smoothly, beginning with a slide show of past Armistice Day events, music, poetry, speakers, and ending with Taps.
Featured speakers included: Ann Wright, Rory Fanning, Matt Hoh, Peggy Akers, Doug Rawlings, Danny Sjursen, Ben Griffin, Jan Barry, & Edward Horgan (VFP Ireland), followed by a dozen call-in speakers.
---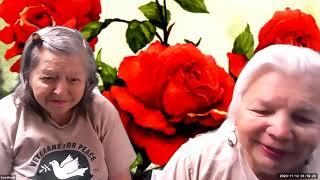 Chapter 13 - Tucson, AZ
The Chapter 13 virtual Armistice Day Commemoration included:
Reading of The VFP Statement of Purpose
Welcome - Personal statements
Reading of the VFP Armistice Day Statement
"We are Veterans For Peace" recorded VFP Inc. A/V
"The Costs of War" motivation
"Intersections" motivation
"We do the right thing" motivation
Traditional ringing of the bell 11 times at the 11th hour of the 11th day of November
Closings, secular and religious
---
Chapter 63 - Albuquerque, NM (Donald & Sally-Alice Thompson Chapter)
For several years, VFP Chapter 63 has been asked by the United Veterans Council of NM to toll the Armistice bell at their Annual Veterans Day Program at the NM Veterans Memorial. The event went virtual this year so members of the chapter borrowed a suitable bell, enlisted the talents of videographer Mike Swick and pre-recorded the Armistice tolling, to be made a part of the larger program available on November 11. In attendance were: Charles Powell, Lorna Clark, Mike Gallagher, Bill Tiwald, Barb Tiwald, Herb Hoffman. The ringing of a bell is an appropriate way to honor all military and civilian victims of war, to recognize veterans and active military members and to acknowledge the human spirit's eternal longing for peace.
Watch the full recording here.
---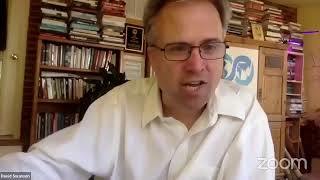 Chapter 90 - Broome County, NY (Webinar: What about WWII?)
Organized by: VFP Chapter 90 - Broome County, NY (Stu Naismith Chapter) and Peace Action of Broome County
David Swanson, author of War is a Lie and  Executive Director of World BEYOND War, was online in a zoom directed mainly at high school and college students. The webinar discussed the "What about WWII?" question so popular among supporters of military spending, and the history of Armistice Day.
---
Chapter 91 - San Diego, CA (Hugh Thompson Memorial)
Jim Brown writes: Our Armistice /Veterans Day ceremony was conducted with a small crew of VFP members and supporters plus a young Blue Star family singer who performed "In Flander's Field '' as our closer. Masks were worn except when speaking and social distancing was observed throughout. Jim Brown welcomed all with a short discussion of how Armistice Day was founded by President Wilson after WW1 to remind us to never again choose war to handle our problems. He noted the cost in lives and treasure was too high for all concerned and to use this day to remember to work for peace!
After WW2, it somehow morphed into glorifying our victories in war and to feature our fabulous weapons of destruction and military might. After this opening, as a solemn  memorial, we read the names of our fallen soldiers of the Iraq and Afghanistan war. Closing our ceremony was the singing of "In Flanders Field" by Kate Moore, 14, in honor of her father, a combat naval aviator  pilot and veteran of the recent wars, who died of cancer just before she was born. "Work for Peace everyday not just Armistice Day"
SDVFP TEAM FOR TODAY was Jim, Paul, Vick, George Sean, Sean's daughter Chloe and two brothers and the Tara Moore-Fox family.
Click the video to the right to watch the closing performance, or watch the video on YouTube.
---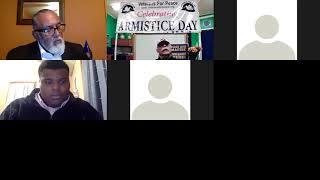 Chapter 102 - Milwaukee, WI
Milwaukee Veterans For Peace's 14th annual Armistice Day event went virtual this year. View the poster.
Speakers:
David Swanson - Executive Director of World BEYOND War, on "The Pro-War Candidate Has Defeated the Pro-War Candidate: Now What?"
Fred Royal - President of Milwaukee NAACP, "The Cost of Peace."
With music by Jason Moon and Jesse Frewerd
---
Chapter 113 - Hawai'i
Chapter 113 in Hawai'i had an Armistice Day Inter-Island Talk-Story Zoom call with Veterans For Peace members on Oahu, Maui, Kauai, Big Island, Molokai and Lanai. 
---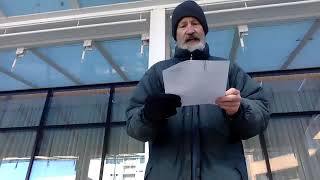 Chapter 161 - Iowa City, IA
---
Reid-Knox Forum - "Restoring Armistice Day"
VFP members held a Reid-Knox Forum on "Restoring Armistice Day". The program began with Tim Caldwell, an Emeritus Professor of Music from Central Michigan University (and Vietnam Veteran) reading an "Introduction" to a performance of "The Armed Men: A Mass for Peace." Then followed a reading of Kurt Vonnegut's comments on "Restoring Armistice Day." Then Leah Bolger (a former Navy Commander and later President of Veterans For Peace) spoke on 'Transformations' [from warrior to peacenik]. Julie Thomas-Beckett from the META Peace team concluded with comments on Meta's work in resolving conflicts. After the formal presentations, they took time for discussions and reflections. 
Recording coming soon! 
---

Click on this link or any of the photos below to be taken to our full 2020 Armistice Day photo album!
VFP United Kingdom
A member of VFP UK laid the Never Again wreath at the Cenotaph on Armistice Day to remember all victims of war, no matter their station, service, or nationality. Read more.
---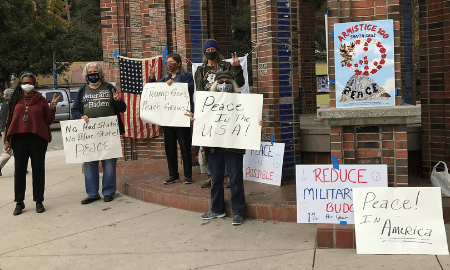 Chapter 11 - Santa Cruz, CA (Corrie Mizo Chapter)
Chapter 11 held an Armistice Day event this year at the Santa Cruz Town Clock.
---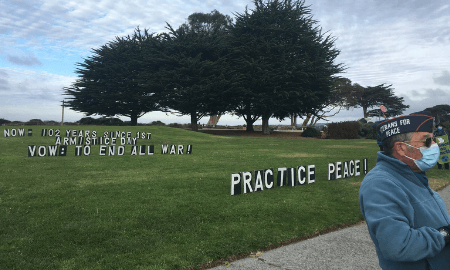 Chapter 46 - Monterey, CA
Chapter 46 joined with Peace Coalition of Monterey County at Window on the Bay in Monterey. Members brought signs and banners, including one with the following message: NOW- 102 YEARS SINCE ARMISTICE DAY BEGAN- VOW: TO END ALL WAR! PRACTICE PEACE!
---
105 - Baltimore, MD (Phil Berrigan Memorial Chapter)
Madeleine Mysko (the unofficial poet laureate of the Baltimore chapter) read this poem at their Armistice Day gathering, but it was so rainy she recorded the above video of her reading her poem later.
---
Chapter 93 - South Central Michigan
From Bob Krzewinski: VFP Chapter 93 held its annual Armistice Day "Arlington Michigan" display at Ann Arbor's Veterans Park from 11am to dusk. The purpose of the display is to honor those who have fallen, provide a place to grieve, and educate the public about the costs of war as well as the needs of those returning from war. While we always have a fair level of actual visitors to the display site, our location puts us next to one of the highest traffic volume intersections in the county with lots of "thumbs up" motorist displays and horn honking. At 11am we had a short peace ceremony bringing attention to the significance of the 11th hour of the 11th day of the 11th month. 
Read the news story: Veterans For Peace Remember Fallen Michigan Military Members
---
Chapter 104 - Evansville, IN
Chapter 104 held a dedication ceremony of a progeny of the 100+ year old International Peace Tree that the chapter propagated. This tree is located in the Veterans section of Evansville's largest/oldest cemetery. 

Watch the news story: Evansville celebrates Veterans Day at 3 events
---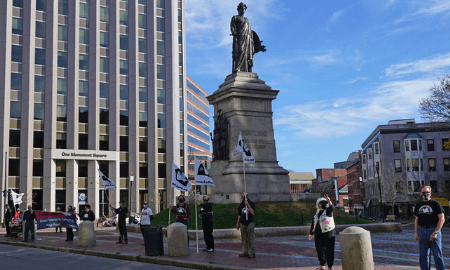 Chapter 01 - Auburn, ME
Members of VFP Chapter 1 in Maine held multiple silent vigils with VFP banners and signs on display.
---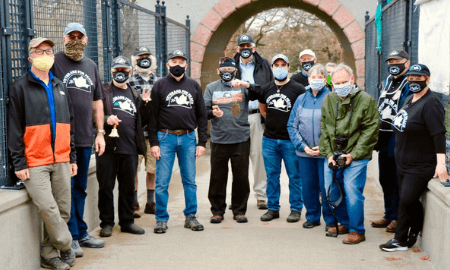 Chapter 23 - Rochester, NY
VFP Chapter 23 held a bannering and bell ringing on the 11th hour of the 11th day of the 11th month as a call for world peace and remembrance that Armistice Day was, and should be, observed as a day calling for world peace. 
---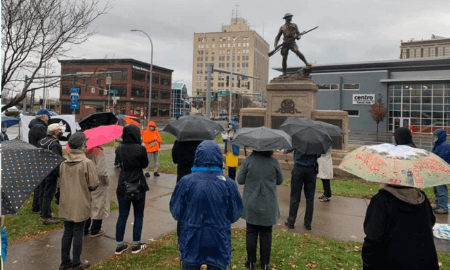 Chapter 51 - Syracuse, NY
VFP Chapter 51 and the Beyond War and Militarism Committee (BW&M), a joint committee of the Syracuse Peace Council and the CNY Solidarity Coalition, held a joint event to reclaim Armistice Day at the WWI soldier statue at Billings Park in Syracuse. They held a vigil to be reminded of the true purpose of Armistice Day and to ring bells eleven times in remembrance of the millions killed, wounded, widowed, imprisoned, orphaned and displaced by war. They gathered in this solemn manner, not to pay homage to the weapons of destruction, but to renew our commitment to work to end all wars and to foster peace and justice, at home and abroad. In remembrance of ALL victims of war, they wore white poppies. Photo Credit Roger Misso.
Read the news story: Peace Activists and Veterans Gather in Downtown Syracuse to "Reclaim Armistice Day"
---
Chapter 100 - Juneau, AK
VFP Chapter 100 held a short program followed by the ringing of the bell located in front of the state capitol building at 11:00am.
Read the news story: Group commemorates Armistice Day, embraces peace
---
Chapter 92 - Seattle, WA
Chapter 92 held a 5-minute ringing of church bells at James Cathedral and then at 11, the bells rang eleven times. There was a short reading and they handed out peace poppies.
---
Chapter 110 - Long Beach, CA / MFSO
Local churches, St. Anthony's Catholic Church and Trinity Lutheran in Long Beach, St. Anne's Catholic church in Seal Beach and individuals in local neighborhoods rang bells in front of their homes 11 times at 11am. The ringing of bells were followed by a moment of silence, to remember the many soldiers and civilians killed and injured by warfare, and to make a commitment to work for peace, in our family, our church, our community, our nation, and our world.
---
Chapter 09 - Boston, MA
Chapter 9 members met at Park St. Station and stood with masks and distanced with signs and flags along Tremont St. Members brought a sound system for people to speak, followed by a bell-ringing at 11:11am.
---
Chapter 27 - Minneapolis/St. Paul, MN
Veterans For Peace Chapter 27 had a bell-ringing event at the local WWI Memorial. Click the photo above to watch, or watch on YouTube. 
---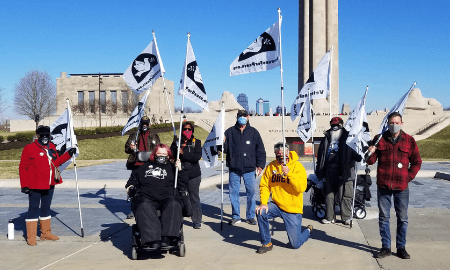 Chapter 97 - Kansas City, MO
From Sara Campbell:  On 11 Nov 2020 the National WWI Museum and Memorial in Kansas City, MO held its annual Veterans Day Celebration. The Kansas City Chapter of VFP held a vigil on the Memorial grounds for Armistice Day. We gathered directly in front of the WWI Memorial in full view of all attendees of the Veterans Day event. We carried 11 VFP flags for 3 hours and made several important contacts with potential new members. At 11 am, we rang a bell 11 times and followed with an impassioned reading of the VFP official statement on reclaiming Armistice Day. 
---
Chapter 146 - Fairbanks, AK
Chapter 146 rang in Armistice Day with Bells for Peace with an outdoor, socially-distanced event. Chapter 146 has been Ringing In Peace on Armistice Day every year since 2006, outdoors, whatever the weather. Photo Credit: Ananda Stone
Read the news story: Fairbanks honors veterans
---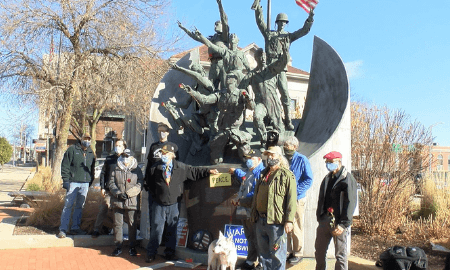 VFP Member Vigil in Rockford, IL
Two Vietnam Veterans For Peace stood in front of the veterans statue near Memorial Hall on Wednesday, November 11, at 11:00 a.m. Stanley Campbell and Scott Garwick held a sign that says "Peace" in front of the statue that has been named "Victory." 
Read the news articles:
---
Chapter 157 - North Carolina Triangle
VFP Chapter 157 joined together for an observance on 11/11 at the Elder Sage Garden, for a time of reflection while hearing the bells of the Basilica ring 11 times at 11AM to mark the time when our world seemed united in ending war.
---