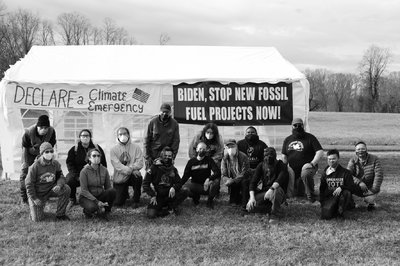 New Year, New Action, New Demands
January 1st  marked the final day of the weeklong Occupy Biden event, where dozens of people from various organizations, including Veterans For Peace, and multiple states had camped out at 909 Centre Road since Christmas Day calling for Biden to act now on climate change.  The tents came down and banners were furled not in defeat, but instead in hope and steadfast determination after a coalition of human beings organized in community to deliver demands to President Joe Biden at his Wilmington, Delaware home. 
Why Biden? Recently, our president has echoed scientists in claiming that the climate and ecological crisis is a "code red" emergency for humanity. But actions speak louder than words, and Biden is failing to follow through on his rhetoric.
Instead, Biden is pouring fuel on the fire of climate breakdown by opening vast areas of public and tribal land to drilling. "Approvals for companies to drill for oil and gas on U.S. public lands are on pace this year to reach their highest level since George W. Bush was president," NPR reported on July 13, 2021.
We marched together, organized and empowered by the will to see life and love not just survive these trying times, but thrive. We see a path to a future that is just and moral, placing an importance on ensuring the healthy survival of all life on this planet. We come together as a coalition of equal-under-the-law citizens, seeking action on the root causes of the climate crisis - not just its symptoms. We stand with our community representing people across not only your home state, not only across the country in which you rule, but across the entire world. We are occupying for our surival... and yours too.
There is action President Joe Biden can take today, immediately, from his home in Wilmington, DE. Action that would address the realities of Boulder, Colorado burning in January. Action that is needed to save all life on this planet. Action that would radically transform what the meaning of justice is for those who are part of this nation. Action that would unify and heal the broken heart of this land's people. Action that would prove a meaningful future does exist for all.
We demand Biden take true climate leadership by: 
1.Declare a climate emergency
2. Mandate that all federal agencies oppose all new fossil fuel projects. 
For a full list of demands, click here!
---
Press Coverage:
Encampment Near Biden's Delaware Home Calls for Declaration of Climate Emergency 
Rain doesn't stop climate change march to Biden's Greenville home New Year's Day
'Occupy Biden' forms weeklong camp near Delaware residence, demands president declare 'climate emergency'

Climate change protesters wrap up vigil outside Biden's Wilmington home

Gamers For Peace Twitch shows: Show 1, Show 2