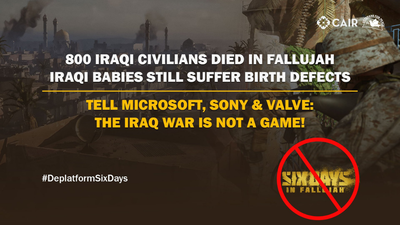 The Council on American-Islamic Relations (CAIR) and Veterans For Peace are calling on all gamers - here in America and around the world - to add their names to an open petition calling on Microsoft (Xbox) and Sony (PlayStation) and Valve not to host or digitally distribute the soon-to-be-released video game "Six Days in Fallujah," developed by Highwire Games and published by Victura. 
CAIR and Veterans for Peace believe at its core, the game is an "Arab murder simulator" that glorifies violence that took the lives of over 800 Iraqi civilians, justifies the illegal invasion of Iraq and reinforces Islamophobic narratives. 
The Second Battle of Fallujah was a violent and bloody battle during the Iraq War that left more than 800 civilians dead. The tragic episode was heavily criticized for the U.S. military's tactics, including the use of white phosphorous. In the years since the battle, numerous Iraqi babies have been born in Fallujah with serious birth defects.   
When the game was initially announced back in 2009 by Atomic Games, it received widespread criticism from the public, anti-war organizations, and veterans, forcing then-publisher Konami to drop the project. In 2016, former CEO of Atomic Games, Peter Tamte, formed his publishing studio, Victura, to support the game's reemergence in 2021.   
The open petition states: 
"As a gamer I join the Council on American-Islamic Relations (CAIR) and Veterans For Peace in calling on Microsoft, Sony and Valve to ban their platforms from hosting or digitally distributing Six Days in Fallujah, an Arab murder simulator that will only normalize violence against Muslims in America and around the world. 
"The gaming industry must stop dehumanizing Muslims. Video games like Six Days in Fallujah only serve to glorify violence that took the lives of hundreds of Iraqi civilians, justify the Iraq war, and reinforce anti-Muslim sentiment at a time when anti-Muslim bigotry continues to threaten human life."  
SIGN THE PETTITION BELOW AND JOIN CAIR AND VETERANS FOR PEACE IN CALLING ON MICROSOFT, SONY, AND VALVE NOT HOST OR DIGITALLY DISTRIBUTE SIX DAYS IN FALLUJAH. 
CAIR's mission is to enhance understanding of Islam, protect civil rights, promote justice, and empower American Muslims.     
Veterans For Peace is a network of over 140 chapters worldwide whose work includes: educating the public, advocating for a dismantling of the war economy, providing services that assist veterans and victims of war, and most significantly, working to end all wars. 
END 
CONTACT: CAIR National Communications Director Ibrahim Hooper, 202-744-7726, ihooper@cair.com, Veterans For Peace Communications Director Colleen Kelly, 314 -899-4515, press@veteransforpeace.org.