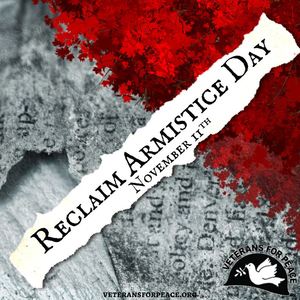 For Immediate Release                                          
Contact:  Colleen Kelly, press@veteransforpeace.org, 314-761-7428
November 11, 2019                                           
Veterans Reclaim Armistice Day
Veterans all around the U.S. will celebrate Veterans Day by reclaiming the original November 11 holiday, Armistice Day, which marks the end of World War I.
Veterans, family members and supporters in at least 30 U.S. cities will march in Veterans Day parades, hold vigils to remember all who have died in U.S. wars, and solemnly ring bells on "the eleventh hour of the eleventh day of the eleventh month." 
"We are reclaiming Armistice Day," says Garett Reppenhagen, Executive Director of Veterans For Peace.  "At a time when we have unprecedented wasteful Pentagon spending with an ever-increasing  budget and a U.S. government who denies the precipice of catastrophic climate change, it's more important than ever to speak out against war and hold up the values of peace.  And as a veteran who has fought in a U.S. war, I know that it is essential that our country begin to push back on the celebration of war."
Almost a hundred years ago the world celebrated peace as a universal principle .  The first World War had just ended and nations mourning their dead collectively called for an end to all wars.  Armistice Day was born and was designated as "a day to be dedicated to the cause of world peace and to be thereafter celebrated."
 After World War II, the U.S. Congress decided to rebrand November 11 as Veterans Day. Honoring the warrior quickly morphed into honoring the military and glorifying war. Armistice Day was flipped from a day for peace into a day for displays of militarism.
 Veterans For Peace has taken the lead in lifting up the original intention of November 11th – as a day for peace. As veterans, we know that a day that celebrates peace, not war, is the best way to honor the sacrifices of veterans.  We want generations after us to never know the destruction war has wrought on people and the earth.  <To Read Full Statement>