Deported Veterans Sail on Golden Rule Peace Boat
by Gerry Condon
For the second year in a row, VFP's Golden Rule peace boat sailed from San Diego to Ensenada in Baja California, Mexico, in order to go sailing with our good friends in the Unified U.S. Deported Veterans chapter of Veterans For Peace. 
The historic anti-nuclear sailboat departed San Diego in the wee hours of Saturday morning and arrived in Ensenada just before a beautiful sunset on Saturday evening.  On Easter Sunday there was TOO MUCH WIND to go out sailing.  On Monday, however, the sailing conditions were PERFECT.  Two groups of Deported Veterans and family members went out sailing in Ensenada Bay, for about 2-1/2 hours each.  Needless to say, we had a super great time, and there were BIG SMILES all the way around.
It is always great seeing our Deported Veterans friends.  We have become like one big family. We are always inspired by their dedication to their community. By the mutual support they provide to one another. By their persistent efforts at networking and building support in the U.S. for their eventual return home. And by their outreach to asylum seekers in Tijuana from Central America, Venezuela and Haiti.  Last week Col. Ann Wright and I joined the Deported Veterans as they delivered much needed water and food to one of the refugee encampments.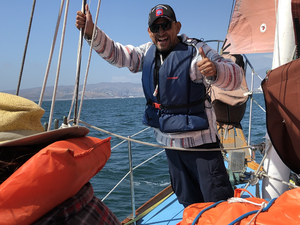 There was also another purpose for the Golden Rule's voyage to Ensenada.  It was a "shakedown cruise" for the new captain and crew, who will soon be sailing the Golden Rule to Hawaii.  Sixty-one years after the original crew sailed from Los Angeles to Honolulu, we will be retracing their historic voyage in 1958, which helped bring worldwide attention to the harmful radiation that was floating all around the planet as a result of nuclear bomb testing by the U.S., the UK, the USSR and France, and led to the 1963 signing of the Partial Nuclear Test Ban Treaty.  The U.S., UK and USSR agreed they would not conduct nuclear bomb tests in the atmosphere, the water, or in outer space.
The voyage from San Diego to Hilo on the Big Island of Hawaii is expected to take three week, possibly more. After about six months of sailing around the Hawaiian Islands with our message of peace and demilitarization, the Golden Rule will sail to the Marshall Islands, the destination of the original crew, where 67 nuclear bombs were exploded between 1946 and 1958.
From the Marshall Islands, the Golden Rule and her intrepid crew would head to Guam, Okinawa, Jeju Island (South Korea), finally arriving in Japan for the August 2020 75th year commemoration of the U.S. nuclear bombings of the civilian populations of Hiroshima and Nagasaki.  We have also been invited to visit Vietnam.
Last week Puna Kalama Dawson, an indigenous Hawaiian elder and Keeper of Knowledge, flew from Hawaii to San Diego in order to perform a ritual welcoming the Golden Rule, her crew and supporters "home to Hawaii."  Col. Ann Wright was also able to join us for this special occasion. 
This Saturday afternoon, April 27, we will have our Farewell Picnic with San Diego VFP and many other good friends.  For more information, call Helen Jaccard at 206-992-6364 or Gerry Condon at 206-499-1220.
You can actually follow the progress of the Golden Rule on the Garmand tracker at our website, www.vfpgoldenruleproject.org. We will be raising much needed funds as we sail.  You are most welcome to put a little wind in our sails!