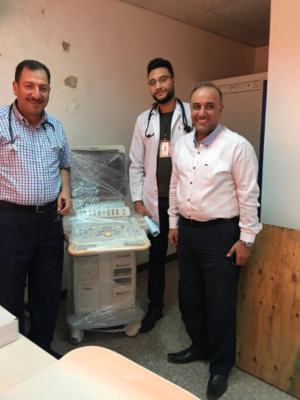 The Howard Zinn Committee of Veterans for Peace is pleased to announce that Chapter 95's Zinn-supported reparations work has allowed Fallujah's Women and Children's Hospital to purchase an echo-cardiogram machine, as well as to make connections between this hospital and Western medical organizations.
Doctor Basim Atallah of Fallujah's Women and Children's Hospital wrote:
"Thank you very much for this very important gift for our hospital and we are so happy with your nice feeling to our suffering with increasing incidence of congenital malformations especially congenital heart disease among our babies. My great respect and regards."
To see Ross' full project: A People's History of Fallujah
This was a joint effort with the Japanese NGO Iraq Hope and the Swedish Irak Solidaritet.  Completing an international solidarity project like this one is a big success!