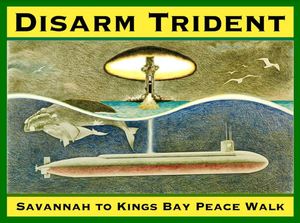 From September 3 - 14, DISARM TRIDENT activists will walk down the length of Georgia's coast from Savannah to the Kings Bay Submarine Base. Walkers concur with the Plowshares activists' belief that our true national security lies in achieving the long overdue objective of nuclear disarmament. Nuclear weapons are a theft from the poor. People in Georgia and across the South desperately need resources squandered on the war economy.
The walk will begin with an orientation gathering on September 3 in Savannah, GA. On September 4, the group will begin walking and, following lunch, travel in vehicles to gather outside of the General Dynamics facility located in Savannah.
The last stretch of walking will be on September 14, leading into the Kings Bay Naval base where we'll hold a concluding rally. For most days of the walk, the group will plan on walking 12 miles, beginning in early morning hours.
As we develop plans for housing and transportation during the walk, we're eager to confirm lists of potential walkers, both those who plan on doing all of the walk and those who could participate in part of it.
We'll be grateful for an RSVP from people who are considering joining the walk, letting them know if you can plan to join and, if so, any information you have about your expected time and place for arrival and departure.
Walk organizers are grateful to several volunteers who will help coordinate meal preparation.
For more information:
kingsbayplowshares@gmail.com
In July 2017, 122 nations, not including the U.S. and eight nuclear weapon states, adopted the Treaty on the Prohibition of Nuclear Weapons. On April 4th, 2018, seven activists entered Georgia's Kings Bay Naval Base, the Navy's east coast home for nuclear-weapons-armed Trident submarines. They hung banners, hammered on a Trident missile monument, poured blood on the base logo, delivered an indictment, and used crime scene tape at three sites on base. Facing years in prison, the "Kings Bay Plowshares" call to "beat swords into plowshares" aims to eliminate all nuclear weapons and instead devote equivalent resources to meet human needs here at home.
Updates about the Kings Bay Plowshares themselves are posted on Kings Bay Plowshares website