Submitted by Executive Director, Michael T. McPhearson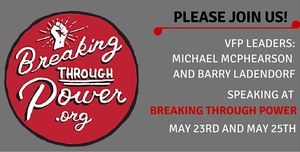 To celebrate the publication of Unsafe at Any Speed,and to motivate us to demand and build real democracy in our country, Ralph Nader has organized an event appropriately titled Breaking Through Power. We will gather for four days in Constitution Hall in Washington, D.C. and all of you are invited. I ask you to attend as it is a critical time in the struggle for peace and justice, and we are the peacemakers and justice seekers.
This election season, we see profound anger and frustration from people across the country. They are angry because deep down in their core they know that something is wrong, and they are searching for answers. Some national leaders are providing either the same old answers or answers that lead to hate and division. We who seek to peace and justice work to provide answers that address issues of human dignity and needs. Breaking Through Power provides an opportunity to envision these answers together. We cannot bring about the change we seek as individual movements or organizations. We must do it in solidarity.
Fortunately, during this time of division, struggle for peace and justice and calls for political outsiders to shake up the system, we can take heart and celebrate the release of a book fifty years ago by one of the ultimate outsiders, Ralph Nader. In 1965,Unsafe at Any Speed began roaring off the bookshelves, uncovering for readers the automobile industry's disregard for the lives and safety of passengers. This book had tremendous impact. I feel I am testament to that because upon its release I was only 2 years old, yet I have known about Ralph Nader and the book for as long as I can remember. For me his name has always been associated with safety, corporate accountability and justice for consumers. And as an adult I have come to understand that he is a champion of democracy and justice for all.
I believe this event marks, in part, the beginning of a new period in our struggle to build the kind of solidarity across issues that we need to achieve our collective ad individual goals. As peacemakers and justice seekers we can provide a real choice for positive change. We must join in dialogue across movements to develop a common narrative and vision that empowers people and ends concentration of wealth and power; that is human rather than profit centered.
We know that militarism and war impact every part of people's daily lives. From the money, other resources and research not invested in human needs, to the carbon footprint of war preparation and war itself, and the physical and mental toll it takes on the human lives abroad and military service members returning home. Perhaps most devastating is that by conducting war our government plays the most substantial role in sustaining the myth that violence solves problems and can be a moral tool for addressing conflict. As Dr. King said in 1967, "...I could never again raise my voice against the violence of the oppressed in the ghettos without having first spoken clearly to the greatest purveyor of violence in the world today -- my own government."
Keeping in mind the Triple Evils identified by King; Racism/bigotry; Greed/Poverty; and Militarism; it is clear that we must all work together to overcome these demons, which in my estimation are direct causes of a new threat; climate change.
So I hope to see you at Breaking Through Power. Below is an overview of the four days.
Day one: Breaking Through Power- How It's DoneLeaders of influential civic groups in a variety of fields who will explain how with modest budgets they get a tremendous amount done, especially compared to the money spent by the oligarchs, corporations, their lobbyists and the Pentagon.
Day two: Breaking Through the Media, will bring together leading authors, documentary filmmakers, journalists, cartoonists, new media content producers and other creative advocates to discuss tactics to reform our communications landscape, and open the airwaves and internet to serious and compelling content.
Day three: Breaking Through War, (my favorite) will bring together former military and national security experts, diplomats, veterans, and leaders of organizations dedicated to waging peace to discuss strategies for resisting the push toward perpetual war, and to proactively promote peaceful alternatives.
The last day: Breaking Through Breaking Through Congress, will present a new civic platform from leading advocates. This platform will be advanced by presenting a "Great Citizen Summons of Members of Congress" that will form the basis of a sustained nationwide organizing effort.