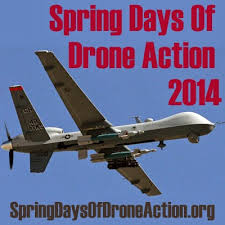 Expanding on last year's "April Days of Action," this year anti-drone activists across the country are organizing "Spring Days of Action" throughout the months of April and May. VFP members and chapters that are near drone bases or manufacturers have been doing a great job keeping up the pressure. But if you don't live near a drone base or manufacturer, there are still lots of actions that you and your chapter can do to actively oppose drones.
10 Suggested Ideas for Spring Days of Actions Against Drones
10 Suggested Ideas for Spring Days of Action Against Drones
Sponsor a showing of the latest Robert Greenwald (Brave New Films) film, "Unmanned." The film is available for free—contact Casey at the national office (casey@veteransforpeace.org) and a copy will be sent to you.
Host a performance of the 4-person play, "The Predator," written by VFP member Jack Gilroy. Free download of the script available here: www.paxchristieusa.org. Kathy Kelly who has performed this play calls it "One of the best theatrical presentations to deal with the subject of drone warfare."
Get a group together to make quilt blocks for the Drones Quilt Project (www.dronesquiltproject.wordpress.com). No abilities with sewing or quilting required, and this makes a great activity for children as well as adults. Contact Leah Bolger for more information: leahbolger@comcast.net
Host a panel discussion, teach-in, or presentation about drones.
Hand out copies of VFP's newly revised information brochure about drones. Contact Casey (casey@veteransforpeace.org) for copies.
Check the website www.knowdrones.org to educate yourself about drones, find actions in your part of the country, and to find lots of resources about drones.
Participate in actions and activities already planned. Check the Know Drones calendar
Join the VFP Drones working group. Contact WG coordinator Leah Bolger leahbolger@comcast.net.
Write a letter to the editor about your concerns regarding drones. LTEs are the second-most read part of a newspaper after the front page, and can be very effective in getting your message out.
More action ideas, as well as resources are listed on the VFP website.