Generating Tremendous Support for Nuclear Abolition
by Gerry Condon
In 2010 when VFP members discovered that a derelict boat in Humboldt Bay was in fact the historic anti-nuclear sailboat know as the Golden Rule, they made a deep commitment to restore the boat and its mission.  Their vision was that the Golden Rule would sail throughout all the navigable waterways of the United States, warning people about the growing danger of nuclear war, and building support for the total abolition of nuclear weapons.  That vision included sailing around the "Great Loop" through the Midwestern, Southern and Eastern United States.
After the restored sailboat "splashed down" in Humboldt Bay in June 2015, she spent several years sailing up and down the west coast, holding scores of educational events in California, Oregon, Washington, British Columbia and Baja Mexico (with our Deported Veterans). 
When then-president Trump and North Korean president Kim Jong-un began exchanging nuclear threats in 2019, the VFP Golden Rule Committee decided to sail again to the Pacific. The intention was to sail to Hawai'i and then on to the Marshall Islands, Guam, Okinawa, Japan, and possibly even the Korean Peninsula.  They got as far as Hawai'i, but their plans to sail further into the Pacific were stymied by Covid-19, when all these island nations were shut down to protect themselves.  The Golden Rule spent two years sailing to almost all the Hawaiian islands, and learning how US military bases were destroying the beautiful natural environment and native Hawaiian culture.
Captain Kiko Johnston-Kitizawa of Hawai'i skippered the Golden Rule back to San Francisco Bay – a grueling 30-day voyage – in May of 2021.  We sailed again to San Diego and Baja Mexico, to take our Deported Veterans out sailing on Ensenada Bay, the third time we had done so. 
Current Golden Rule crew members Mary Ann Van Cura from Minnesota, Captain Steve Buck, a veteran from California, and First Mate Steve Easley, a Vietnam veteran from Michigan.
The Golden Rule Travels Overland to Wisconsin
Veterans For Peace and the Golden Rule Committee then decided to go back to the original vision of the VFP members who led the restoration effort from 2010-2015.  It was finally time to actually sail the "Great Loop." In September 2022, the Golden Rule was gently lifted onto specialized boat trailer and trucked to Hudson, Wisconsin, near Minneapolis, where the VFP chapter had successfully lobbied to host the Golden Rule at beginning of her Great Loop voyage.  And what a beginning it was!  Many wonderful events were organized in multiple cities with outreach to the public – in schools and churches, indoors and outdoors, often with live music and joyful celebration.  The Golden Rule puts smiles on people's faces.  It delivers a creative, committed and hopeful message.  The medium is the message – We can do this!
After Minneapolis, the Golden Rule and its intrepid crew, led once again by Captain Kiko and coordinated by Project Manager Helen Jaccard, began a momentous voyage down the Mississippi River.  VFP chapters in Minnesota, Wisconsin and Iowa joined together in a remarkable collaboration to organize many wonderful events, including Peacestock in Redwing, Minnesota. 
The Golden Rule Is Welcomed by Marshall Islanders in Dubuque, Iowa
Most memorable of all was the Golden Rule's visit to the Dubuque, Iowa, where the boat received a joyous reception by the 1,000 member Marshallese community living there.  As the historic sailboat, which attempted to stop US nuclear bomb tests in the Marshall Islands in 1958, was escorted into the Dubuque harbor by local sailboats, Marshallese women in traditional dress sang beautiful songs in heavenly harmony.  There was not a dry eye in the harbor.  The Golden Rule crew, along with VFP members from three states, then spent two days of celebrations with the Marshall Islands community, refugees from the destruction wreaked upon their island homes by nuclear bombs, continuing radiation poisoning, and now rising tides from global warming.
Global warming also impacted the Golden Rule's voyage down the drought-stricken Mississippi River. The river was so shallow in many places that sailboat found itself frequently grounded.  While there was no damage to the boat, the crew was required to make extraordinary efforts to free the boat and continue cautiously on their way. 
Eventually, the crew decided it would be unsafe to continue down the lower Mississippi to the Gulf of Mexico.  South of St. Louis, they took a sharp left turn into the Ohio River, then into the Tennessee and Tombigbee rivers, down to Mobile, Alabama, and onto Pensacola and Tampa, Florida.  Unfortunately, our detour forced us to skip Memphis, New Orleans and Baton Rouge.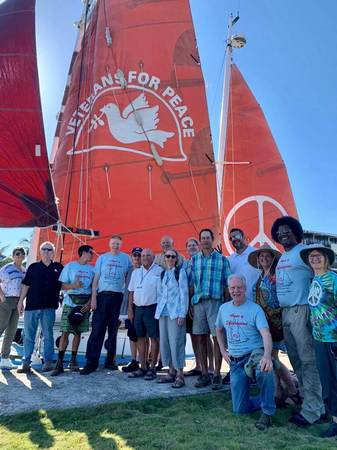 VFP delegation with Golden Rule at Havana's Marina Hemingway.
The Golden Rule Sails to Cuba
When the Golden Rule team realized we would be in Key West at the end of December, we said, "Hey, you know what?  That is just 90 miles from Cuba, where we almost had a nuclear war 60 years ago during what is known as the 'Cuban Missile Crisis.'  Maybe we should sail to Cuba?"  The Golden Rule Committee and the VFP Board of Directors quickly agreed that this was a unique opportunity and we should try to make it happen.  And so we did. 
We worked closely with the Proximity Cuba tour agency in Cuba, who organize people-to-people educational programs for Code Pink and others.  We got very helpful legal advice from friends in the National Lawyers Guild.  We were able to travel to Cuba legally under a General License issued by the US Treasury Department. We filled out a form and checked the boxes for Educational and People-to-People.  We notified the Coast Guard of our sail plan.  And we were off.  Our crew included VFP Board member Enya Anderson and me, Gerry Condon (see my article about the Cuba trip here).
It took us about 24 hours to sail to Havana's Marina Hemingway.  We arrived on New Years Eve day, and we moved into private homes in the Vedado neighborhood near the famed Malecon sea wall.  There was a nonstop party celebrating New Years and the triumph of the Cuban Revolution on January 1, 1959 – free nightly outdoor concerts and dancing throughout our 10-day stay in Cuba.  We had many wonderful meetings with an emphasis on Arts & Culture, which was the focus of our program.  Cuban culture, including Afro-Cuban theater, dance and drumming, is just amazing.  We traveled to nearby Pinar del Rio and delivered humanitarian aid – medicines and cash – to help 10,000 families who lost their homes to the extremely destructive Hurricane Ian in September.
At a well-attended press conference in Havana, we delivered a message from Veterans For Peace to the Cuban people.  We called for worldwide nuclear abolition and for an end to the US blockade of Cuba.  We were on the top of the evening news throughout Cuba that evening and our message made many Cubans happy.  When we walked into the conference room with provincial leaders in Pinar del Rio, there on a large screen was a beautiful colorful photo of the Golden Rule.  We later met and mingled with workers who were building many new homes. 
The 13-member VFP delegation had a total blast.  Most of us had never been to Cuba before.  All of us fell in love with Cuba.  We committed ourselves to adding our voices – and the voice of Veterans For Peace – to the growing international movement to end the US blockade of Cuba.  We reminded ourselves that it was the US hostility toward the Cuban Revolution that almost led to a nuclear war 60 years earlier.  And we sailed away from Cuba, this time to Miami, which took us two full days and nights, and was otherwise uneventful.  US Customs did not even search the boat.  They checked in with us online, including a Zoom call.  The friendly officer did not even ask us why we had been in Cuba. Some kind of progress?
Sailing Up the Intercoastal Waterway on the Atlantic Coast
Back in the USA, the Golden Rule resumed her "Great Loop" voyage, up the Intercoastal Waterway (ICW) on the Atlantic coasts of Florida, Georgia, South Carolina and North Carolina.  Most notable were stops in Charleston, South Carolina, where many young members of Democratic Socialists of America visited the boat, along with about 25 students from Burke High School.  There was a lot of fun and education.  
More ominous was our visit to St. Marys, Georgia, right next to the Kingsbay Trident Submarine Base, packing enough nuclear explosives to destroy the world.  Kingsbay 7 member Patrick O'Neill, who spent 3 years in prison for their Ploughshares action at the Trident sub base, wrote a wonderful article connecting their resistance to the ongoing voyage of the Golden Rule, published in Peace and Planet News.  New York VFP member and tireless anti-nuclear organizer Anthony Donovan also made those links in his article, which was published in Popular Resistance, Common Dreams and elsewhere.
Mayors, Media and Fundraising
At her many stops on the Atlantic Coast, the Golden Rule and crew were often greeted by mayors, including several African American mayors, who read powerful proclamations welcoming the crew and affirming the mission of abolishing nuclear weapons and war.  Here is the mayor of Beaufort, North Carolina reading her proclamation (can you tell that we provided the template?).
We are getting good media coverage too.  Project Manager Helen Jaccard and crew are often interviewed by local media.  In Wilmington, North Carolina, we were the top story on the TV news.
There are way too many wonderful stories to share here, or even to remember.  This has just been the most amazing and wonderful adventure.  Fortunately, the Golden Rule team posts photos and videos almost every day on their Facebook page, Golden Rule Peace Boat (also VFP Golden Rule Project).  GREAT captains and crew as well.
The best is yet to come as the Golden Rule sails toward the great cities of the northeast!  There is a LOT of organizing going on to welcome the historic peace boat and her crew in Norfolk, Virginia, Washington, DC, Baltimore, Philadelphia and New York City.  Then we will be sail up to Connecticut, Rhode Island, Massachusetts and Maine, where VFP Chapter #1 is making wonderful plans.
The Golden Rule will be in the Washington, DC area from April 2-17.  On April 12, we will deliver the Veterans For Peace Nuclear Posture Review to the offices of every US Representative and Senator.  Come give us a hand if you can.  Our New York City visit, May 20-26, will include sailing by the United Nations, hopefully with a few UN Ambassadors on board.
Check out the Golden Rule SCHEDULE here.  And plan to join us if you can. 
Thanks so much to all the VFP chapters and members who have crewed the Golden Rule and organized terrific events and hospitality. 
Thanks also for your generous donations, which keep our boat afloat.
We are sailing for a Nuclear-Free World and a Peaceful, Sustainable World!  And we are flying the flag of Veterans For Peace.
For more information, or to make a donation to the "Great Loop" voyage of the Golden Rule, please visit www.vfpgoldenrule.org, or call Project Manager Helen Jaccard at 206-992-6364.