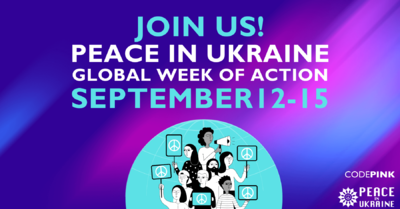 September 12-15, and every week until the Ukraine war ends
Veterans For Peace is part of the Peace In Ukraine Coalition, along Code Pink, Peace Action, World Beyond War, Democratic Socialists of America, Women's International League for Peace and Freedom and other national and local peace and justice organizations. 
The Peace In Ukraine Coalition is currently conducting a Week of Action for Peace In Ukraine. 
On Monday, we called and visited Congressional offices. 
On Tuesday, we called the White House and wrote letters to President Biden. 
On Wednesday, we are contacting media outlets. 
On Thursday, we will organize delegations to Congressional offices and/or protest outside.
For information on local events, and other valuable resources, visit www.peaceinukraine.org
Our message is clear: We want Diplomacy Not Escalation. 
We want the US government to urgently engage in good faith diplomacy that respects the legitimate security concerns of both Ukraine and Russia.  We are telling President Biden and Congress that we want:
A CEASEFIRE to Stop the Killing Now!
NEGOTIATIONS to End the War in Ukraine
BILLIONS for Climate, Jobs, Healthcare and Housing
NOT for More Weapons and Endless War!
DO NOT RISK NUCLEAR WAR!
VFP Member Gerry Condon has drafted some suggested messaging from a unique veterans' perspective:
"As veterans who have experienced the carnage of war, we are concerned not just about civilian deaths in Ukraine, but about the young soldiers on both sides who are being killed and injured in the tens of thousands.  We know all too well that the survivors will be traumatized and scarred for life.  For these and many other reasons, the terrible war in Ukraine must end now.  

We know that our own government had a large role in creating this war crisis and is now working overtime to keeping this war going. We are asking you to listen to veterans who say Enough is Enough - War is Not the Answer!  We call on ALL SIDES to stop the killing now.

We want urgent, good faith diplomacy to end the war in Ukraine, not more US weapons, advisors and endless war, and certainly not a nuclear war."