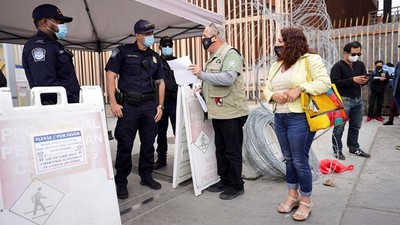 by Robert Vivar
I recently had the honor of walking Mrs. Rocio Rebollar, Deported Mother of U.S. Army Intel Officer 1st Lieutenant Gibram Cruz to the US border crossing for her re-admission to the U.S. and reunite with her family and son who were eagerly waiting for her on the U.S. side of the San Ysidro pedestrian crossing.
Mrs. Rebollar was deported under the Trump administration, without any regard. She had no criminal record, was a home and business owner in San Diego and had always paid her taxes. Mrs. Rebollar's only issue was her non-status that she had been working on adjusting. Mrs. Rebollar, was allowed to return under a  lawsuit challenged the legality of Title 42, a policy put in place by the Trump administration during the pandemic and continued under President Joe Biden that allows border officials to immediately expel asylum seekers and other migrants without screening them for protection needs. Because of the court case, the federal government has agreed to allow the ACLU to submit requests for exemption from the rule.  You are probably asking yourself how this applies to Mrs. Rebollar, well allow me to go back to the beginning of May.
Earlier in May, I had the opportunity to finally meet in person Dulce Garcia, Executive Director at Border Angels.  Dulce is a San Diego, local immigration lawyer — and a "Dreamer" herself, she is among six DACA recipients who sued Trump and won a decision over its DACA revocation. In January, an injunction was issued by a California federal judge ordering the government to continue accepting applications.  It was a great pleasure to meet this young Immigrant rights Champion. During our initial conversation, the name of Rocio Rebollar came up. This caught my attention as I am also a deported parent of U.S. Military Active-Duty children, and member of the National organization Military Families Speak Out, a national organization in support of Military Families, whose motto is Support Our Troops! Bring Them Home Now and Take Care of Them When They Get Here.
A few days later I had the opportunity to meet Mrs. Rebollar, and as you can imagine both being deported parents of active-duty military family, we had much to share, our struggle to support our kids as they serve honorably so they would be able to concentrate on their assignments to fulfill their military obligations instead of worrying about the safety and security of a deported parent. During this conversation. Mrs. Rebollar shared her fear as her brother had been kidnapped earlier in her home state and never seen from since then. She also shared how she had also been a victim of an assault here in Tijuana, these very unfortunate events presenting an opportunity for applying to return to the U.S. under this title #42 exemption. Dulce immediately went to work on her parole application and on May 20, 2021, at 8;00am Mrs. Rebollar, was walking across the border into the USA.
While this is a temporary admission into the U.S., Mrs. Rebollar, has trust in our Lord Christ that her return to the USA, will soon be adjusted to Permanent status. In the meantime, Mrs. Rebollar, has vowed to work tireless in support of helping Bring Deported Veterans home as well as deported military families.
We are now looking to work in support of bringing deported combat veteran, Laura Meza, home as well. Laura is the only know female military combat deported veteran, who struggles with PTSD from her military service as well as MST (Military Sexual Trauma) while on active duty. Veteran Meza being a victim of a crime should have afforded the relief of at least a U-visa to have her deportation stayed, let alone her Honorable Military Combat Service. I cannot help but remember the late murdered, US Army soldier Vanessa Guillen who was a victim of abuse as well. Veteran Meza could have very well been another Vanessa, however now she deals with daily struggle to survive from her military disabilities, as there is no treatment for PTSD in her home country in Costa Rica where she resides.
We must ban together to correct the injustice of deporting veterans and military families. See how you can get involved thru our Mural project at www.leavenoonebehindmural.project.org.
Robert Vivar is the co-director of the Unified U.S. Deported Veterans Resource Center and is on the steering committee of Veterans For Peace Deported Veterans Advocacy Project.  He currently resides in Tijuana where he fights for the rights of families to be reunited and for the reunification of families torn apart by unjust immigration laws.