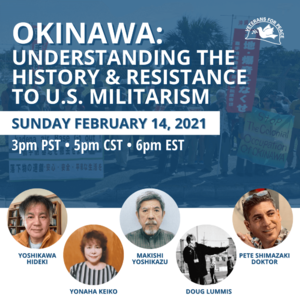 Feb 14th, 6pm EST; 5pm CST; 3pm PST; 1pm Hawai`i, [2/15 8am in Okinawa].
Join members of the VFP-ROCK chapter and Okinawan activists for an important webinar to understand the decades long resistance against U.S. militarism in Okinawa. The presentation will be followed by a live Q&A featuring:
MAKISHI Yoshikazu. B. 1943, Architect. Member Okinawa peace movement, environmental protection movement. VFP associate member.
YONAHA Keiko. Prof., Linguistic Education, Meio U., Okinawa (ret.). Member, Japanese Association of Poets, Playwrights, Editors, Es.
YOSHIKAWA Hideki. Okinawan Anthropologist. Resident Nago City. Teaches at Meio U. and U. of Ryukyus. International Director, Save the Dugong Campaign Center; Director, Okinawa Environmental Justice Project.
Pete Shimazaki DOKTOR. Nisei Okinawan-American. Former Army medic and history teacher. Co-founder VFP Hawai'i Ch. 113 and VFP-ROCK Ch. 1003 (Okinawa), Hawai'i-Okinawa Alliance (HOA), Hawai'i Peace and Justice board member.
Doug LUMMIS. USMC 1968-71. Coordinator, Veterans For Peace-Ryukyus/Okinawa Chapter Kokusai (VFP-ROCK). Author, War is Hell: Studies in the Right of Legitimate Violence (forthcoming).