January 22nd, 2021 marked a historic day that the UN Treaty on the Prohibition of Nuclear Weapons (TPNW) went into effect. The important new international peace initiative was celebrated by VFP chapters and members across the world! Check out the full VFP Statement here.
View our full photo album of events, or check out a few photos and reports below of chapters and members taking action to celebrate!
If you took action and you do not see it below or in our photo album, please send an email to samantha@veteransforpeace.org and we will make sure to add it!
---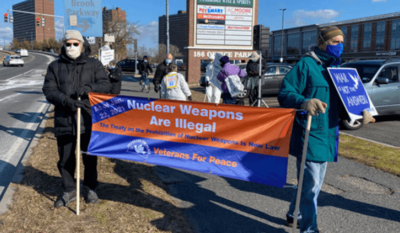 Chapter 9 - Boston, MA (Smedley Butler Brigade)
Chapter 9 held two different events with around 25 attendees at the first action and 15 attendees at the second action in downtown Boston.
---
Chapter 27 - Minneapolis, MN
Veterans For Peace Chapter 27 and the End War Committee of Women Against Military Madness collected non-perishable food and personal items and distributed them on Jan 22nd to the Minnehaha Food Shelf to celebrate the UN Treaty to Ban Nuclear Weapons becoming International Law. 
Chapter 27 ended up delivering 47 bags and boxes of food!
---
Chapter 34 - NYC
Photo by Ellen Davidson
Chapter 34 had about 40 to 50 people in attendance at the Isiah Wall across from the UN, including at least ten NYC VFP Members. The 2 hour event, with speakers, music, Buddhist monks was organized by Anthony Donovan, a long-time anti-nuke activist and a very valued associate member of NYC VFP.
Chapter 35 - Spokane, WA
Photo by R. Jim Richards
Chapter 35 in Spokane held an action to commemorate January 22nd as the effective date of force for the TPNW and distributed informational packets to Rep. Cathy McMorris-Rogers, Sen. Patty Murray, Sen. Maria Cantwell, and the Spokesman Review. 
Chapter 35 is one of 40+ organizations which have joined in the Washington Against Nuclear Weapons Coalition which is sponsored by Physicians For Social Responsibility.
---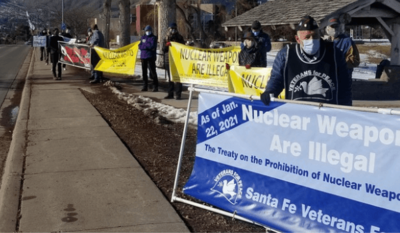 Chapter 55 - Santa Fe, NM (Joan Duffy Chapter)
On Friday, January 22, about 20 activists from Veterans For Peace, Concerned Citizens for Nuclear Safety, and Nuke Watch New Mexico gathered from noon until 1pm in Santa Fe and from 2pm to 3pm in Los Alamos to celebrate the "Entry into Force" of the Treaty to Prohibit Nuclear Weapons.
---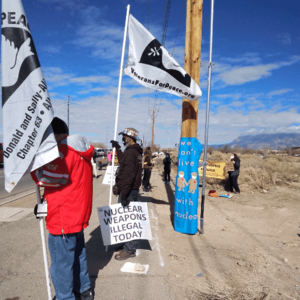 Chapter 63 - Albuquerque, NM
(Donald & Sally-Alice Thompson Chapter)
---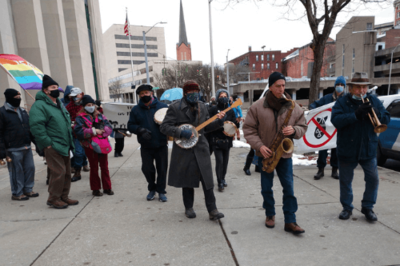 Chapter 90 - Broome County / Binghamton, NY
Photo by Ellen Connett
Chapter 90 and other local peace groups held a celebration of joy in front of the Federal Building to cheer for 2/3 of all nations who have made nuclear weapons illegal. Church bells rang, trumpet, sax, fiddle and drums blasted and beat as a joyous New Orleans style Second Line paraded around the USA Federal Building. Watch the video of the celebration event by Pennsylvania videographer Vera Scroggins.
The chapter is already following up by starting a letter, postcard and email campaigns to President Biden and our Senator Chuck Schumer, the Senate Majority leader to sign onto the Treaty to Abolish Nuclear Weapons.
News Coverage:
---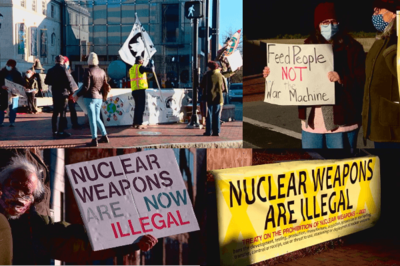 Chapter 99 - Asheville, NC
Chapter 99 had a strong turnout for their rally at Vance Monument in downtown Asheville. In addition to drawing attention to the issue, many also held signs to bring attention to the parent company of Pratt and Whitney, the engine manufacturer setting up in Asheville and promising 800 jobs.
Check out the news story: Anti-nuclear peace group rallies in Asheville to celebrate global ban on nuclear weapons
---
Chapter 113 - Hawai'i
15 persons from Veterans For Peace, Hawai'i Peace and Justice, VFP Golden Rule Project, Honpa Hongwanji Buddhist Mission of Hawaii, Campaign Nonviolence and Refuse Facism participated in celebrations in Hawai'i, on Oahu and Big Island!
---
The United States can be a leader in the peace race, but only if our leaders hear a loud message from the people: nuclear weapons are an unacceptable threat to all of humanity, and they will now also be illegal. Join Veterans For Peace in calling on the U.S. government to take immediate actions to step back from the brink of nuclear war, and to show leadership in the worldwide effort to eliminate all nuclear weapons. The future of humanity hangs in the balance.