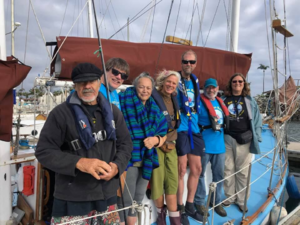 Puna Kalama Dawson, a Native Hawaiian Keeper of Knowledge and Hula instructor, performed a traditional Invitation Ceremony for the Golden Rule anti-nuclear sailboat, as its crew prepares to embark on a voyage to Hawaii, the Marshall Islands, Guam, Okinawa, Korea and Japan. The boat will arrive in Japan in time for the August 2020 75 th anniversary commemorations of the U.S. nuclear bombings of Hiroshima and Nagasaki.
The historic Golden Rule peace, restored by Veterans For Peace has been sailing up and down the west coast for nearly four years, and has been based in San Diego since September.
"We are sailing for a nuclear-free world and a peaceful, sustainable future," said Gerry Condon, president of Veterans For Peace. "Now it is time for us to visit the island nations of
the Pacific, which have suffered so much damage from nuclear testing and military bases.
Ann Wright sailed with the crew and Puna Kalama Dawson from Cabrillo Isle Marina to the Shelter Island Harbor Police Dock
Puna, a Hawaiian Elder, keeper of knowledge and hula teacher came from Kauai and invited the Golden Rule to come to Hawaii.  The ceremony was very moving and the crew each expressed their delight at being part of this "Peace in the Pacific Voyage"!