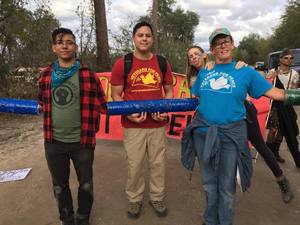 VFP members from Savannah and Gainesville at the Sabal Trail Pipeline struggle.
"The protest drew people from throughout Florida and other states. Among them was Will Griffin of Savannah, Georgia, an army veteran who served tours in Iraq and Afghanistan.
A member of Veterans for Peace, Griffin was at the large protest site of an oil pipeline in Standing Rock, North Dakota, in October.
"This is a war on our planet. We are trying to get the American public, a large portion of whom are climate-change deniers, to realize that this fight against the planet is the No. 1 problem of our entire species," Griffin said. "We as an anti-war and peace organization are here to support the local people who are fighting this pipeline."