Submitted by Col. Ann Wright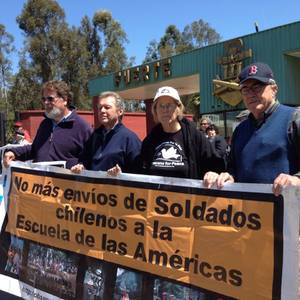 Four U.S. veterans, 3 of whom are members of Veterans for Peace, on the School of the Americas Watch trip to Chile, protested with 70 Chileans the US funded Chilean military base called Fuerte Aguayo.
The VFPers are Roy Bourgeois, the founder of SOA Watch, Ann Wright and Peter Berres (of Kentucky).  The 4th veteran Tom Egan will send in his membership application upon his return to the US!!! 
We've visited many memorials to those murdered by the U.S. back 1973 coup by Pinoche against Salvador Allende, and we've met with a Chilean member of Parliament whose father was murdered by a SOA graduate and who is attempting to end Chilean participation in SOA.  Later this week we have a meeting scheduled with the Minister of Defense.  We also met with a rep of the strong student movement.