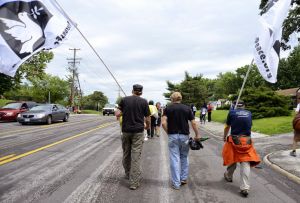 About 88 years ago Carl Sandburg wrote this about justice. "if justice is become an abstraction or a harlot, what does her harder sister necessity say?" Justice denied or only available to the rich means that the harder sister may prompt those seeking to care and protect their family and community members to use counter productive means like violence.
I was thinking about Sandburg's poem a lot when I was in Ferguson Saturday. When a TV station a few feet from the spot where Michael Brown was shot interviewed me, I quoted Sandburg.

I was at the small memorial set up in the middle of the street in the formerly quiet residential part of Ferguson in front of the Canfield Green apartments where Michael Brown was left lying on the street for four hours for all the neighborhood kids to see after he was shot 6 times. I guess we have progressed to the point that at least he was not hoisted up to one of the nearby trees like the lynchings of old for more exposure. According to witnesses, Michael had his hands up and was yelling, "don't shoot" as he was shot repeatedly.
I was with 7 other veterans from Veterans For Peace to stand in solidarity with those seeking justice. We worked closely with members of the Ferguson community and were marshals for the mile and half march that went from the memorial to the Ferguson church past the burned out buildings on west Florissant avenue. We were sensitive to the fact that we were outsiders in the community, but I can truthfully say that for the 20 hours I was in Ferguson, I received more hugs and thanks than I have ever received in a 24-hour time period.
It was interesting to see and hear Jesse Jackson and other notables before and after the march, but the most emotionally strong were the little neighborhood kids in the march. They all had the oft-repeated chant of raising their arms and saying, "don't shoot" down.
After spending most of the remaining part of the day at the church, we got something to eat and then headed past closed streets and massive police presence to west Florissant Avenue to be with the protestors on the street. Our original plan was to stay there all night to hopefully as elder veterans act as a calming influence to prevent violence. Unfortunately, governor Nixon announced at the church that there would be an enforced 12-5am curfew.
After walking up an down Florissant avenue and speaking with many of the protestors and after being requested by the community organizers as well as other groups like the Young Black Panthers that we honor the curfew, we decided it best to do that and made our way past the state, county, Ferguson, and many other municipal police cars and heavily armed officers back to our cars in the rain just before midnight. It was with a heavy heart that I travelled north on I 55 listening to the live 3 am press conference of Captain Ron Johnson speak of the violence that erupted minutes after we left.
The level of energy on Florissant Avenue was electric and will not soon dissipate. No level of police or military presence will stop it, only justice will.
The single most repeated word said and displayed in Ferguson was justice. Michael Brown's father was wearing a t-shirt that summed it all up the next day. It said "no justice, no peace". The harder sister of justice that Sandburg wrote about was everywhere.