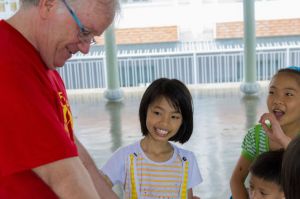 In photo: VFP member Bill Creighton playing patty cake with children @ the orphanage while attending the 2014 Vietnam tour.
VFP Peace Tour, Spring 2015
Mark your calendars! April 16 – May 02, 2015
Travel to Hanoi, A Luoi, Hue, Quang Tri and the DMZ, Da Nang, Ho Chi Minh City and more. Meet Vietnamese veterans and families struggling with the legacies of war: Agent Orange, UXO, poverty. Visit recovery and assistance projects supported by VFP. Wander peaceful battlefields, historic sites, see the beauty of Vietnam today — rice paddies, mountains, beaches. Enjoy the genuine warmth and welcome of the people of Vietnam.
For more information, visit the Hoa Binh Chapter 160 website: http://vfp-vn.ning.com/ or send an e-mail to Nadya Williams at nadyanomad@gmail.com