NEWS ADVISORY
The San Diego Veterans For Peace recently gave out our 1500th sleeping bag set to a homeless person in downtown San Diego. The effort to provide a sleeping bag, waterproof stuff sack and rainproof poncho to the homeless downtown is in its third year and continues indefinitely.
Who: Veterans, associate members and friends of the San Diego Veterans For Peace (Chapter #91 – Hugh Thompson Memorial Chapter).
What: Beginning in December 2010, the local San Diego chapter of the national organization, Veterans For Peace, began soliciting donations from the general public to buy sleeping bag sets (a warm sleeping bag, a nylon stuff sack, and a rainproof poncho) to enable chapter veterans to buy and distribute sets to the approximately 1000 homeless veterans and other homeless people in downtown San Diego. We called it the "Compassion Campaign". Our original goal was $3000 in donations, allowing us to purchase and distribute 100 sets. With the ongoing generosity of the public, we have raised and spent almost $40,000, which has allowed us to buy and distribute sleeping bags sets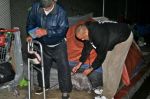 downtown on a regular basis. We gave out our 1500th set on Saturday night, January 12th, 2013, near the old Post Office downtown. With the help of the Coleman Company who sells us the gear in large quantities at less than half of retail, we have been downtown late at night in the homeless communities giving out sleeping bags sets to those who have little or no sleeping gear. With 100% volunteer labor, we have no overhead expenses and all donations buy gear. We are a 501-C-3 organization. A three piece sleeping bag set costs us $33. We will be downtown tonight and later this week until our current supply of bag sets is gone.
When: Late at night, several nights/week, as chapter veterans are able, and after the homeless have gone to sleep (to ensure need).
Where: Homeless communities downtown. Some are underpasses along Commercial and 17th, Imperial and 17th, all along 16th, sections of 13th near the new library, near the Sempra Building, near the Civic Center, sections of B and C Streets, along Pacific Highway, etc. We are often outside the 150 bed Veterans Tent at 8 PM to make sure that any vets who are turned away get a sleeping bag set if they need one.
Why: The local San Diego chapter is made up of veterans of all five services, plus associate members. Many chapter veterans have combat experience in Korea and Vietnam, but no longer value war as a instrument of foreign policy. As a UN recognized veterans educational organization, we have accepted the task to educate the public concerning the overall costs of war, which include the deaths and wounding of soldiers and civilians, the vast amounts of money spent on war, but also the money lost which could have provided for many services needed here at home which are now in short supply (i.e. – veterans care, the education of our children, and the care and support for the thousands of homeless here in San Diego County). We see homelessness as a direct cost of war and feel the need to care for those on the streets of San Diego.
For additional information about our Compassion Campaign, please contact the undersigned or visit our website at www.SDVFP.org
Submitted by:
Gil Field
Director For Communications
San Diego Veterans For Peace
858-342-1964
GField@san.rr.com