On June 5th and 6th, 2019 veterans around the country took action to rally in support of the Veterans Healthcare Administration (VHA) and speak out against privatization and the roll out of the MISSION Act.
News Coverage
Check out the recap of VFP Chapters taking action below!
View the Full SOVA Photo Album with More Photos of Actions on June 5th and 6th!
---
Chapter 9 - Boston, MA (Smedley Butler Brigade)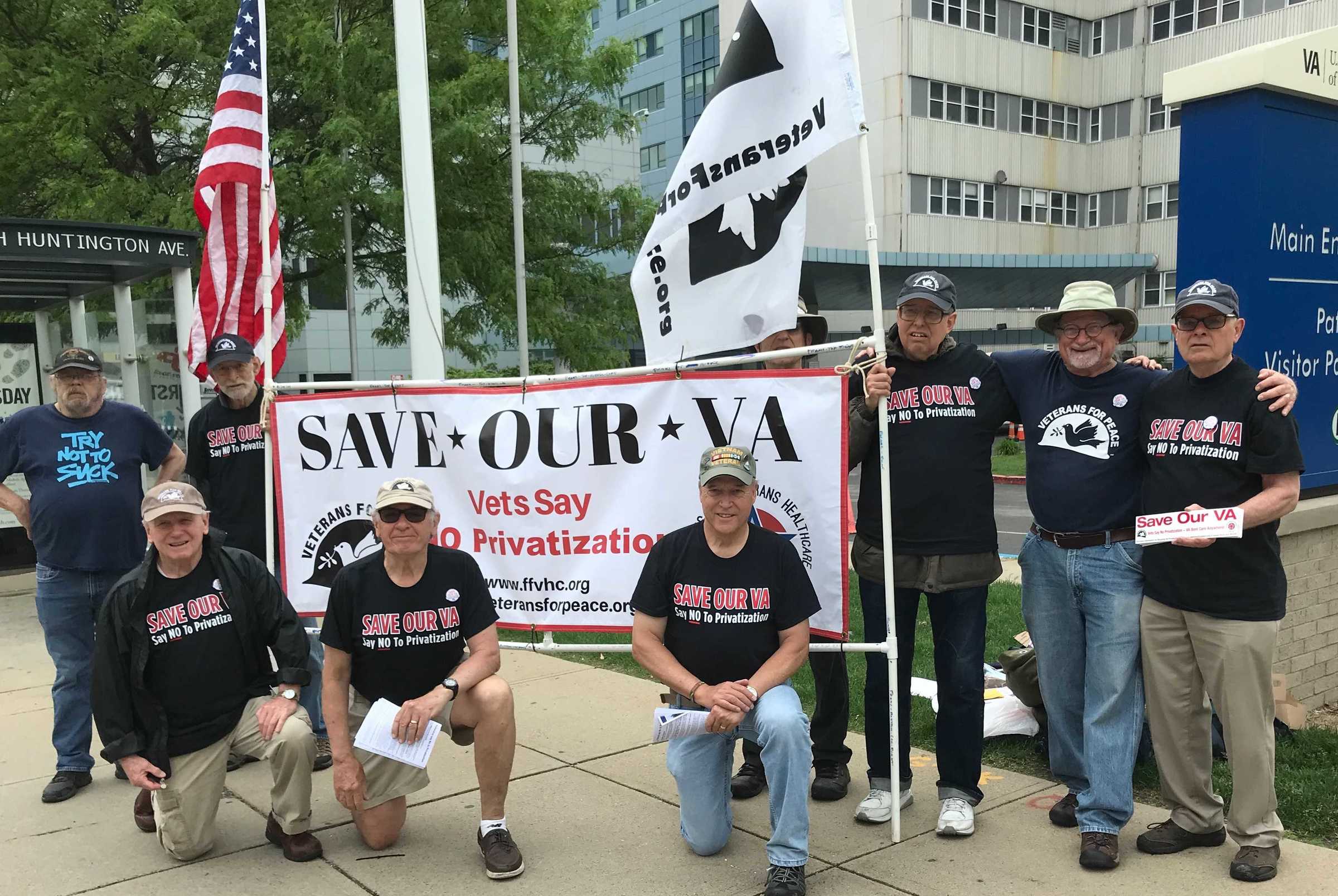 The Smedley Butler chapter gave out nearly 1000 flyers and press releases at the Jamaica Plain VA Medical Facility. They spoke to many employees who wanted them to come back (many of whom were union and other employees afraid of repercussions if they speak out).
---
Chapter 27 - Minneapolis, MN
---
Chapter 61 -  St. Louis, MO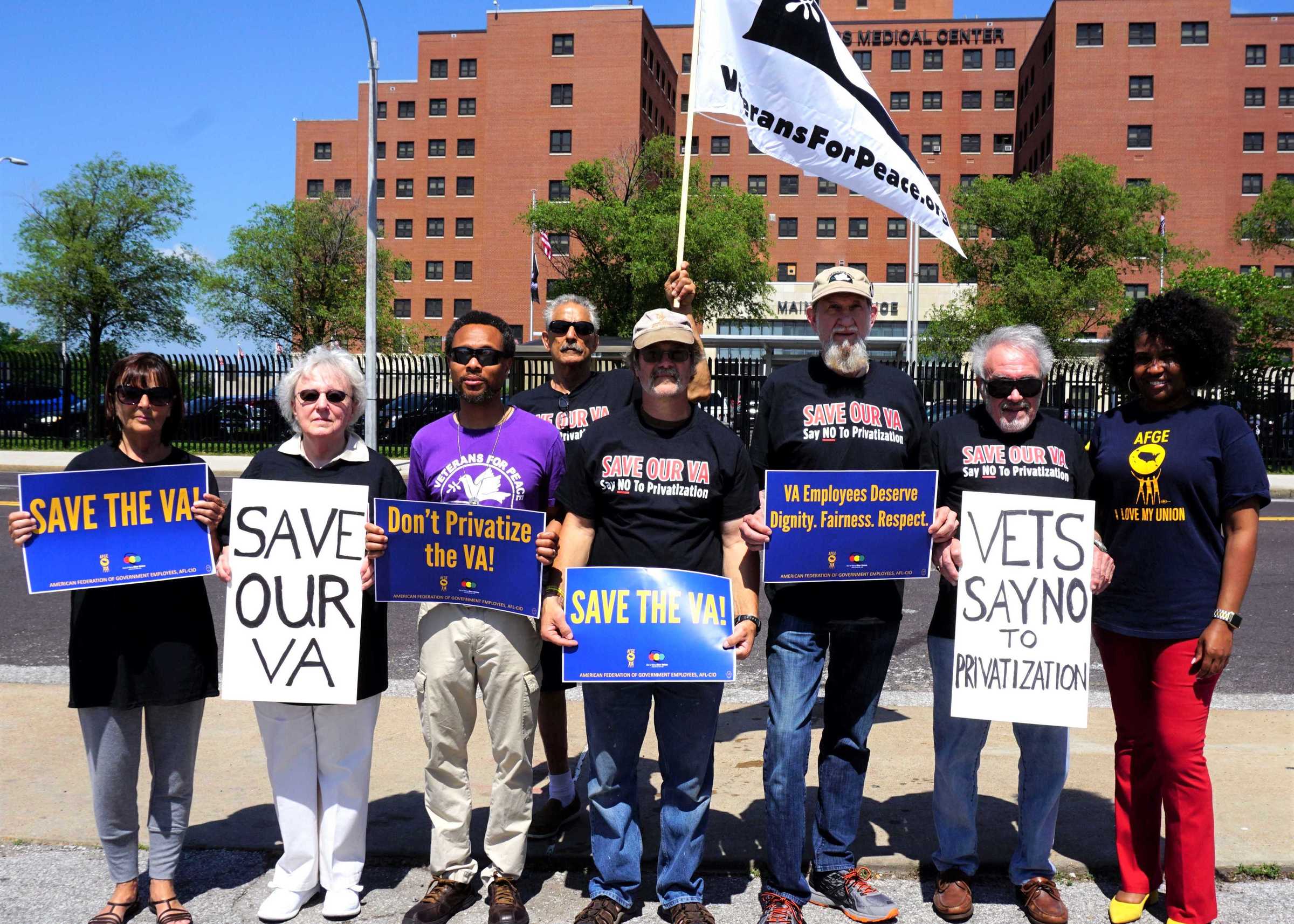 ---
Chapter 69 - San Francisco, CA
VFP Chapter 69 joined AFGE Local 1216 members, workers, veterans and other supporters of the Veterans health care system for a rally at the San Francisco Ft. Miley veterans hospital. They protested the privatization, cutbacks and union busting by the Trump administration. They discussed how these attacks are taking place and how they will harm the healthcare of all veterans. They also discussed how the legislation passed by Democrats and Republicans is now threatening the entire veterans healthcare system.
---
Chapter 72 - Portland, OR
Chapter 72 in Portland joined AFGE and Jobs with Justice for a press conference and rally. They gathered together to hear from speakers Tom Chamberlain  (President: Oregon AFL-CIO), David Bump (AFGE Local 2157), Daniel Shea (former VFP National Board Member, President: Veterans For Peace Chapter 72), Paige Kreisman (Disabled Veteran, Portland DSA Labor), and Betsy Zucker (Portland Jobs with Justice).
Check out their other YouTube videos of the event!
You can also watch the livestream from the event here!
---
Chapter 102 - Milwaukee, WI
Past VFP Board member Mark Foreman spoke to the Milwaukee Area Labor Council about the Privatization of the VA. In his speech to 200 attendees, he addressed veterans concerns about the Mission Act at a Congressional Town Hall meeting in Cudahy, Wisconsin.
The chapter also participated at a Town Hall meeting at the VA Hospital in Milwaukee and a Press Conference at a union hall in Milwaukee with AFGE and the Milwaukee Labor Council.
Read a copy of Mark's remarks here!
---
Chapter 13 - Tucson, AZ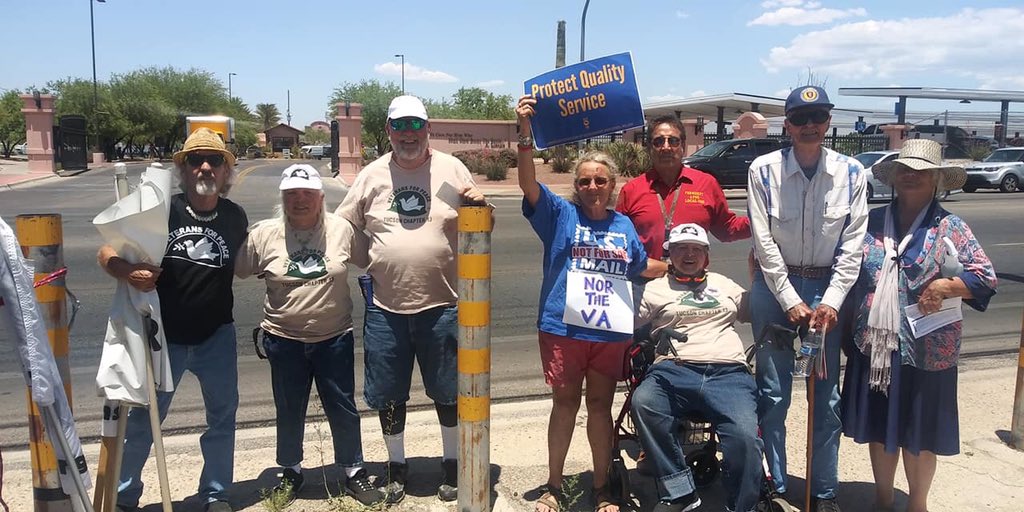 Check out the Twitter thread from Pima Area Labor Foundation!
---
Chapter 34 - New York, NY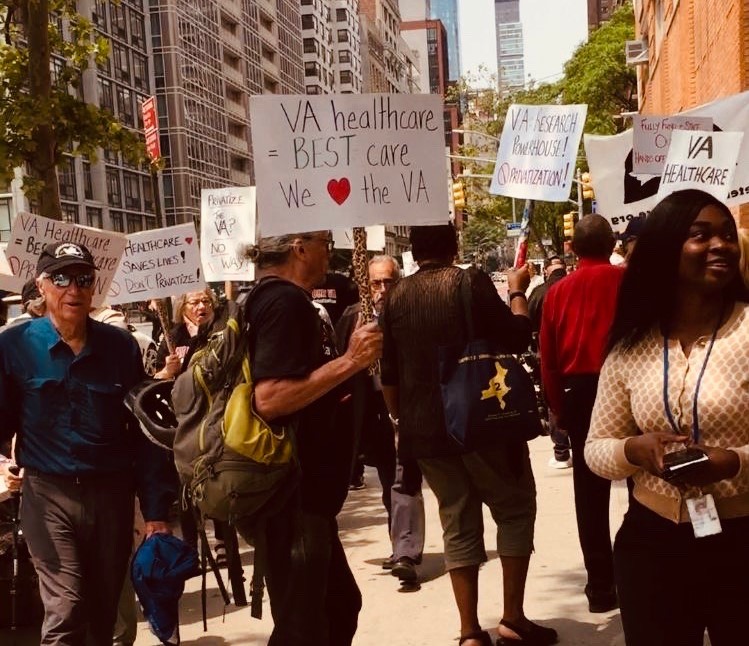 The New York City Veterans For Peace Save Our VA Action Team sponsored a protest rally against privatization of VA healthcare at the Manhattan VA Hospital on w23rd Street with the support of both the American Federation of Government Workers (AFGE) and the National Nurses United (NNU), two VA workers unions. It was a spirited rally with a moving picket line chanting from beginning to end with a few speakers in between. More than a 1.000 leaflets were distributed to veterans and workers at the Manhattan VA over the past week.
---
Chapter 63 - Albuquerque, NM
The Donald & Sally-Alice Thompson Chapter of Veterans For Peace had 7 faithful members (Terry Riley, Kris Hardy, Laura Martin, Sally-Alice Thompson, Bill Tiwald, Herb Hoffman and Charles Powell) stand outside the Albuquerque VA facility. Traffic was fairly heavy, entering the VA driveway and passing by. Some drivers and passengers waved, gave thumbs up or peace signs and/or honked their horns. 
---
Chapter 91 - San Diego, CA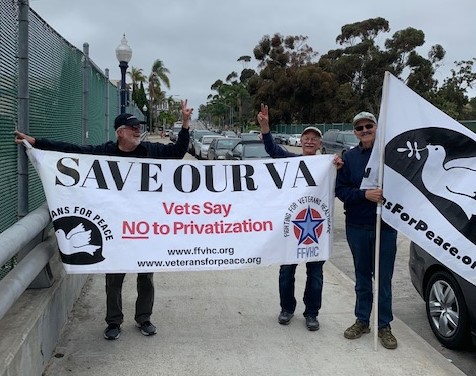 ---
Chapter 99 - Asheville, NC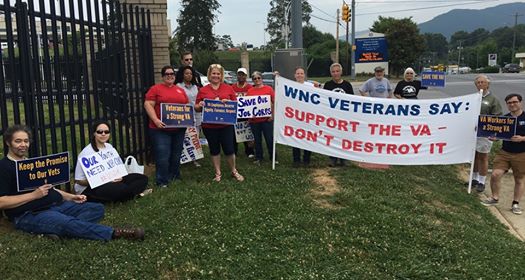 ---
Chapter 162 - East Bay, CA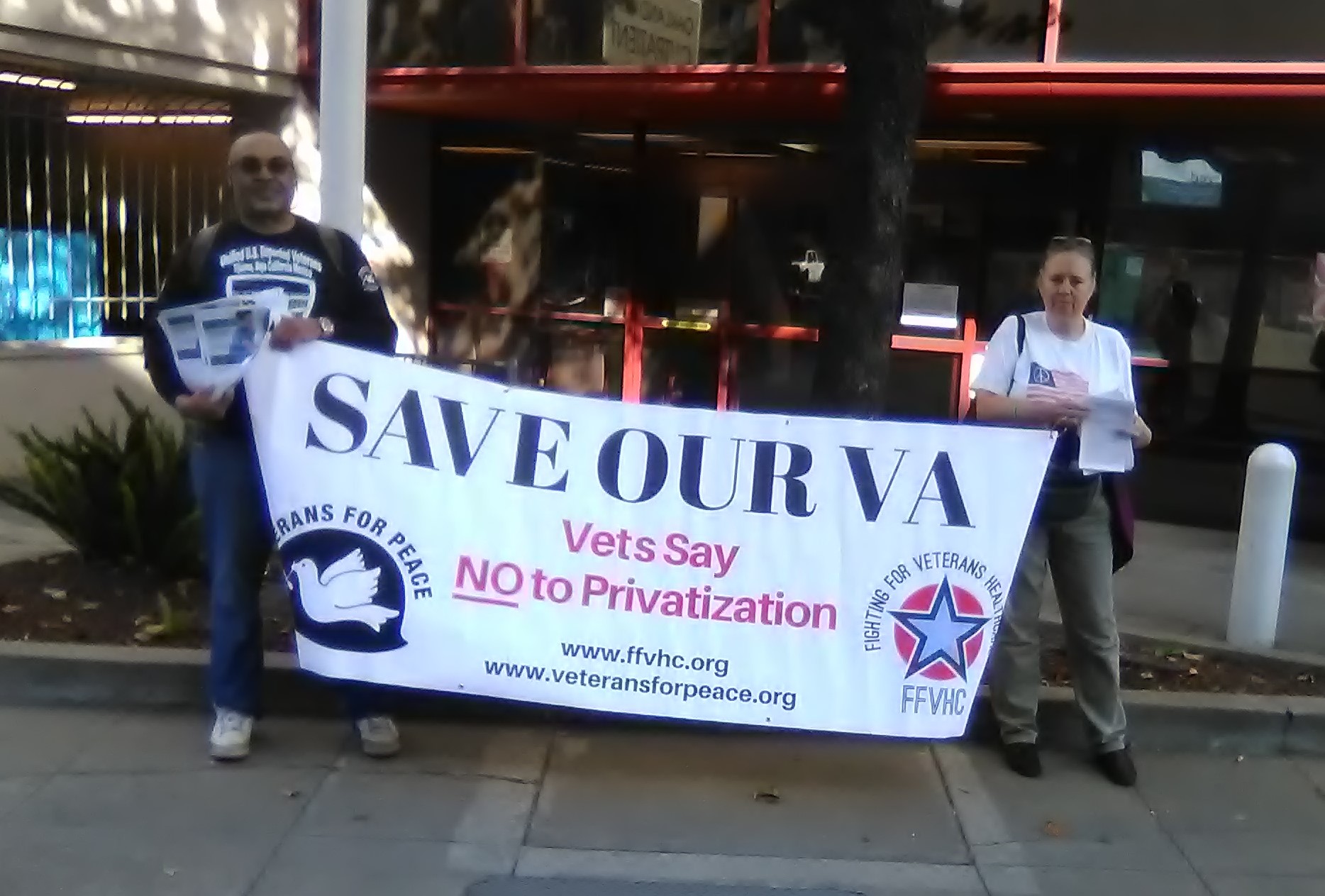 National VFP board members Marti and Maurice joined Chapter 162 at the VA hospital Oakland, California VA clinic. They had the opportunity to meet and speak with a number of VA nurses, social workers, VA staff, Veterans, and the community in support of our saving the VA healthcare system with full funding and staffing of the VA.

---
Also - Check out our members with I Love the VA Valentines!