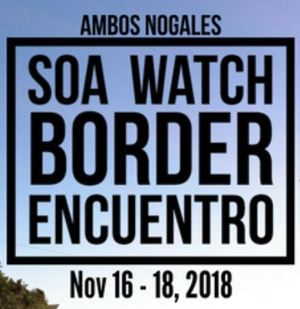 Dear Veterans For Peace,
We're writing to invite you to the upcoming 2018 SOA Watch Encuentro,
"Dismantle Border Imperialism:  Struggle, Create, Power to the People.
"  As a valuable partner that brings a critical ant-militarism lens, we are excited to continue this struggle alongside Veterans For Peace, whom we have partnered with since our earliest days at the gates of Ft. Benning.  
At this year's conference, we will have a host of workshops across issues which will highlight borders as violence, while also uplifting the many resistance movements and struggles that exist to push back against US-backed repression and US political, military and economic intervention.  We are looking forward to your deported veterans-led workshop in Nogales, Sonora, which will address some of these themes and that will bring a unique perspective on dismantling the many faces of state violence. 
So far, over 25 local VFP chapters have 
endorsed
 the Encuentro, including VFP National. To this we say, thank you. There is still time for other chapters to endorse, by following the link 
here
. For those individuals planning on attending this year, please take a moment to 
register
. There is no cost to attend the Encuentro, but we would like to know how many programs to print. Look for updates here, and check out our most recent video put together by friends in the struggle. 
We are grateful for the partnerships we have forged over the past 28 years, and look forward to continue struggling alongside you until we achieve collective liberation across borders! 
If you have any questions or concerns, please contact us at 202-234-3440.  Otherwise, we look forward to seeing you in November!
peace and struggle,
Maria Luisa, SOA Watch Organizer