Every year, Veterans For Peace commemorates Memorial Day to remember the true costs of war. Our message for Memorial Day is to remember all who have died in war and to understand that no one wins. 
Given the most recent news on yet another school shooting, this year Memorial Day seemed even more poignant. As veterans we know the legacy and culture of violence U.S. militarism wreaks on our society.  Peace at home, Peace Abroad is more than a slogan, but rather a commitment to tirelessly work against the violence in our society that holds weapons of war in higher priority than the safety of our children and children around the globe. 
View our full Memorial Day 2022 photo album here.
If you took action and do not see your event, please send the information and any photos to press@veteransforpeace.org. 
---
Chapters Marching in Memorial Day Parades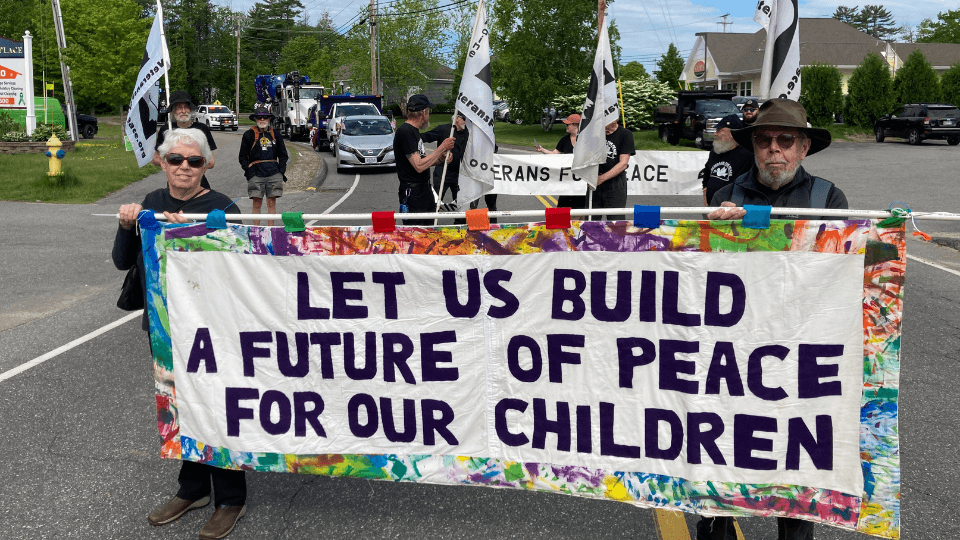 Chapter 10 - Albany, NY (Tom Paine Chapter)
Did your chapter take part in a parade or ceremony? Please send your reports/photos to press@veteransforpeace.org.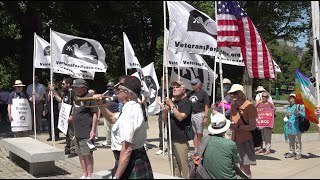 Chapter 9 - Boston, MA (Smedley Butler Chapter) 
The Smedley Butler Chapter gathered at Park St. Station, then handed out flyers as they paraded up to the Soldiers and Sailors Monument on the Common behind a bagpiper. Several Smedleys gave Memorial Day readings and attendees placed carnations on the monument in remembrance of all victims of war. They then rang the bell for departed Smedleys, presente! After Taps, the bagpiper led their parade back to Park St.
Read the speech given by VFP Member Nate Goldshlag here.
Click the video on the right or watch the video on YouTube here. 
---
Chapter 14 - Gainesville, FL
Since 2007, the Gainesville chapter of Veterans for Peace has mounted a major Memorial Day (Memorial Mile) display of tombstones for each American troop killed because of the US wars on Afghanistan and Iraq. Now that the US military has withdrawn from both nations, and - so far as we know - has ceased attacking them with missiles and bombs as well - the chapter will no longer mount the display.
Still, the dead deserve remembering, and the ending of the display, which required the work of over 100 volunteers to set up has left a gap in Gainesville's traditions of memorializing the horrors of WAR.
To meet these needs, Gainesville VFP held an information table this Memorial Day, with the memorial directory books listing the names and service information of the nearly 8,000 American troops who died in those wars, samples of the remembrances left by their loved ones, and banners and signs listing the updated Costs of War. Gainesville Vets for Peace invited the community to visit them at Memorial Mile and join them in remembering some of those, including service members and civilian casualties who lost their lives in the U.S. never-ending wars.
Media Coverage: Gainesville Veterans for Peace say goodbye to annual Memorial Mile event
---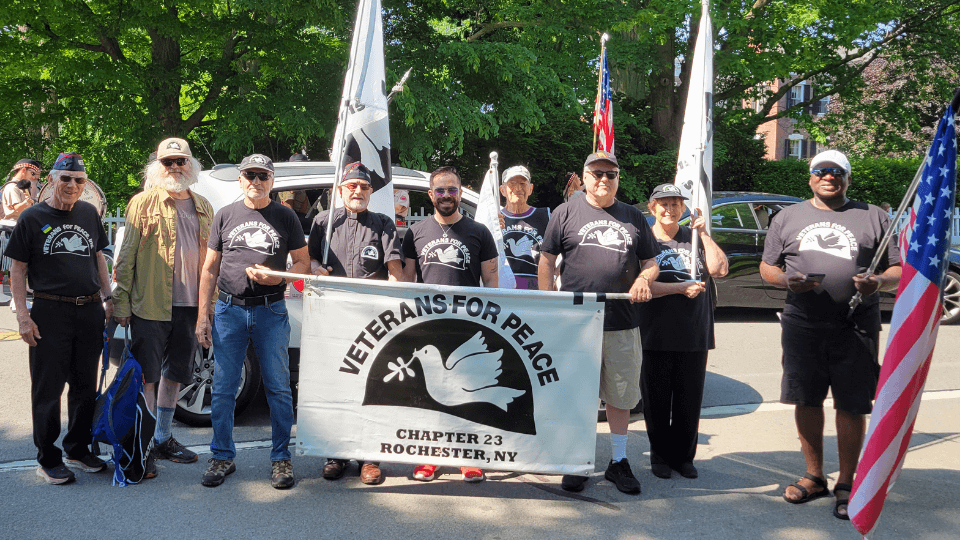 Chapter 23 - Rochester, NY
From Chapter President Jim Swarts:
Chapter 23, Rochester, New York showed our colors in the Memorial Day parade in Rochester with ten members marching the full length of the parade accompanied by one SUV with large Veterans For Peace emblems as well as support for Black Lives Matter. The parade review stand announcer read our full statement of the role and purpose of VFP, but started stumbling when he realized what he was reading. As usual, we received warm cheers from people lining the parade route.
---
Chapter 25 - Madison, WI (Clarence Kailin chapter)
The Clarence Kailin chapter of VFP set up their annual Memorial Mile display and held their annual peace rally.
The rally featured special guest VFP Executive Director Garett Reppenhagen as well as a flower ceremony at the Lincoln Brigade Marker. Other speakers / performers included: David Couper (Poet, Veteran, Author), Music by Old Cool Band, Bagpipe player Sean Michael Dargan, Emcee Larry Orr, and closing remarks by Will Williams. Watch the video here!
News Coverage:
---
Chapter 27 - Minneapolis / St. Paul, MN
Each Memorial Day, Chapter 27 gathers at the capitol grounds in St. Paul, near the Vietnam Memorial Wall. Veterans, friends and family members tell their powerful stories and share music in this moving annual event as the costs of war are remembered. This year the ceremony featured Strong Buffalo, Native dancers and drummers, and smudging of the names. From VFP member Dave Logsdon: No anthems, no patriotic flag waving, just a powerful respect and remembrance. There is no glory in war!
You can watch the video of the ceremony here.
---
Chapter 34 - New York City
After a two-year hiatus from in-person Memorial Day Observance, VFP NYC Chapter 34 assembled at the waterfront in Battery Park, and proceeded through the park with a bagpiper and flag-draped coffin, distributing flyers about the true meaning of Memorial Day. There was an Invocation by Chaplain James Yee, poetry, music and singing with the Raging Grannies and Bud Courtney. At the seawall, they held a ceremony with white carnations, remembering loved ones and those who have died in war.
Get more details and view the full photo album from Ellen Davidson!
Click here for another great photo album from Hideko Otake 
---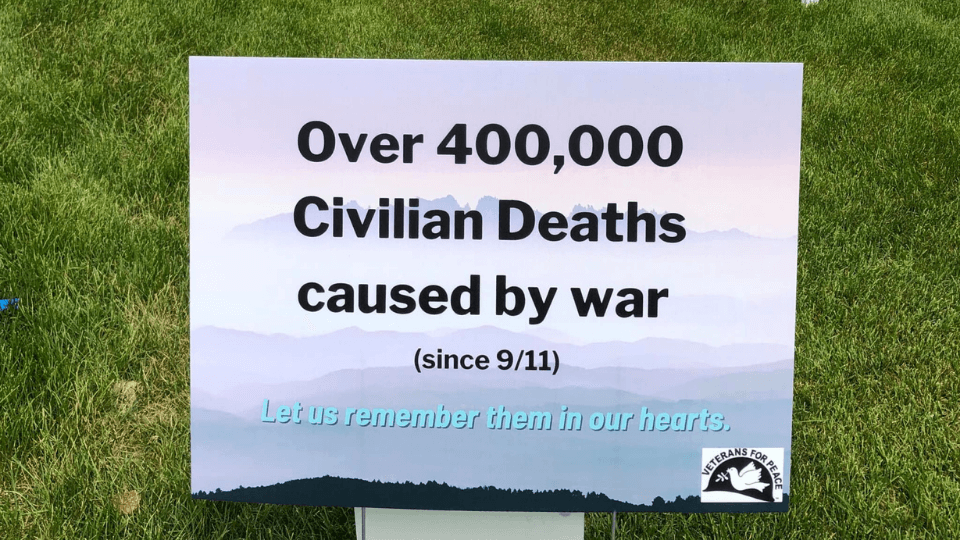 Chapter 50 - Traverse City, MI
Chapter 50 held their annual Memorial Day event at the open space in Traverse City. They set up a display to honor all veterans lost in the war with taps, followed by the reading of the names of Michigan veterans who lost their lives in Afghanistan and Iraq. They also honored all civilian casualties of war, as well as the 17+ veterans who commit suicide daily in this country. 
---
Chapter 72 - Portland, OR
Chapter 72 held a Memorial Day cleanup and work party at Peace Memorial Park. VFP Members joined with Lloyd EcoDistrict and SOLVE volunteers to clean up Peace Memorial Park and the surrounding areas in the Lloyd neighborhood. The clean-up event included raking up and some basic landscaping work at the park and picking up trash in the area.
About Peace Memorial Park: Connected to the Eastbank Esplanade, intersected by one of Portland's busiest bikeways, and graced with expansive views of the Willamette River and the downtown skyline, Peace Memorial Park was established as a public place to honor victims of war, both military and civilian. Since Lloyd EcoDistrict joined in partnership with Veterans for Peace, the vision of the space has expanded to honor the intersection of conflict, climate, and social justice.
---
Chapters 74 & 93 - Detroit, MI 
Veterans For Peace Chapters 74 and 93 once again joined forces to set up the Veterans For Peace Arlington Michigan display (one grave marker for every Michigan soldier killed in the Afghan and Iraq wars – 230 total) in downtown Detroit on Memorial Day. The purpose of this display is to honor those who have fallen, to provide a place to grieve, and to educate the public about the costs of war, as well as the needs of those returning from conflicts.
---
Chapter 91 - San Diego, CA
Chapter 91 in San Diego put up the Arlington West Display and held a bell-ringing ceremony.
From VFP Member Jim Brown - Over the course of the day (5:30AM to 4:30PM) we had 20 plus members attend to put up and take the exhibit down, read the names, have MANY conversations with passerbys and have a lot of fun socializing and catching up. Past President Jan Ruhman livened up our socializing with a bunch of stories from his new home in the Central Valley and his continuing work with the deported Veterans. We all spent fun time looking at the fabulous AW scrapbook made by Deb and Carl Schneider.
Thanks very much to the work crews. Denise Sellers and I were there all day but we agree it was worth it. Vic White and Dave Offield showed up at 6:00 AM and we really got things looking good in no time. Channel 10 came at 6:30 and covered us live for an amazingly long time. Almost all the tv media showed, even KOGO radio. THOUSANDS of people passed by and we had 100's of conversations.
Stan Levin brought the bell with stand to ring as we read the names. That bell is a pleasant sound! He and James Smith and John Falchi were photographed like movie stars at one point. Dave Gustafson  and I read all 300 names in record time! We took it down at 4:00. Lots of help. Betty and Gary Butterfield kept us moving. Carol Whalen , Denise Sellers and Julie Gustafson got in and made the takedown work! Somehow we managed to load the whole thing into my Toyota Highlander. Good times!!!! AND beautiful weather to boot.
Media Coverage:
---
Chapter 99 - Western North Carolina
Chapter 99 gathered for their annual Memorial Day service to grieve all victims of war. From their event page: "No time is more important than now to affirm the horrors and uselessness of war and to rededicate ourselves to the establishment of universal peace." The service included songs, music, poems, prayers and readings.
View some additional photos here.
---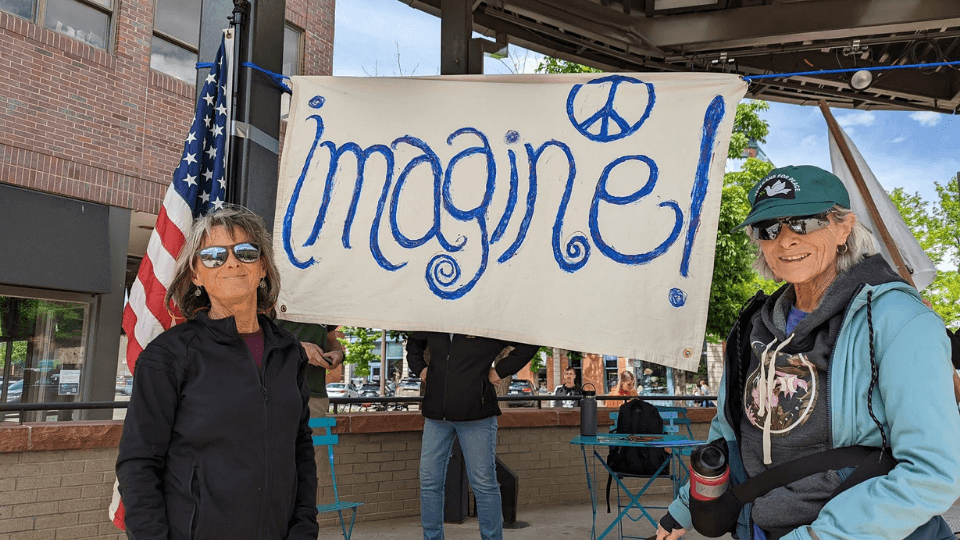 Chapter 178 - Northern, CO (Dan Lyons Chapter)
The Northern Colorado Chapter of Veterans for Peace held a ceremony in Old Town Square in downtown Fort Collins. nVeterans of Viet Nam, Iraq and Afghanistan gave short speeches and readings of select quotes, and a bell commemorated the solemn nature of the day at the end of talks. Speakers included Chapter President Travis Weiner, Secretary Roy Bath, and Viet Nam-era veteran Joe Mondello.
---
Read More
Listen
---