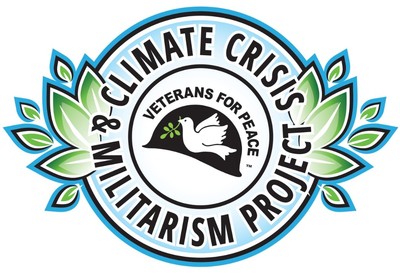 VFP Statement on Results of COP26
If COP26 is the "last best hope for the world" as Climate Envoy John Kerry stated, the USA is largely responsible for the failure to achieve that "hope." President Biden says the USA is "... leading by the power of our example". The Veterans For Peace Climate Crisis & Militarism Project (CCMP) believes that the USA's poor "example" led to the half-measures achieved at COP26.
Why should other nations, both USA's friends and foes, prioritize action on climate when the USA spends more in one year on so-called "defense" than the total 10-year funding for climate action proposed in Biden's Build Back Better plan?
Biden's promised doubling of funds "...by 2024 to $11.4 billion per year to help developing nations deal with climate change," is less than the funds added by Congress to an already bloated FY 2022 military budget.
In his address at COP26, President Biden stated the climate crisis poses "...the existential threat to human existence as we know it." Unfortunately, the actions of the Biden administration are not just inadequate, they are counterproductive. How can other countries trust the intentions of the U.S. government to prioritize a meaningful response to climate change when the U.S. expends vast resources on maintaining its global military dominance? Without the trust of other nations, the USA cannot expect international cooperation in what should be a shared effort to meaningfully address the climate crisis.
Although CCMP holds the U.S. is largely responsible for the inadequate results from COP26, we realize other countries also bear some responsibility. Wealthy countries, including the U.S., went into the COP having failed to fulfill their pledge of $100 billion in climate finance to developing nations by 2020 even after a year of unprecedented climate-change-exacerbated extreme weather events (heat domes, flooding, droughts, etc.). And after COP26, there is still not enough money pledged to the developing countries. Oil-rich Saudi Arabia and other Gulf States are not included in the donor groups despite contributing massively to the climate crisis. In addition, COP26 failed to secure a new stream of funding for Loss and Damage to vulnerable countries.
On a positive note, CCMP is cautiously encouraged by the US-China Joint Glasgow Declaration on Enhancing Climate Action in the 2020s, which states it is based on following the science and building on diplomatic efforts from last spring between Climate Envoy John Kerry and his counterparts in the Chinese government.
CCMP greatly appreciates the huge, intersectional, and relentless activism outside and occasionally inside the COP, with daily actions and marches, including the November 6 Global Day of Action for Climate Justice that turned out 100,000 in the streets of Glasgow. We especially praise the efforts of the COP26 Coalition, which hosted over 30 events focusing on the previously taboo subject of the role of militarism contributing to the climate crisis.
CCMP understands the Biden Administration and U.S. Congress cannot pivot from decades of pursuing global military dominance to seriously addressing the climate crisis without political support from the American people. Consequently, going forward we plan to support efforts, such as Congresswoman Barbara Lee's (CA-13) resolution H. Res. 767, which calls for the monitoring and reducing the carbon footprint of the U.S. military. We in CCMP will continue our programs of public education and advocacy, online and in person. By highlighting the emissions of the single largest institutional source of greenhouse gas emissions on the planet, CCMP will enlist allies in support of reprioritizing resources to defend against the real threat to USA's security, the climate crisis.
David Collins reported daily to us from COP26 in Glasgow, Scotland. Click here to read.
---
See the 6 demands which VFP members presented to Kerry's senior staffers at a meeting last April: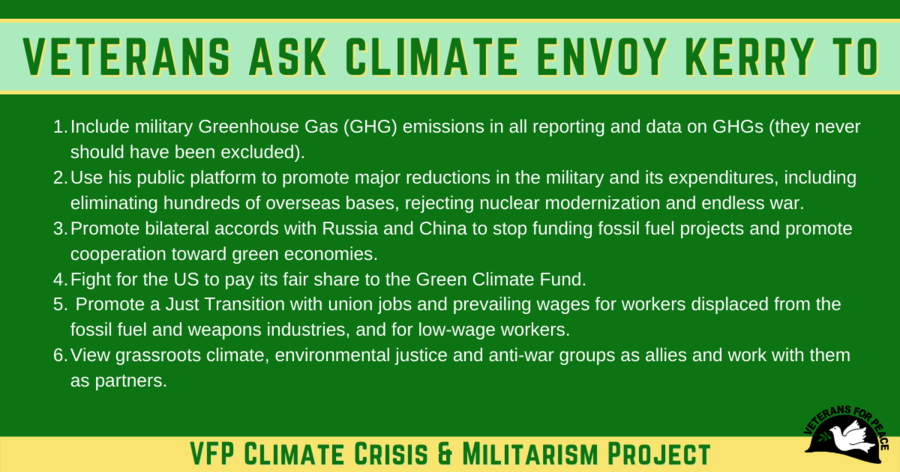 ---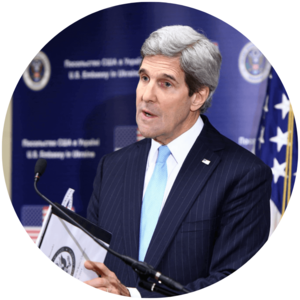 As members of Veterans For Peace, we appreciate the work of Climate Envoy John Kerry in negotiating the U.S.-China Joint Statement Addressing the Climate Crisis (April 17, 2021).
To our disappointment, the Senate recently undermined Kerry's efforts when it passed the "U.S.Innovation and Competition Act" to tether governmental investment in technology to militarized rivalry with China. Similarly, the Eagle Act, legislation proposed by Rep. Meeks, must be amended to remove the call for increased militarism in the Asia Pacific.
---
Leaders Climate Summit
On April 22-23, President Biden convened an online meeting of heads of state, cabinet ministers and experts from 40 countries to discuss responses to the global climate crisis. Climate Envoy John Kerry, along with other members of the administration, played a major role in this international gathering. Read the 
Statement on Leaders Climate Summit
.
---
 April 14 Meeting With Climate Envoy Kerry
On April 14th, Veterans For Peace delivered a letter to Special Climate Envoy John Kerry, asking Kerry to recognize that militarism is a key part of the climate crisis and the need to promote redirection of military expenditures to address the climate crisis and provide for human needs.
Also on April 14th, ED Garett Reppenhagen, President Adrienne Kinne and three CCMP members: Vince Dijanich, Steve Morse, and Jim Rine met via Zoom with two senior staffers of Climate Envoy John Kerry's office. We respectfully presented our concerns about the military's role in the climate crisis. 
Because there was a huge anti-war veterans' movement 50 years ago (including some current VFP members), Kerry spoke for that movement to Congress with a devastating critique of the Viet Nam War. Yet Kerry has not addressed militarism's role in exacerbating the climate crisis; nor have we heard back from Kerry's office since our April 14th meeting despite repeated inquiries. We plan to track Kerry's pronouncements and actions (or lack of them) on the climate crisis at least through the COP26 https://ukcop26.org/ in November.  
Read the News Release: Veterans Deliver Letter to Special Climate Envoy John Kerry
---
More information and ways to take action below!