We are now in the 5-month countdown to 
COP26
, where Climate Envoy John Kerry will lead the U.S. delegation to the UN-led climate talks, as he did in 2015 when the
 Paris Climate Accord
 was signed. Since then, greenhouse gas emissions, toxic waste and the climate crisis have only gotten 
worse
, in no small part because of U.S. militarism and participation in or facilitation of numerous armed conflicts. We demand that Kerry call for the accounting and reduction of 
military-caused GHG emissions
 leading up to COP26.
The 
climate clock
 is ticking, Climate Envoy Kerry. The world is watching. Young people are not waiting to take 
action
. Protests are already being planned for Climate Action Now, not decades from now when new technologies may or may not have been invented and implemented. Veterans For Peace, along with over 100 organizations from several countries and many distinguished individuals including military veterans like you, have presented our demands to your senior staffers. 
What will you say and what will the United States government do to prevent irreversible climate breakdown, when the world gathers in Glasgow, Scotland this November? We await your reply.
---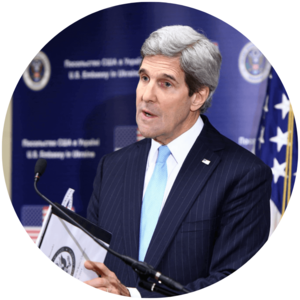 April 14 Meeting With Climate Envoy Kerry
On April 14th, Veterans For Peace delivered a letter to Special Climate Envoy John Kerry, asking Kerry to recognize that militarism is a key part of the climate crisis and the need to promote redirection of military expenditures to address the climate crisis and provide for human needs.
Also on April 14th, ED Garett Reppenhagen, President Adrienne Kinne and three CCMP members: Vince Dijanich, Steve Morse, and Jim Rine met via Zoom with two senior staffers of Climate Envoy John Kerry's office. We respectfully presented our concerns about the military's role in the climate crisis. 
Because there was a huge anti-war veterans' movement 50 years ago (including some current VFP members), Kerry spoke for that movement to Congress with a devastating critique of the Viet Nam War. Yet Kerry has not addressed militarism's role in exacerbating the climate crisis; nor have we heard back from Kerry's office since our April 14th meeting despite repeated inquiries. We plan to track Kerry's pronouncements and actions (or lack of them) on the climate crisis at least through the COP26 https://ukcop26.org/ in November.  
Read the News Release: Veterans Deliver Letter to Special Climate Envoy John Kerry
---
Leaders Climate Summit
On April 22-23, President Biden convened an online meeting of heads of state, cabinet ministers and experts from 40 countries to discuss responses to the global climate crisis.
More information and ways to take action below!