We are now in the 2-month countdown to COP26. On November 1 - 12, COP26, the most important international climate talks since the Paris Climate Agreement in 2015, will begin in Glasgow, Scotland.  Kerry will lead the U.S. delegation to the UN-led climate talks, as he did in 2015 when the Paris Climate Accord was signed. Six years after the Paris COP, the climate and ecological crises have only gotten worse, in no small part because of U.S. militarism and wars. We demand that Kerry call for the accounting and reduction of military-caused GHG emissions leading up to COP26. Scroll down to see our 6 demands at the bottom of this page.
National leaders from around the world will announce their Nationally Determined Contributions (NDCs) to keeping global temperature rise to 1.5 degrees C. Thousands of climate justice activists are expected to show up outside the conference walls, including Greta Thunberg. That is, if new variants of COVID don't scuttle the whole thing – it has been postponed twice already!
On the State Department website, Kerry's responsibilities for climate issues and negotiations are laid out. For months, Kerry has been keeping up his own high-carbon footprint by traveling the world, talking to national leaders in preparation for COP26, including the Pope, the Crown Prince of Saudi Arabia, and the head of the International Energy Agency (IEA). His most important statement was the hour-long speech he delivered in London as part of the G7 Summit; watch or view it here. In that speech, Kerry made the observation that "Mother Nature does not pick and choose which country's emissions are warming the planet." We in CCMP would add that Mother Nature does not ignore the military-caused emissions, which are warming (actually, devastating) the planet along with other emissions.
Many corporations as well as governments will release their latest climate plans. Will any of those corporations include those working in the military-industrial sector, like the Big Five: Boeing, General Dynamics, of Lockheed Martin, Northrup Grumman, Raytheon? This is somewhat doubtful, as military emissions reporting has been excluded from international climate talks since the 1997 Kyoto Protocol negotiations.
The Climate Crisis and Militarism Project will be following the COP26 news closely, while taking our own actions during the conference. Keep checking this space. Your questions and suggestions are welcome; email climate@veteransforpeace.org.
---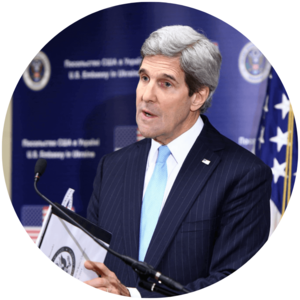 As members of Veterans For Peace, we appreciate the work of Climate Envoy John Kerry in negotiating the U.S.-China Joint Statement Addressing the Climate Crisis (April 17, 2021).
To our disappointment, the Senate recently undermined Kerry's efforts when it passed the "U.S.Innovation and Competition Act" to tether governmental investment in technology to militarized rivalry with China. Similarly, the Eagle Act, legislation proposed by Rep. Meeks, must be amended to remove the call for increased militarism in the Asia Pacific.
---
Leaders Climate Summit
On April 22-23, President Biden convened an online meeting of heads of state, cabinet ministers and experts from 40 countries to discuss responses to the global climate crisis. Climate Envoy John Kerry, along with other members of the administration, played a major role in this international gathering. Read the 
Statement on Leaders Climate Summit
.
---
April 14 Meeting With Climate Envoy Kerry
On April 14th, Veterans For Peace delivered a letter to Special Climate Envoy John Kerry, asking Kerry to recognize that militarism is a key part of the climate crisis and the need to promote redirection of military expenditures to address the climate crisis and provide for human needs.
Also on April 14th, ED Garett Reppenhagen, President Adrienne Kinne and three CCMP members: Vince Dijanich, Steve Morse, and Jim Rine met via Zoom with two senior staffers of Climate Envoy John Kerry's office. We respectfully presented our concerns about the military's role in the climate crisis. 
Because there was a huge anti-war veterans' movement 50 years ago (including some current VFP members), Kerry spoke for that movement to Congress with a devastating critique of the Viet Nam War. Yet Kerry has not addressed militarism's role in exacerbating the climate crisis; nor have we heard back from Kerry's office since our April 14th meeting despite repeated inquiries. We plan to track Kerry's pronouncements and actions (or lack of them) on the climate crisis at least through the COP26 https://ukcop26.org/ in November.  
Read the News Release: Veterans Deliver Letter to Special Climate Envoy John Kerry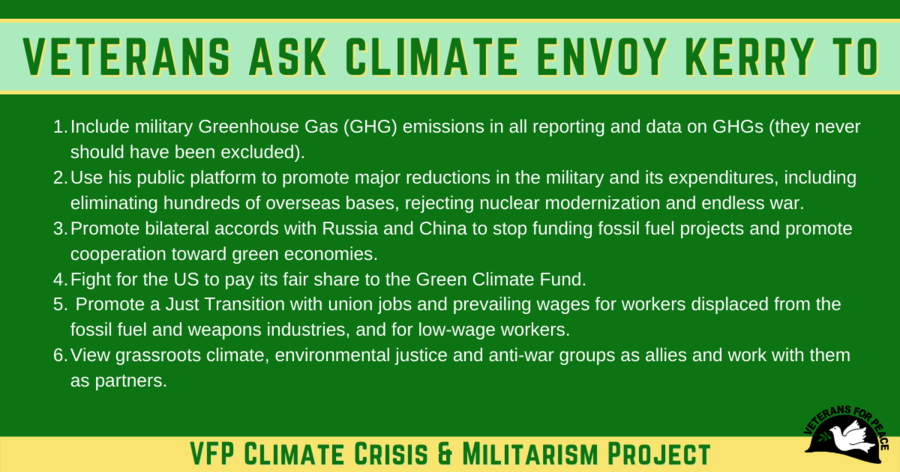 ---
More information and ways to take action below!