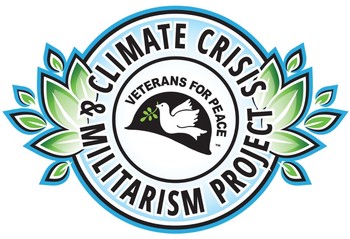 What CCMP is doing at COP27
Having a presence at the annual international gathering on climate issues and goals; thanks to our rep, Cindy Piester, also representing our ally WILPF, who will attend the entire Conference of Parties and report back daily. This builds on the work of VFP member David Collins who was active in Glasgow during COP26.

Pushing our call for counting military greenhouse gas emissions in national emissions reporting to the United Nations Framework Convention on Climate Change. During COP27, Costa Rica will make a formal submission to the UNFCCC for the Subsidiary Body of Scientific and Technical Advice to elaborate rules for reporting of military and conflict-related emissions under the Paris Agreement in the context of the enhanced transparency framework. This marks a breakthrough in the UN climate negotiations, as this will be the first time that a country's delegation has proposed reporting military/conflict GHG emissions. For more info, please see https://militaryemissions.org/wp-content/uploads/2022/06/military-emissions_final.pdf
Networking with other organizations working on climate + militarism nexus, including British-based Conflict and Environment Observatory.
Supporting calls for human rights and justice.
Building awareness of the relationship between the existential crises of global militarism including the increased threat of nuclear war, and global climate change.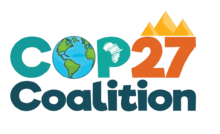 Veterans For Peace and the VFP Climate Crisis and Militarism Project are members of the COP27 Coalition; The COP27 Coalition is an African and Arab led, broad and inclusive coalition of groups with the key aim of centering climate justice and the voices of the most impacted, especially from the Global South, at COP27. To do this, the Coalition will support civil society advocacy and actions leading up to and during the COP, and build movement solidarity across Africa and the Arab World to increase the strength of the movements. Coalition members include movements, networks, NGOs, trade unions, grassroots community campaigns, faith groups, youth activists and many others.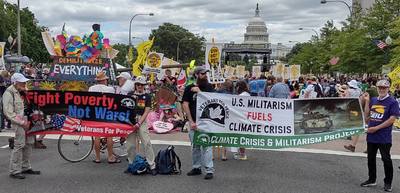 Take Action:
Add your name to the petition to stop excluding military emissions from the climate agreements. We continue to demand that the Conference include military greenhouse gas (GHG) emissions in its agreement. Sign the petition here!
Actions During COP27

November 12 - Portland Oregon:
International solidarity groups and climate organizations held a rally in support of Human Rights and Climate Justice in Pioneer Square, Portland, Oregon. This action, held on Global Day of Action at COP27, included speakers talking about crises in Egypt and the Philippines, music, networking, and linking the US climate justice movement to resistance movements in the Global South. There was a particular focus on Egyptian-British writer and political prisoner Alaa Abd El-Fattah, on hunger strike in protest of President El-Sisi's authoritarian regime. The marketing videos and official logo for COP27 greenwash this polluting police state as a happy, environmentally friendly place. Meanwhile, environmental researchers and activists have been silenced by draconian censorship laws and extreme repression.  

The same sacrifice zone mentality (such as Manchin's proposed dirty side deal, now planned as an amendment to the annual military spending bill, or NDAA) carries over to the UN climate negotiations. The rights of people living in the host country and the existence of tens of thousands of political prisoners become invisible in the name of so-called climate progress.  Defending our planet must go hand-in-hand with defending the rights of those who inhabit it.  

As Veterans For Peace Associate Member Janet Weil stated in her speech at the rally: "We call for Alaa's freedom and we call for the release of 60,000 political prisoners in Egypt, a country supported by our tax dollars, over a billion dollars for the military and police, every year. Today, inside the COP27 venue, a huge demonstration took place with climate activists chanting: Free Alaa! Free them all!

"As a member of Veterans For Peace I am speaking today about climate justice, human rights, and militarism. Our demands include the requirement that military emissions, long exempted from emissions reporting and ignored by the US climate movement, finally be reported to the UN Framework Convention on Climate Change. And military funding, starting with the biggest one (that's us) must be redirected to climate mitigation projects. The peoples of the Global South, and indeed all of humanity, cannot "adapt" to starvation and extinction!"

 Read about other actions in San Francisco, New York, Minneapolis, and more on our Stop War, Save Climate page!
---
Report Backs from Cindy Piester at COP27
November 15
I know Biden came on Friday, but I decided not to go to his talk, but I read his talk. He's talking about all the really wonderful things his administration is doing on climate, like it's the best plan ever, leaning a lot on the Inflation Reduction Act, which seems pretty flimsy to me.
I was able to make a statement to the US State Department group at a meeting with COP delegates from the US. The State Department reps were going over the same messaging that Kerry and Biden were talking about. They did hold a Q and A, and I was the first one called on. I went into some details about our concerns that our military emissions are not being fully and accurately reported to the UNFCC. There was very little response: they said that this is something they've looked at in the past, and it may be worth looking at again. Two or three other people brought up human rights issues. The State Dept reps brushed that off too. They don't want to hear it. However, my remarks really got the attention of the people in the room.
I was present when Senators Markey and Whitehouse and 1 other senator spoke. They brought up a lot negatively about Russia and China, like a pointing-the-figure thing. They were also talking a lot about how climate change is impacting the US military, but not about how the military is impacting climate change. There was supposed to be a Q and A afterward, but Markey and the 2 other senators literally ran out of the room. After they left, WILPF activist Tamara Lorincz did a codepink-style disruption on the stage and denounced the lack of the US reporting of military emissions and also the US role in the war in Ukraine. She pointed out the historical responsibility of the US in the climate crisis.
John Kerry is talking about public-private "partnerships" and false solutions. It's what we expect from him, but it's still very disappointing. Understandably, everybody is angry at "America" - activists charging our government with "lying." They want Loss and Damage payments.
There's no Internet. I can't even use my phone half the time. Other activists are having the same problem.
Deborah Burton of Tipping Point North South is staying at the same hotel as me. She is talking to 2 different national delegations today.
The most important thing: get the IPCC 7th Assessment to study military emissions.
I had a wonderful dinner with Ellie Kinney of CEOBS. At a conference prior to COP27, she met with approximately 200 African climate activists who have so much energy. We talked about "how to keep going - it looks so hopeless." She said: "Take the little wins" and pointed out a recent article by Naomi Klein that was more hopeful.
Being an American is very interesting because we are being criticized as Americans, as "fruitless activists," like we wish for is pie in the sky, because what we want is so different from our own government. Every word, every gesture, is marked and discussed. Whatever we say or do carries a message. It's a very difficult to be an American to be here with the language barrier, although English is the dominant language, because Americans ask questions in English as if everyone should speak our language, and then people take offense. We're objects of curiosity to a certain extent.
It doesn't look like [the U.S. government] is going to do what we really need to do. We spend 30 times more money on militarism than on climate. It feels like the US messaging is a lot of BS. We're not meeting our obligations at all. When you look at the facts and figures, we're just not keeping up.
November 9
Getting online has been almost impossible. Calling out equally so. Very frustrating. I heard in passing that it [Wifi] had been turned off. I was assuming that they [computers] just were not adequately set up.  I don't know but it is really incredibly challenging and frustrating to communicate with you all. 
The main focal point, so far, is interacting with other delegates. I passed out a lot of VFP CCMP flyers yesterday.  Th East African nationals are much more interested, it seems, than the Europeans.  I think they see us as a huge embarrassment to ourselves and to the world because we have failed to move our own government. They will take what I give them, and may or may not read it.    
The high turned into tears yesterday, because being an American (that is how US delegates are referred to here) is as much a curse as a blessing and more the former, I believe.
November 8
This was such an incredible day that I cannot do justice to it.
I did not sleep well but was totally hyped and the activism began immediately as the whole bus was absolutely packed with people heading to COP.  I passed out the WILPF flyer, then my business card ( a much better one than I shared with you and finally the VFP flyer.  I wish I had tons and tons more. I was getting so many big smiles and thank yous.  I wish you could all have seen it. It was an activist's dream.
There was one man that was not interested, but the rest were so thrilled and many of them took the time to type into my phone their name and email and sometimes more, like their orgs and nationalities.  Even though we may well not ever see each other again, it was really amazing.
 Then we reached COP. I got my badge in the morning and spent the day in the Blue Zone. We headed to the 9 AM briefing by the major women's COP organization. There were about 200 women; the group was incredibly diverse and beautiful.  With young/old, every skin hue, every kind of clothing and all acting in solidarity. It was just amazing. Being with WILPF [a VFP ally peace organization] I have come to understand the depth of disparity in gender standing that afflicts the lives of women around the world, so I fully respect that, but there was no mention of military emissions. Once the meeting concluded there was at least another 30 minutes of networking and picture taking.  Again, I began approaching people and had many wonderful conversations. Three women from Africa were very concerned about the connections between gender abuse and militarism which they apparently experienced.  I expect to hear from some of them when I get back.  I gave them all my card and took pictures of us together, before moving on.
One thing about the way this thing is laid out is that there are many pavilions and each of them seem to house endless separate entities.  One of the worst difficulties was that it was very very hard to find one's way to any specific event or place. [At the Media Center] I went to a very poorly attended panel on Africa with one young woman who looked a lot like an older Vanessa Nakate (but it was not her). I used my phone to take some photos and video footage. Afterwards I had a short conversation with the moderator, a young Japanese man, and was very surprised to learn that he was with a Buddhist group that just hired a major figure that had been with the Unitarian Universalists. When I asked him if he knew this person, he immediately wanted to get his photo taken with me, so that was a great surprise and fun.
The Media Center had two sections and I wandered into the other side.  In it were large screens situated facing out from an oblong area surrounded by desks, mics, and chairs.  [There Cindy connected with]  a Palestinian journalist who lived in Palestine but worked for Pacifica Radio. We spent the next three hours together.  He interviewed me (I kept it short) and he may or may not use what I had to say, but he learned a lot from me in short order.  I was able to give VFP CCMP a big plug so we will see if he puts it out. I asked people to check out the website. 
[The Palestinian journalist] had scheduled an interview with an Egyptian woman who he considered an expert on climate.  That took a while to unfold but he did not object to my being there for it.  She had a good attitude about it and made mention of "'America" not holding up its end of the climate bargain.  Global North vs Global South.  As that concluded, I gave her my three items [including the CCMP brochure] and she was glad to get them.
I MUST share with you my incredible impressions.  Even though I never got to the Climate Action Network press conference (by the way, I applied for CCMP to join - but they only take applications and so turned us down until later next year); I have been on a natural high.  You recall my saying this would be no Glasgow and while that was true, it was very very clear that there are tens of thousands of people from all over the world, the majority of them determined to have a say in the outcome.
The buzzword that I heard constantly was "America." People are very upset with the country when it comes to climate.  It was a constant.  At the same time, I have picked up on what I can almost describe of awe in people's reactions to me as an American. Also, a woman traveling alone is still somewhat unique here. 
 The high I have been on, is just from the marvelous experience of seeing a vast swath of humanity, very vast, very impressive. Regal tall African men dressed, with great variety, in all sorts of colors and patterns. People of such tremendous diversity that it is impossible to capture in words.  I have never seen anything like it in my life...and may not again.  But all of us interacting with one another, to some degree, as if we were family.  
[Later that day] I met Al Gore. He was presenting on new technologies that can be used for climate. Afterwards I gave him my card and VFP CCMP's flyer.
The place is immense and we are spending at least 2/5 of our time trying to find our way to what we want to go to.  The Egyptian people are lovely.  However, it would have been a HUGE help to thousands of people if they could have had regular staff at all entrances to direct people, because this is nuts.
So today I have internet.  I am hoping I can send this anyway...it does keep cutting out. But take heart my VFP friends, our message is being spread far and wide and people are learning and appreciating it. The majority really were anxious to read what I passed out. I do wish I had a few hundred more of the brochures. Whether we are able to achieve what we came to achieve or not, the Spirit of Glasgow is definitely here even though the structure is not.        
Much love and appreciation to you all.
November 6:
I have handed out CCMP bumperstickers and brochures at the airport in Sharm-El=Sheikh to delegates from Tanzania and Uganda and was able to engage them in conversation.I still need to get my badge for the Green Zone. About to have dinner with a woman from Lebanon. It's a whole new game for me - thank you for the support! Lots to catch up on because I haven't had access to Internet for days. Proud of all that you are doing back in the States.
November 1:
I will be focusing on issues related to military emissions and their full transparent reporting to the UNFCCC and the need for the IPCC to appropriately revamp their military emissions reporting protocols.  Also will be calling, of course for PEACE and ending wars and cutting the military budgets as well as the economic and climate justice issues that are so in all of our faces. I have all of the pamphlets and bumper stickers you sent me, Barry, plus WILPF stuff.  No banners.  So much is going on, I do feel a bit overwhelmed.      
The flight was fine, just long 20 hours and sleeping sitting up is always challenging, but we all managed.
One of the biggest thrills for me, personally, was stepping out of the Cairo Airport to see ordinary men and women in traditional garb.  I was arrested in '06 in a street theater effort where I played the part of the mother who had lost her child to the war. I identified so strongly with the Iraqi women that my tears just wouldn't stop.  So to see these women in their black dress and covered heads was quite powerful for me.  I just felt such deep kinship… I'm sure they felt nothing of the kind for me, of course, but it was a special moment. 
I have been very busy, not sure how productive… endless reading and paperwork.  The personal risk assessment was interesting.