Fire Drill Fridays!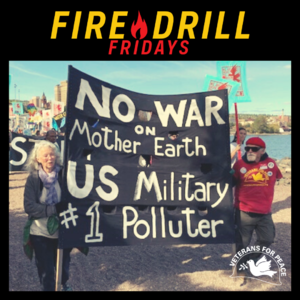 Inspired by urgent action needed to address climate change, Jane Fonda is upending her life and spending 4 months in Washington D.C. this fall. Every Friday she's there will be "Fire Drill Friday" to bring urgent attention to important intersectional analysis around Climate Change.  Each week will feature a different theme.  
Funding endless war is an existential threat to human life and one of the leading causes of climate change, which is why it's urgent that we come together in Washington D.C. and make the connection between U.S. militarism and climate change.  On Friday, November 8th, Fire Drill Fridays will focus on War and Military.
If you are a VFP member and plan to attend, please fill out this form for more information!
Thursday, November 7th, 7:00 p.m. (ET): Teach In: War and Militarism
Phyllis Bennis and Michael Mann will be joining Jane Fonda to talk about the link between War/Military and Climate.
Check it out on Facebook Live.
Friday, November 8th, 11:00 a.m. (ET): Action: War and Military
Join others to take action on the United States Capital Southeast Lawn
---
Waging Peace in Vietnam
November 11-15th
Partnerships for International Strategies in Asia and the Elliott School of International Affairs present an exhibit, book launch and conference, along with cultural events commemorating the 50th anniversary of the Mobilization for Peace.
The week long series of events will include commemorating the 50th anniversary of the Mobilization Demonstration against the Vietnam War, the largest antiwar protest in American history.  It also includes a book launch, a peace poetry open mic, three movies, the reenactment of Cortright v Resor and a full day symposium with the morning focused on convincing historians to include the GI Movement when teaching and writing about the war. There will also be a session focused on what veterans are doing to respond to the ongoing legacies of the war. Chuck Searcy, Ho Van Lai and Nguyen Phu from Project Renew will be in Washington for the week's events and speaking on the panel Friday afternoon along with Agent Orange survivors Tran Thi Hoan and Heather Bowser. 
Of special note to those who will be in town on that last day, November 15, at the close of the symposium we will conduct a reenactment of the March Against Death with a three block march from GW University's Elliott School of International Affairs (where the week's events are happening) to the White House. There we will pay tribute to both the Americans and the Vietnamese who were killed during the war. That march will begin at about 6 p.m.  
---
Time's UP: Remove Trump!
Individuals and groups are showing up in D.C. for a week of actions beginning on November 2-11th to say Remove Trump!  
From their website:
"Join us: We are rising up to call for Trump's removal from office.
Trump's crimes against our Constitution, our democracy, our humanity, and our future make him utterly unfit to serve as president.
Impeachment is just the first step.
​Trump must be removed from office.
 And we the people need to lead the way in calling for his removal.
​This is a people's uprising and mass collaboration. No one owns this, no one person or group is calling the shots. We are inviting all who share our aim to join in shaping and building this effort."
The largest action will be on Friday, November 8th.  Follow their Facebook for more updates!
---
Return to the Main Armistice Day page