Read our Chapter Reports below and check out our full Armistice Day 2018 photo album with additional pictures from actions across the world!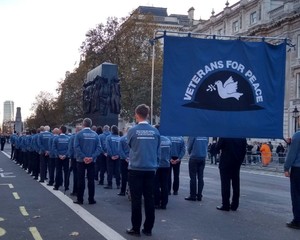 VFP United Kingdom
VFP UK marked the 100th anniversary of Remembrance Day (Armistice Day) with their annual gathering at the Cenotaph in Whitehall. Members invited representatives from around the world with 11 countries represented at the event.
"World War Two veteran Jim Radford sang 1916 by Motorhead which remains one of the greatest and least well known anti war songs ever written. There was also poetry and the Last Post along with the laying of a wreath of white poppies bearing the words 'NEVER AGAIN' by a German veteran." - Article on Reel News
---
Chapter 9 - Boston, MA (Smedley Butler Brigade)
The Smedley Butler Brigade held its annual peace parade and program.
"As in other years Smedley and other invited peace and social justice organization met to form up ready to step off after the so-called official parade at 1 PM….With our dove-etched flags, banners, and signs defiantly signifying our purpose, we passed out many leaflets stating our purpose and noting the importance of this particular day this year to generally responsive spectators. After the parade we headed to Sam Adams Park at Fanuiel Hall for our annual program of speakers, poets and music." - VFP Member Al Johnson
"Veterans For Peace has been trying to make clear the meaning of this holiday for many, many years as we parade, in Boston, relegated, to the back of the parade.  We have been, for these many years, forbidden entry into this parade, because we advocate for the people of our country to hold to the legislation, still on the books, to use this day to "rededicate our country to the cause of world peace"….This year, nearly 100 churches in Massachusetts participated in Armistice Day observances, and rang their bell 11 times for peace.  Veterans For Peace will take to the streets next year, once again." - VFP Member Douglas Stuart
---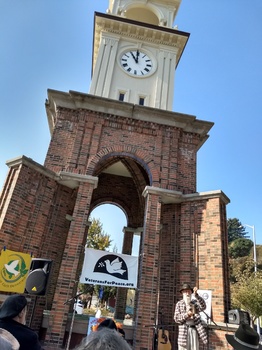 Chapter 11 - Santa Cruz, CA
The Santa Cruz chapter of Veterans For Peace emphasized 2018 being Armistice Year with events on the 11th of almost every month leading up to November 11th, 2018.
"We invited other members and have been blessed with help from groups including WILPF, VFW Post #5888, Tatanka's Living Room, Code Pink Santa Cruz, UNA Santa Cruz, and the Raging Grannies.
It seemed appropriate to gather on the 11th of each month, at 11 AM, at the Santa Cruz Clock Tower - with music, inspiring speech, poetry, etc., along with our colorful flags and banners. Inspiring speakers and musicians have come to help each month." - Armistice 100
Armistice Year culminated in a full weekend of events including a Saturday evening program at the United Methodist Church of Santa Cruz entitled "A Musical Celebration of Love, Peace and Justice." On Armistice Day they hosted an all-day event starting with a gathering in downtown Santa Cruz in front of the Veterans Memorial Hall with speakers and artists outside and a continuation of veterans related programs inside the Veterans Hall. Their Saturday evening event was packed with lines out the door, and Sunday event participants included the March for Change young veterans group arriving at the Clock Tower, completing their 22 mile march from Watsonville to Santa Cruz. This distance was chosen to symbolize and raise awareness of the fact that, each day, 22 veterans will take their own lives.
Check out more photos on their Armistice 100 Facebook page.
---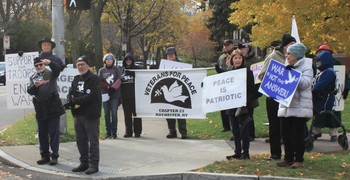 Chapter 23 - Rochester, NY
VFP Chapter 23 joined together on the morning of November 11th to ring bells in recognition of peace and demonstrate to reclaim Armistice Day and call for an end to war.
---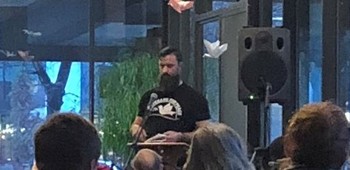 Chapter 26 - Chicago, IL
Chapter 26 brought Armistice to Chicago with "Imagine Armistice in Chicago", an event with music, poetry, spoken word and comments from Chicago peace builders that drew together the 40+ Chicago groups working for justice and peace.
---
Chapter 27 - Minneapolis / St. Paul, MN
On the 100th anniversary of the WWI armistice VFP Chapter 27 celebrated "A Day of Peace," starting at the Historic Landmark Center in St. Paul with storytelling, music, and art that conveys the spirit of peace and goodwill globally, nationally, and locally.
"Keynote speaker was Jack Nelson Pallmeyer, poetry and music by Larry Dittburner, Larry Long. Jacqueline Ultan, and Tom LaBlanc.  Story teller Larry Johnson spoke and introduced the Peace Essay Contest winner. The Native American Drumming Group performed.  Prayers were said in Four Voices with an Ecumenical call for peace by members of Jewish, Christian, Muslim, and Native American traditions.  There was ringing of handcrafted bells in remembrance of Armistice Day by members of Chapter 27.
St Joan of Arc Catholic Church, Mpls had 2 Catholic Masses with 800 in attendance at each with the theme of Armistice through readings, the homily and music.  A bell was rung by VFP members Jean Heberle, Roy Wolff, and Steve McKeown. Roy and Steve led a discussion afterwards regarding Armistice Day. Handouts were distributed by the End War Committee before and after Masses about the history of Armistice Day along with bright " END WAR" stickers that many young people wore to and from church.
Britt's Pub, Mpls which traditionally has had Armistice Day Observances mainly to recognize veterans of different nations.  VFP has been represented at this mainly by Dave Logsdon who has had help in ringing bells by other members explaining why. Dave said there was very good response this year.
St Joseph of Carondolet Chapel, St. Paul where we have participated for many years on Nov 11 with their Social Justice Committee to remember the Armistice.  Roy Wolff and SteveMcKeown spoke, and bells were rung. Associate member Joan Johnson provided the music, and petitions were signed for nuclear disarmament.
Art Box Playhouse, Mpls. VFP members have attended a 2 person play that has been ongoing about WW1 poets and war denouncers, Siegried Sassoon and Wilfred Owen.  We have led a discussion about the play and Armistice Day for some of these performances, and an article is being planned for our Dec Newsletter about this.
Outreach....President Dave Logsdon arranged for a proclamation that was read and passed by the Mpls City Council and the Mayor to a chamber filled room in support of our efforts. We rang our bells after Dave spoke.   Vice President Mike McDonald gave our Armistice brochures to the Catholic Archdiocese of Mpls., St Paul and received a letter not only in support of our efforts, but also directed his Communications Director to ask parishes to ring bells and put in their bulletins as they see fit the meaning of the Day.  Thanks to Larry Johnson extensive outreach was done to churches around the State. We don't know how many, but have confirmations around forty that rang bells, and many who put info in their bulletins." - VFP Member Steve McKeown
Listen to Chapter 27 VFP Member Steve McKeown on Talk Nation.
---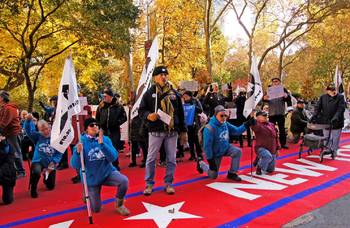 Chapter 34 - New York, NY
This year VFP chapter 34 had their largest contingent ever marching in the annual NYC Parade on Fifth Avenue.  After being told they weren't registered (even though they had proof), the group of around 90 people persisted in walking in the parade despite attempts to stop them.  They turned around in front of the reviewing stand, shouting No More War and those who could took a knee!
---
Chapter 39 - Shaker Heights, OH
For the 11th consecutive year, VFP chapter 39 presented a program of readings called "Letters Home, Erasing the Front Lines" on Armistice Day. The program consisted of letters, poems and other messages from US soldiers, civilian victims of war, and even former enemies. This year there were about 70 people in the audience and 12 readers representing the VFP Chapter.
"The program was powerful and inspiring... And well received by those in attendance," says John Harmon of Chapter 39.
---
Chapter 46 - Monterey, CA
"Phil Butler, former Vietnam POW of 8 years, opened the 100th anniversary of Armistice Day. We tolled the bells 11 times and read the names of 100 service members from Monterey County that were killed from each war since WWI. Afterword the assembly gathered at the Monterey Museum to view artwork of the Great War, listen to a narration about the history of WWI and poetry written by VFP chapter members. We hope the original intent of Veterans Day is reclaimed as a day dedicated to world peace. #ReclaimArmisticeDay" - VFP Chapter 46
View the recording of the livestream here.
---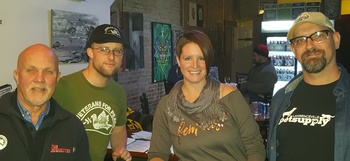 Chapter 47 - Western PA
This Armistice Day, Veterans For Peace of Western PA gathered to socialize and discuss their collective vision of what it means to work towards peace worldwide and in Western Pennsylvania.
---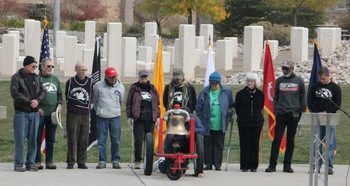 Chapter 63 - Albuquerque, NM
VFP Chapter 63 was invited by the United Veterans Council of New Mexico to ring the bell at the New Mexico Veterans Memorial. After ringing the bell, Chapter President Charles Powell read a proclamation from the state governor.
---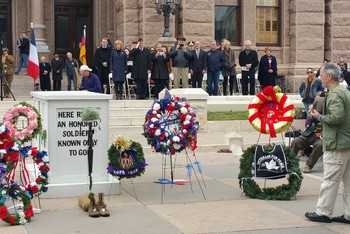 Chapter 66 - Austin, TX
The VFP Chapter 66 contingent marched in the local Veterans Day Parade and distributed flyers.  VFP was warmly welcomed by the crowd of parade watchers and had a young man spontaneously joined their VFP group.
VFP Member Alan Pogue laid a wreath in front of the Texas Capitol: "The announcement came that "Veterans for Peace will now lay a wreath at the tomb of the unknown soldier". All eyes turned to this message which was out of step with all others, calling directly for Peace. Some uniformed soldiers thanked me. Our peace contingent was small but powerful."
---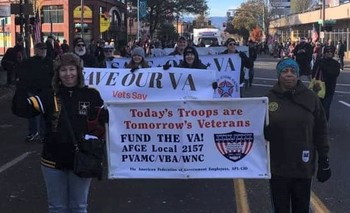 Chapter 72 - Portland, OR
Veterans for Peace Chapter 72 marched in the Portland Veterans Parade carrying Save Our VA banners, and commemorated the 100th Armistice Day by gathering together to ring bells 11 times to "honor all those who have died on the Battlefields of all wars and remind each other that the Armistice Day took place on the eleventh hour of the eleventh day, of the eleventh month on November 11, 1918 and was to be the End of All Wars and thus a time to Celebrate Peace." - Dan Shea, VFP Board of Directors
---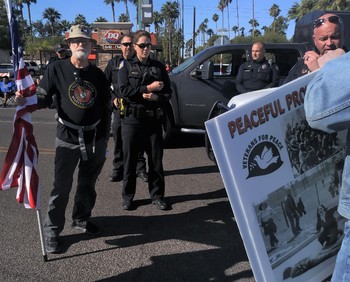 Chapter 75 - Phoenix, AZ
The Winter Soldier Chapter of Veterans For Peace (WSCVFP) were removed from the local Veterans Day parade by the Phoenix Police Department following the directions of Honoring Arizona's Veterans (HAV).
"HAV is the right wing 501(c) (3) group that operates its "private" Phoenix Veterans Day parade under the guidance of the United States Supreme Court in Hurley v. Irish American, Gay, Lesbian and Bisexual Group of Boston, 515 U. S. 557 (1995) (Hurley) (First Amendment prohibits, among other things,  a governmental entity, which has entered into a partnership with a 501(c)(3) [HAV] corporation to produce a public event, from requiring a private corporation to accept groups into its event with whom it disagrees.)
We will decide at our meeting on December 1st our next course of action. I will advocate that we seek to organize a boycott of next year's parade." - VFP Member Richard A. Smith
---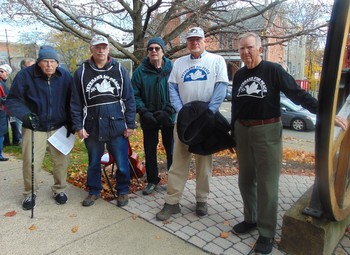 Chapter 90 - Binghamton, NY
"On Sunday, Armistice Day, our chapter members and guests assembled around a ground bell at First Congregational Church in Binghamton. The huge wooden wheel housing was turned by two of our members and rung eleven times, followed by a minute of silence.
Jack Gilroy, President of Chapter 90 made brief comments, introduced Rev Art Suggs, Pastor of First Congregational Church. Rev Suggs focused on what war does to one's very soul. Professor of History, Doug Garner of State University of New York, spoke of the horrors of the Great War…. A local folk singer, Andru Bemis, led the group in anti-war songs.
Before the Veterans Day Parade started at 2 PM (we were not invited to participate) we set our public address system along the route of the parade. On the church lawn we placed 70 white tombstones (styrofoam) to represent civilians and soldiers --Vietnamese, Iraqi, Afghans killed in the wars in those countries. A  few yards away, we placed one tombstone to represent Americans killed. Our ratio (70 to 1) was explained on a chart between the graveyards and gave the statistical information and the source of our figures." - Jack Gilroy, President of Chapter 90
---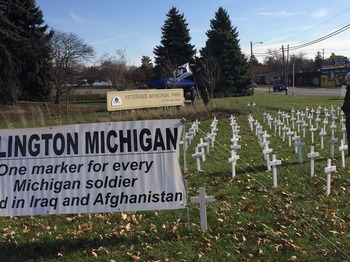 Chapter 93 - Ann Arbor, MI
Chapter 93 observed Armistice Day by setting up the Arlington Michigan memorial. With one grave marker for every Michigan soldier lost in the Iraq and Afghan wars (230 markers). The purpose of the display is to honor those who have fallen, to provide a place to grieve, and to educate the public about the costs of war, as well as the needs of those returning from conflicts.
---
Chapter 101 - San Jose, CA
VFP Chapter 101 joined together with members of the peace community to commemorate the original Armistice Day by ringing a bell to focus on the desire to end the horrors of war. They had around 50 people attend including members of many peace groups including the Raging Grannies, Green Party of Santa Clara County CA, CODEPINK and the San Jose Peace and Justice Center.
Check out the Raging Grannies performance of "When We Make Peace Instead of War"
Check out more photos from Bob Jung.
---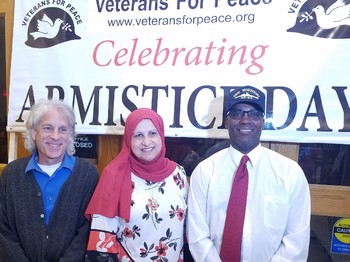 Chapter 102 - Milwaukee
Veterans for Peace Chapter 102 marked the 100th anniversary of Armistice Day with two major events. The first brought together over 500 local grade school through high school students for an Armistice Day observance. It began with a brief program in the Bay View High School auditorium, with students reading the poem "In Flanders Field" and an essay on what is a veteran. Organizers invited Veterans for Peace Chapter 102 to speak to the students about VFP, the real costs of war, and the importance of promoting peace on Armistice Day. Led by a drummer and trumpeter, students marched from Bay View High School to the World War I memorial in nearby Humboldt Park. There, they planted red poppies made of plastic around the memorial to provide a visual remembrance to the 22 Bay View area soldiers who died a century ago.
The second, co-sponsored by many peace and justice organizations, took place in Milwaukee City Hall. The largest crowd in the 10-year history of the event heard from Janan Nejeeb of the Milwaukee Muslim Women's Coalition about the current Islamophobia in the context of American xenophobia since the nation began; from John LaForge of Nukewatch about the enormous cost and danger posed by the current US nuclear buildup; and from Reggie Jackson of America's Black Holocaust Museum on the price paid by the nation's poor for the country's war spending and militarism. Chapter President Paul Moriarity opened the program by recalling the original Armistice Day and Wisconsin and Milwaukee's opposition to the war.
---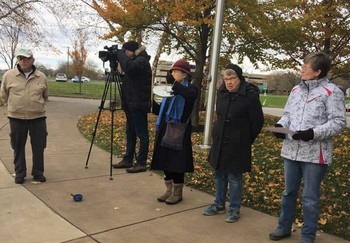 Ch. 128 - Buffalo, NY
VFP Chapter 128 and the Western New York Peace Center hosted an Armistice Day vigil at the Buffalo and Erie County Military and Naval Park. During the ceremony, participants rang a bell 11 times to commemorate the end of the "War to End All Wars." As a local article mentioned - "In addition to marking the centennial, peace advocates read the names of more than 40 school children killed when a school bus was bombed in Yemen earlier the year, reportedly by Saudi's with a US-made plane and bomb."
---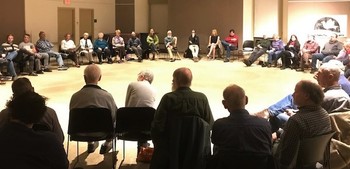 Chapter 132 - Corvallis, OR
VFP Chapter 132 and the Benton County Democratic Socialists of America (BCDSA) hosted a public forum at the Corvallis Public Library with over 50 in attendance.
The discussion centered around the following: "WWI ended with the armistice of Nov. 11, 1918. But militant aggression, oppression, exploitation of resources continue, mainly targeting people of color and the global south. - What strategies are most effective in fighting this? - How best to disrupt the connection between militarism at home and a militantly aggressive foreign policy? - How to mobilize and dovetail movements fighting imperialism, racism, environmental destruction? This will be a discussion examining many strategies, from across the left political spectrum, for dealing with these issues."
Check out the flyer they created.
---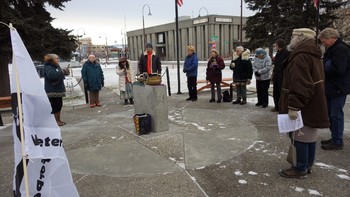 Chapter 146 - Fairbanks, AK
From VFP Member Rob Mulford:
"Who would have thought that a Nov. 11 event celebrating peace and opposing war as an instrument of national policy would attract over 100 people in our little military occupied community. With over 38% of our economy directly tied to militarism, this community has at times seemed little concerned with the harm done in our name. Living here can sometimes be spiritually draining for a dedicated peace activist. Today however, we did it! We managed to attract over 100 enthusiastic people to our Reclaim Armistice Day Celebrations.
Fifteen came in the morning to ring bells, and over 100 came in the afternoon to an event that included the MC, a woman who in 1960 and 1961 participated in the San Francisco walk for peace, a jazz trumpet player, a Cuban dancer, an indigenous Alaskan University professor talking about her work with peace circles and compassionate listening, the Fairbanks Peace Choir, the promoter of a local event called International Friendship Day who spoke of the importance of mixing it up with people not like yourself, a local educator and activist talking about the importance of having peace in ones heart, a zither player, yours truly speaking of the lovely folks that I met in Pakistan and the possibility of actually achieving world peace, followed up with a rousing ringing of bells accompanied by the magical resonance of a lovely gong. The event was cosponsored by the Alaska Peace Center, Fairbanks Peace Choir, Chap. 146 Veterans For Peace, and World Beyond War.
My heart was uplifted."
---

Chapter 156 - Rogue Valley (Ashland, OR)
This Armistice Day the Rogue Valley Chapter of VFP coordinated an event with the Ashland Culture of Peace Commission at the International Peace Flame Monument on the Southern Oregon University campus:
"The Ashland Peace Choir performed, and speakers included David Wick, founder of the Ashland Culture of Peace Commission, Dan Davis vice-president of VFP 156 and one of the 20 or so former Peace Corps volunteers in attendance. After Davis gave a talk about our chapter, the costs of war in monetary and human terms, and praised Peace Corps volunteers who served the cause of peace in non-military ways. VFP 156 tabled at the event and handed out the Armistice Day tabloid supplied by National VFP. It was a moving celebration for all who participated." - Mark Howard, President of VFP Chapter 156.
---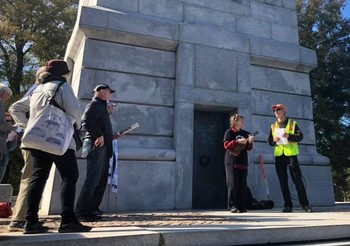 Chapter 157 - North Carolina Triangle
The Eisenhower Chapter 157 of Veterans For Peace, with grant support from North Carolina Humanities Council hosted a Peace Pilgrimage and Armistice Centennial observance, and had a small contingent in the local Veterans/Armistice Day Parade on November 10th. On November 11th, a small procession to observe the Centennial left from the North Carolina State's Memorial Belltower at North Carolina State University traveling 1.5 miles to the Swords to Plowshares Belltower where they held a bell ringing ceremony.
The touring Belltower was at the State Capitol for the fourth time and has travelled from Raleigh all the way to the National Mall in DC to be installed near the Vietnam Memorial four times.
---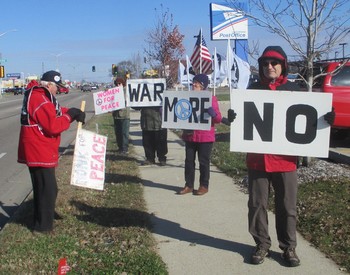 Chapter 175 -  Janesville, WI
A cold, blustery morning in Janesville didn't stop VFP Chapter 175 from gathering for a Reclaim Armistice Day vigil. Member Norm Aulabaugh spoke of the original purpose of Armistice Day and why we all needed to participate in activities that foster peace among all nations.
---
Chapter 178 - Northern, CO
Chapter 178 hosted a Reclaim Armistice Day event featuring music, poetry, peace literacy, special guests and stories.
From VFP member Paul Gessler: "Even with the cold temperatures and snow
on the ground, we had around 25 people attend. Mostly community allies. Our Peace Literacy group gave a poetic description of World War I through World War II, Korea and Vietnam.  Thanks to Marc Fryer for his prose and poetic readings; Roy Bath for his heartfelt Smedley Butler bio; Bill Mygdal for the excellent poetry selections. Tim Peak for his drumming. We gave the attendees what we promised: poetry, music and peace literacy with an opportunity to participate."
---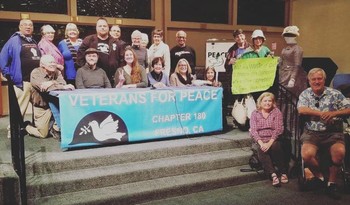 Chapter 180 - Fresno, CA
Veterans For Peace Chapter 180 hosted an event featuring KPFA radio personality and longtime broadcast journalist Mitch Jeserich who discussed 'Armistice and its Aftermath' as part of the nationwide effort to Reclaim Armistice Day.
Watch Chapter President Josh Hurley's Newsy interview.
---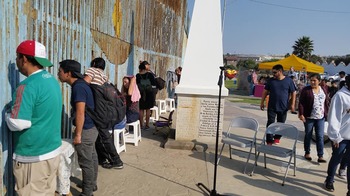 Chapter 182 - Baja Mexico
On November 11th, the Unified US Deported Veterans Resource Center and Veterans For Peace Sgt. Barrios Memorial Chapter 182 in Baja, Mexico hosted a prayer vigil at the Tijuana/San Ysidro border crossing in solidarity with fellow veterans and military families marching in Washington D.C. to Reclaim Armistice Day.
---
VFP Chapters in Local Armistice / Veterans Day Parades
Watch Chapter 10 (Albany, NY) March in the local parade
Listen to Chapter 89 (Nashville, TN) Radio Hour on Armistice Day
Listen to members of VFP Chapter 100 (Juneau, AK) on "A Juneau Afternoon", the local events show, talk about reclaiming Armistice Day